Forcing myself to work with Windows 8 Release Preview revealed was a learning experience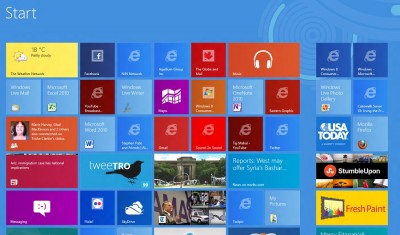 Windows 8 Release Preview is good enough to use for every day use – if you have at least a touchpad and even better a touch screen.
I started working last weekend fulltime on a computer with Windows 8 Consumer Preview.
Since then I have written, edited and posted 10 stories on NJN. I've been able to access Facebook, Twitter, MS Word, Windows Live Mail and my normal programs.
We adapt quickly. At first it was a struggle to learn the new touch controls. After a few days it seemed strange to use Firefox again and revert to mouse type controls.
However, I still don't know how to cut and paste without the touch pad. And I miss the time in the lower right hand corner to tell me how late I am going to be. There must be a Windows 8 Widget for that.
There is a new tag on stories that were written, edited and posted using Windows 8.
That's like a Boy Scout badge for making something work.
Bye-bye mouse
Work was a bit frustrating at first because of the learning curve on using touch versus a mouse. Yes, I dumped my mouse for the Logitech Wireless Touchpad and Acer T231H multi-touch monitor.
It was interesting to see when the touchpad worked better and when touching the screen worked best. Fingers are too big to select items in close proximity. A few controls like the page back and forward (mid extreme left and right side) are transparent and touching them often started the link below. I learned what works and what does not work within a few days.
When my hands are on the keyboard typing, it's quicker to reach to the right and touch the touch-pad. Reviewing a letter or post works well using touch screen.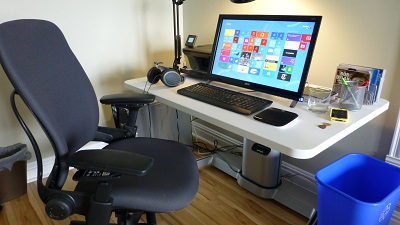 The screen is much closer to my face now since I want to touch it without stretching my arms.
I could use a narrower desk than the standard 30&Prime.
My Steelcase Airtouch desk is height adjustable so my arms and hands are level with the keyboard. A printer and speakers can easily fit behind the monitor which is just the keyboard width from the front of the work surface.
Touching the screen is optional when composing or editing but very nice for browsing Twitter or Facebook. Touch works nicely for selecting items on the WordPress editing screen, uploading pictures to Flickr and Facebook.
Touching the wrong thing just moves things unexpectedly at times. It takes the right touch (pun intended).
Metro Apps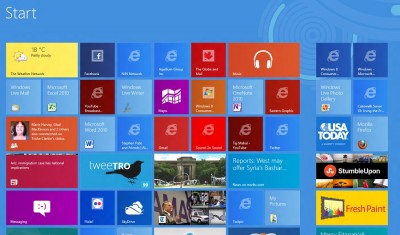 Metro apps are mostly a write off. Some lock up like Tom's Hardware and The Weather.
They lack setup controls that are easy to find. The Metro mail app gets my mail but Windows Live Mail works better. So many of them are broken there is a long Microsoft Answers on the problem. Welcome to beta testing.
The People app does amalgamate all your contacts from email, Facebook and whatever else you throw in. The result is just too confusing for words. It's much easier to read mail in mail and check out things in Facebook.
This weekend I'm going to switch to Office 365 and see how that works. Essentially, Office 365 is a cloud based version of Office 2010. I should be able to get my appointments, mail, contacts and tasks from any computer, anywhere.
Cursor Glitches
Windows 8 is still a beta so there were a few problems that didn't get resolved. The cursor tends to jump around when typing which is annoying. It happens when you hit delete multiple times and it starts deleting stuff you don't want to delete. It was on Monday and happens once in awhile now, usually in WordPress editing mode. That is an old problem with WordPress and Internet Explorer.
Firefox works flawlessly with WordPress. Informatics who own WordPress point the finger at Microsoft. I think they both are to blame for not solving this years ago. I posted this on Microsoft answers and they are working on it.
Cut and Paste Glitch
I know when to go to lunch every day not by the clock by when cut and paste (or copy and paste) stop working. They do every day about 12:30 when I've been using Windows 8 for about 4 hours.
The only solution is to re-boot the computer. I posted this on Microsoft answers and they are working on it.
File Manager / Computer
Some things are missing from Windows 8 Metro like Windows Explorer and File Manager. They are still there in Windows 8 but not Metro-ized. That seems unfinished. You have to hop back and forth to browse the computer for files and run Paint, Media Player and other legacy apps.
Short Story
This is my last day on the Windows 8 computer for 10 days. I will miss Windows 8. While some things are missing and other parts rough, it is a better used experience than the old Windows interface.
By Stephen Pate, NJN Network
| What you need for Windows 8 | USA | Canada |
| --- | --- | --- |
| What you need for Windows 8 | USA | Canada |
| | | |
| | | |
| | | The Canadian pricing at Amazon.ca is not competitive. Order from the States. |