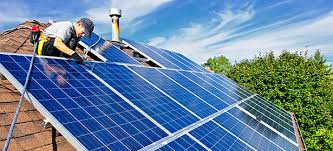 The year 2018 was a remarkable year for the renewable energy industry around the globe, but it was unprecedented in the United States. New records in renewable energy generation and increasing rates of the nation's capacity to do so were set in 2018, making it a milestone year.
However, as 2019 is slowly heading towards the last quarter, estimates have been made that the same trend could also be seen in this year's progression in the renewable energy sector, if not more impressively so.
17.1% of the Total Power Generated in US Was from Renewable Sources in 2018
According to data presented to the public by the United States Energy Information Administration, the nation was able to meet around 17.1% of its total power requirements from renewable sources, which is an all-time record.
A Marked Increase in Reliance on Natural Gas Was Also Observed
As natural gas was used to generate 1,468 billion kWh of power last year, it was another all-time record set in clean energy generation. Unfortunately, although natural gas is a clean fuel source with very little emission hazards, it is not a renewable source of energy, and therefore, the increased reliance will have mixed results.
Energy generated from natural gas and vehicles running on the hydrocarbons are part of the green initiative, since the emissions from burning natural gas are very low, especially when proper filters are applied.
Nonetheless, given that these hydrocarbons are non-renewable, natural sources of energy, we are running out of natural gas as well. Therein lies the dilemma, but an increased reliance on natural gas is still seen as progress because of the emission advantages it has, as compared to any other form of natural, non-renewable sources of power.
Fossil Fuels Continue to be the Top Sources of Energy
Natural gas, coal, petroleum, petroleum derivatives and other gases were used to generate about 2,651 billion kWh of electrical power in 2018, fulfilling 63.5% of the nation's total power needs. This, of course, means that fossil fuels are by far the major resources that the country is still relying on to supply power. However, that is to be expected at this point in time, and these numbers are, in fact, quite promising to say the least.
The 63.5% reliance on fossil fuels is actually a sign of the US shifting to renewable and nuclear power sources quite rapidly. This fact becomes apparent when compared to the stats which show that the nation was relying on more than 80% of its power needs to be fulfilled by fossil fuels just a decade ago.
Factoring in the tremendous increase in need and demand for power since those days, the very fact that fossil fuel reliance is still steadily going down should be taken as nothing short of astounding. It also stands as a testament to the fact that the facilities and technologies surrounding the primary sources of renewable energy (solar, nuclear, wind and water) have since increased in both number and efficiency at an incredible rate.
Solar Energy Needs Wider Adoption
Solar power accounted for only 67 billion kWh of power in the entire country, which comes to just 1.6% of the total power generated by all resources within the United States. Now, it is to be noted that the numbers are up significantly from the previous years, but as compared to all other sources of renewable energy, solar power is severely lacking in contribution.
It might seem a bit baffling to see such low percentages from a source of energy which is the sun itself, but there are some practical reasons as to why the input is so low from the sector.
First and foremost, the sun doesn't shine equally in all parts of the States and, secondly, the initial price of adopting PV cell systems is still quite high in most states. There is always the question of price-to-performance ratio to consider, and in some states, the price-to-performance rates just do not justify the high initial price.
The Best Hope for Solar Energy: Solar Los Angeles
San Diego and Los Angeles are the two prime cities in California that are sunny beacons of hope for increased reliance and generation of solar power in the urban sectors. Both cities are near the top of the chart for generating solar power, but Los Angeles is ahead by quite a huge margin.
A combination of the abundance of solar providers Los Angeles has, and the low cost of solar panels Los Angeles enjoys due to the thriving PV industry here, has made it the
top city in all of California and the US
, in terms of solar power generation and adoption.
Between the years 2017 and 2018, Los Angeles saw an increase of 44% in the city's ability to generate solar power, which is just unprecedented in any other city in the world, in terms of a year-on-year increase in solar capacity.
In 2018, the largest solar installation Los Angeles had seen yet was installed on the roof of the Los Angeles Convention Center (LACC). Two records were set on that day, and they are as follows:
The LACC became the largest building in the world to run on solar power that isn't part of the commercial energy industry
The 2.21-megawatt system is also the biggest solar power generator on top of any convention center on the West Coast
That being said, there is still a lot of solar power Los Angeles has to offer to its residents, but it is going untapped even in 2019. Part of the reason why some residents have not yet adopted solar power in their home's complete capacity, or have not even installed any PV panels at all, has a lot to do with the very fact that there so many companies offering solar panel installation in Los Angeles.
When there are so many of them to choose from, and every other contractor claims to provide them with the best solar power in Los Angeles, the confusion is understandable.
There is also the issue of initial expenses, especially since Los Angeles is certainly not the cheapest city in the world to live in. Some of the best solar power companies Los Angeles have a license to operate in the city and provide excellent service and quality, but often charge a price too premium for most to afford. This however, should not be the case, because the solar costs Los Angeles officially accounts for are much lower than they are in almost any other US city. It is therefore true that just because a contractor claims to be the best solar company in Los Angeles, it doesn't mean that they will offer the best prices.
Semper Solaris, however, offers a solution to most of these problems, and they could very well hold the key to making every home, both big and small, capable of generating solar power on their own, thus reducing reliance on state electricity generated from renewable/non-renewable sources energy.
Being a company that's formed by ex-military personnel, and one that still maintains a close connection with the government, they are not just an authentic company with reliable prices; Semper Solaris is also famous for completing some of the best solar installation Los Angeles has in place at the moment.
Offering a choice of PV panels with varying costs to each customer, and providing them with adequate solar financing options Los Angeles has in place to support wider adoption of private solar energy, Semper Solaris is connecting more homes in Los Angeles to solar power every year. Hopefully, more solar companies in Los Angeles will follow suit and prioritize the city's green initiatives than their private profits.
The Reliance on Coal has Decreased Substantially
Ever since World War 2, the reliance on coal for electricity generation in the US had never been as low as it was in 2018, which is incredibly good news for the country's energy conservation and environmental protection. Coal contributed to fulfilling only 27% of the country's total need for power, which is, as already mentioned, a record in making for over 75 years.
Nuclear Energy Continues to be the Second Dominant Source
Nuclear energy is a controversial source of power because of multiple reasons that range from the irradiation of surrounding areas, to the very fact that it isn't actually a renewable source of energy, although it technically is! Irrespective of the fact that energy generated from nuclear fissions are renewable, the sources necessary to obtain and contain that energy are generated from mostly non-renewable sources.
There is also the risk of breach in such a facility, whether it's manmade or caused by natural disasters, as witnessed during the Fukushima disaster in Japan. Nevertheless, the 60 odd nuclear power generators in the United States continued to be the second highest providers of energy in 2018, by supplying 19.3% of the nation's power needs and generating over 807 billion kWh of power in total last year.
Hydroelectricity is the Leader in Renewable Sources of Energy
Accounting for the generation of 292 billion kWh of power and supplying the US with 7% of its total needs last year, hydroelectricity is apparently the clear leader, as far as renewable energy resources are concerned.
While this does show an increase in Y-O-Y comparison to 2017, in spite of the growing pressure for more power in the country, the rate of increase was marginal.
Wind Energy Contribution Showed a Marked Improvement
Wind energy came in as a close second in 2018 by generating 275 billion kWh of electricity, which made up for 6.6% of the total power generated in US last year. Although the numbers are still lower than that of hydroelectricity, wind energy manufacturing actually surpassed hydroelectricity in terms of year-on-year increase rate.
Wind energy sites right now hold great promise, and by the end of 2019, it could match, if not surpass the total capacity of the hydroelectrical plants in US. However, it's still too early to make such a prediction with any validity.
Why 2019 May Just Hold Even Greater Promise than 2018
Encouraging as the stats and records set in 2018 are, there is a high chance that some of them might be surpassed in 2019. This is more or less a unanimous conclusion by private and government sources on account of the following:
Realization of the Environmental Impacts: Political and Public Support
In absence of political and public support, there is very little that can be done to prepare the country for an inevitable crisis in energy, which will happen at some point in the future that is not so distant anymore.
The good news is that with every passing year, public and government realization of that fact is enabling the alternative energy source initiatives to be put into effect with more force than before. This of course means that any promise seen in 2018 in this area will become brighter in 2019.
100% Reliance on Renewable Sources?
In 2019, over 200 cities in the United States pledged to become 100% reliant on renewable sources of energy by the year 2035, which is optimistic, but promising nonetheless. The two states of Hawaii and California also pledged the same, but being states instead of cities, they had set their goals at a further date in 2045.
Although it remains to be seen how many of those promises and pledges come through, there is no question about the investments, efforts and other necessary actions that are currently being taken to make it happen.
As a result, the US as a whole should see a reduced reliance on non-renewable sources and increased output from renewable sources by the end of 2019 and by the end of every year from there onwards.
We are seeing the potential for records to be matched and broken across all sectors of renewable energy generation, although wind energy is certainly the focus here. Solar energy adoption on the other hand, really needs to increase.