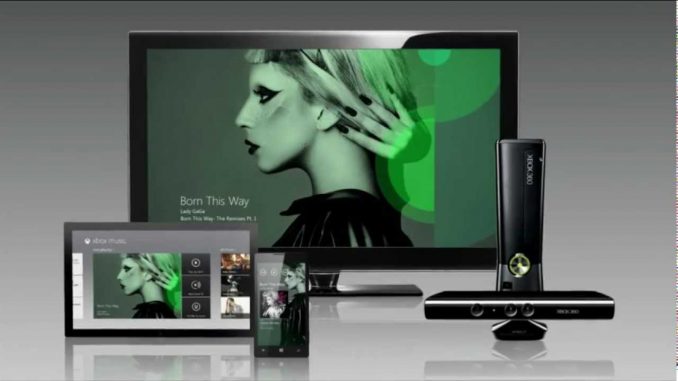 This article was last updated on April 16, 2022
Canada:

Oye! Times readers Get FREE $30 to spend on Amazon, Walmart…
USA:

Oye! Times readers Get FREE $30 to spend on Amazon, Walmart…
Look out iTunes – Xbox Music brings comprehensive music service to Xbox consoles and Windows 8 and RT

With so much happening pre-launch for Windows 8, I missed the official launch of Xbox Music on October 16th, Microsoft's new all-in-one music service for Windows 8. You will be able to stream and match more than 30 million songs for a reasonable annual fee, across multiple hardware devices.
Xbox is one of Microsoft's most successful brands and made them a game powerhouse against the formidable competition of Sony and Nintendo. It was a smart move to merge the best of Zune and Xbox into Windows 8.
When I got home last night, I picked up Brandon LeBlanc's post on Blogging Windows Xbox Music: Free streaming music on Windows 8 and Windows RT PCs and tablets
That puts Microsoft on the same footing with Apple's iTunes. No, it might actually put Windows 8 and RT users ahead of the iPhone/iPad world.
iTunes is not a free streaming service. You can only hear a select amount of music free. Everything else is at least a 99 cent purchase.
For the first 6 months, after the October 26th, 2012 launch, we will be able to stream an unlimited amount of music from Xbox.
After 6 months the service costs $9.99 a month or $99.99 a year for the Xbox Music Pass. The free service is advertising supported and limited to 10 hours per month. I don't know how offensive the ads will be. I can't imagine a break in Lady Gaga for a mouthwash ad.
That makes sense because I was checking out Windows 8 Music yesterday and it was re-branded Xbox Music and they offered the $9.99 and $99.99 streaming already.
Check out the official video for the short story.
Streaming hardware
Xbox Music will stream music across Windows 8 computers, laptops, tablets like the Surface, Windows Phone and the Xbox 360. With Xbox Live premium subscriptions, you can stream the content to an Xbox connected TV. Why not?
Xbox Music, formerly Windows 8 Music and AKA Zune, had finally cataloged all the music on my computer, including the iTunes library, and could play anything I wanted. That worked well and I spent the morning sampling my music library. It looked more or less like the screen shot below, except that one is from the Seattle Times since I didn't think of taking a screen shot of my own yesterday.


Xbox Music is a re-launch of Zune which failed as a standalone music player but was Microsoft's start in the music delivery system. They have been busy behind the scenes working on making Zune now Xbox Music a decent music delivery ecosystem similar to what iTunes does for Apple.
One thing missing from this is, of course, a cheap music player like the iPod. The Zune was supposed to be that product but it was pulled after weak sales. This is a niche someone else could fill if Microsoft doesn't.
This was one of my main worries moving over to Windows 8. It would be hard to leave iTunes which works so well. From my morning of using Xbox music I can say that it's no harder to use than iTunes and more graphical on the computer.
While you can still use Media Player in Windows 8, it is being replaced by Xbox Music.
Xbox Music will have 18 million songs in the United States. The service will be global with 30 million songs worldwide. How does that compare with iTunes? The number varies from 12 to 18 million, which puts Microsoft on par with Apple.
You will be able to buy music from Xbox music but pricing wasn't detailed. I imagine it will be competitive with Apple which as we know broke the 99 cent price last year and upped their prices. Bad.
Sound quality
Xbox Music will stream music at 192 Kbps in the free service and 256 Kbps in the paid service. That is the higher than iTunes. Sorry if I keep comparing the two but iTunes is the leader with more than 70% of the digital market.
With some cheek, Microsoft will be extending Xbox Music to Android and iOS eventually.
Streaming
Xbox Music also competes with streaming services like Spotify, Rhapsody and Pandora. Whether or not Microsoft delivers a cool service that users prefer is the question. Giving consumers a free subscription for 6 months is a good bet. As Windows 8 becomes more popular, the chances of other Spotify type services becoming profitable is next to nil.
Smart DJ
Xbox music will creating custom play lists based on what you listen to, both streaming and from your own music.
Offline listening
With Music Pass, you will be able to download music to listen to while outside a 3G/4G connection, like on a plane, scuba diving or hiding in the basement.
Xbox Store
Xbox already has a store for games. Microsoft will offer 18 million songs to buy, although buying digital music seems like a no-brainer when you can stream it when you want.
The Cloud and Match
Xbox Music is a cloud service, streaming the music when you need it. Upside is mobile devices don't need lots of storage memory. Downside is you may exceed your data package limits if you stream too many movies.
In 2013, Microsoft Xbox Music will be offering a Match service for a fixed annual fee.
Countdown to Windows 8
By Stephen Pate, NJN Network

You can publish this article on your website as long as you provide a link back to this page.