Between incompatible devices and slow download, frustration sets in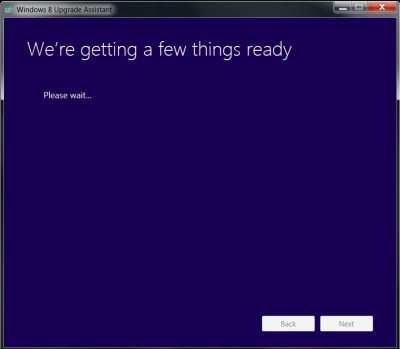 The online upgrade to Windows 8 is not a smooth process.
Update – got the $70 upgrade DVD from Future Shop and the install took about 30 unattended minutes.
This is surprising since the beta previews installed very quickly and without fuss.
The Windows 8 Upgrade Assistant rejected compatible hardware and software, insisted on a clean install from Windows 7 Ultimate, and takes more than two hours to download.
It's not easy nor smooth
This is the 6th installation of Windows 8 this year and it's nothing like the earlier 5. The first 5 were relatively easy.
The process should go like we wrote it up in the post Upgrade to Windows 8 and Save $140. That's the ideal way the upgrade is supposed to work.
Over at the Microsoft Community (formerly Answers Microsoft) there are about 600 unanswered problems from up-graders. About 120 problems have been resolved.
People have their banks charged twice for the upgrade. They cannot get through to the Microsoft store. The download stalls at 15%, the download fails.
Printers won't work. Adobe CS5 will not install. The list goes on endlessly.
"We're getting a few things ready"
That's the message for over two hours on the download site.
Other users are getting the same message with no posted replies from Microsoft.
I guess they are having a busy day.
Save your programs and data or clean install

Microsoft warned people to install the last pre-release, the RTM or Release to Manufacture, on a separate drive.
The RTM version was not upgradeable to today's release of Windows 8.
The penalty for installing RTM was the need for a clean install, wiping out your data, settings and programs.
I did installed RTM on a separate drive partition, as instructed. Earlier this week, I removed RTM with msconfig.exe from the boot sector and then removed the partition. The Windows 8 Upgrade Assistant still saw Windows RTM and insisted on a clean install.
I have backups and the original software but wiping the C:\ drive was not in the plan. Oh well, a clean install is a good idea for a new operating system.
Incompatible devices and software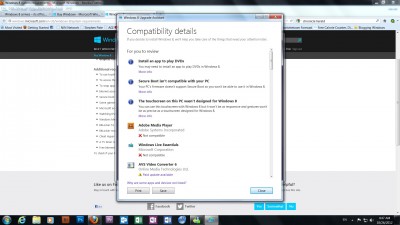 The BIOS on the ASUS P6X58D motherboard is not compatible with Secure Boot, not a big problem.
iTunes had to be removed, along with a few other programs. Is Microsoft trying to use a sharp stick on Apple?
40 other sundry software applications are compatible with Windows 8. They will have to be installed all over again since the upgrade will be a clean one.
Details they forgot to tell us
Digging deep into the Microsoft Community I did find some good advice for the upgrade, such as uninstalling devices and anti-virus software and stopping non-Microsoft services.
The non-Microsoft services are turned off using msconfig.exe: Services, Hide all Microsoft services, Disable All and Apply. That advice will only work if you have to re-install everything in a "Clean" upgrade. Otherwise, there will be lots of problems with missing services.
Here's the official list of "things we didn't tell you but now you have to try even if they don't work." Read down to the comment from the Moderator.
I did all of them and it's still not working. I might go to Staples or Future Shop later and pick up the DVD.
My wife picked up the DVD package for $70 at Future Shop. It installed without a single hiccup or compatibility report. The Acer T232HL multi-touch monitor is working like a charm.
Tomorrow I have to begin re-installing the software applications since it was a "clean" installation.
By Stephen Pate, NJN Network