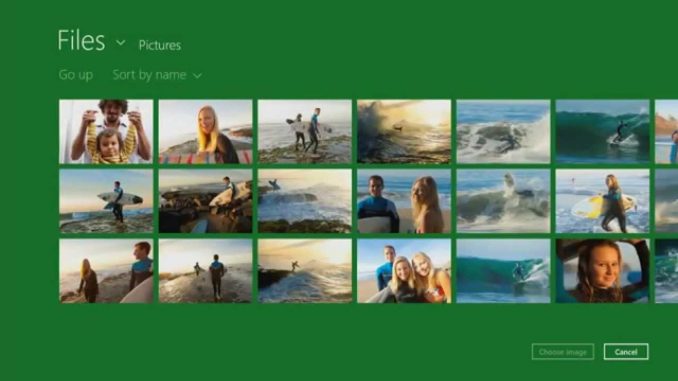 It does not take long to learn how to use and enjoy Windows 8
Negative press is telling the wrong story. Windows 8 is easier than people think.
Pundits are recommending people by-pass the start screen in Windows 8 or don't install Windows 8 altogether. I ask "Why not?"
Hundreds of millions of touch controlled smartphones and tablets have been sold in the past two years. People enjoy using them and their touch screens, despite the limited number of things they can do on an iPad.
I did not find it hard to learn the Windows 8 screen navigation and neither will most people.
It takes a little trial and error and self-paced learning from the Microsoft Windows site.
The situation today is no different from 20 years ago when Windows 3.1 arrived. A client said that he did not like Windows because it did not look like DOS 3.1.
That was true but for something to be better it usually is different from the past. Change can bring big improvement. Improved efficiency always requires a different approach.
Why Windows 8 is better
Windows 8 is a big improvement over Windows 7 and being tied to a mouse.
Now we can use different navigation that suits the situation. Most Windows 8 actions can be done with a keyboard, mouse, touchpad or right on the screen. The user decides which input device is the most convenient at the time.
Right off the bat Windows 8 is multi-tasking allowing you to do several things at once, just like Windows 7. Windows 8 is based on the NT kernel whether it's on a desktop, tablet or phone. Apple and Android haven't got that down yet.
Windows 8 can also put MS Office documents on any device you want to use, again desktop, tablet or phone.
We can touch the screen, just like an iPad or Android tablet only we can do more than select and swipe. The Windows 8 environment is much more functional than Apple iOS on the iPhone or iPad.
If you touch the screen and hold it Windows 8 tells you something about the application or function.
It you tap the screen, it starts an application or selects the item you tap.
We can swipe down from the top of the screen in Internet Explorer to see what other tabs are open. Touch the Internet Explorer address bar and it suggests pages you opened recently. Type something and it will use your history to complete the search request.
You can swipe up or down, drag sideways, rotate and pinch to zoom in and out. Sometimes it depends on the application. For instance, some apps swipe left and right, some up and down. I have not found one that rotates yet.
On the start screen, swiping from the left brings in the last application viewed. A clever swipe from the left and swing back shows all the open applications and the Start screen tile. I just learned that trick this week!

Cannot remember where a program or setting is? Just type on the Start screen and Windows 8 shows the applications, and settings.
If you are looking for a picture or file, type the keyword on the Start Screen and Windows 8 goes looking for them.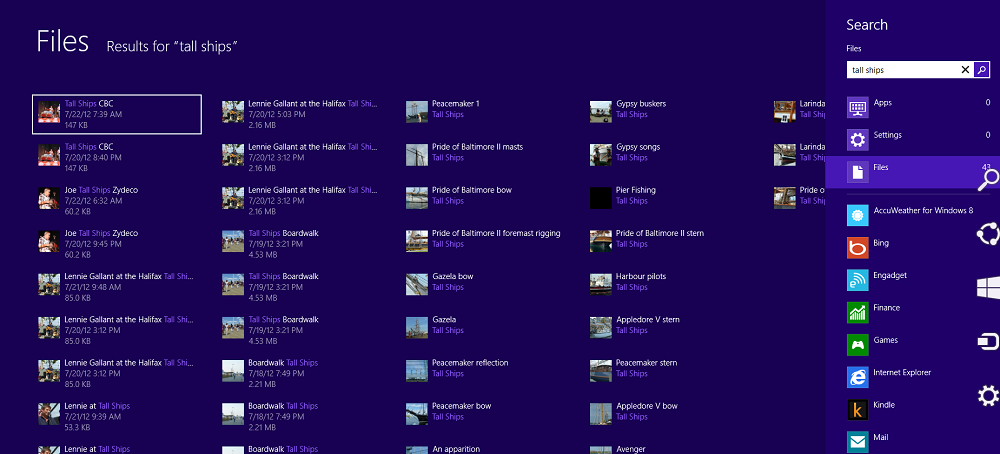 Typing "Tall Ships" brought up Search from the Charms bar and thumbnails of the pictures
Self learning and exploring Windows 8
It takes a few days of using it to learn the Windows 8 tricks which adds fun to the Windows 8 experience.
There will be courses on the Windows 8 interface and more books than we can read. Try it out for your self and use the brief demonstration videos on the Windows site.
The video above Personalize Your PC is one of five I found on the Microsoft Windows site.
Also on the site are:
Change your background, colours, and account picture
Sign in with a picture password
This is one of my favorites since I hate memorizing and typing passwords.
Languages in Windows 8 and Windows RT
The video are free and you will learn more than from people who just bash Windows 8.
Over time naysayers have a way of quietly adopting the new technology they panned.
In the meantime, learn to enjoy Windows 8. It is better than Windows ever was before.
By Stephen Pate, NJN Network