You can publish this article on your website as long as you provide a link back to this page.
This article was last updated on April 16, 2022
Get your Windows Media Pack upgrade in the language of your choice before January 31, 2013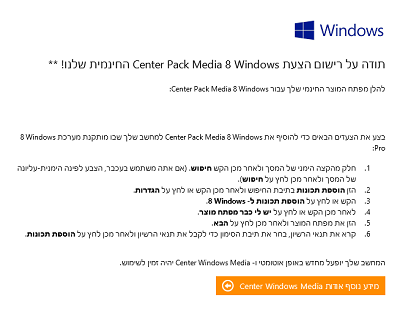 Windows 8 Media Center Pack Hebrew email
It wasn't spam – it was a Hebrew email registering Windows 8 Media Center Pack.
My wife said it was spam or a virus when I got a Hebrew email from Microsoft.
"Be careful," she warned me.
From Hebrew lessons learned at my mother's knee, I knew it was the real thing.
Hebrew reads from right to left, unlike most western languages, so it is right-text aligned. I opened the email without any fear and sure enough it linked right back to Microsoft Windows 8 Pro Pack and Windows 8 Media Center Pack Terms and Conditions.
Windows 8 Media Pack add-on
Windows Media Center is a heritage Windows program that adds DVD playback ability to Windows 8.
Microsoft stripped the codecs for DVD play from the Windows 8 Media Player.
If also does not have the codecs for Blu-Ray playback either. Usually, the Blu-Ray drive maker gives you the codes free.
If you upgrade to Windows 8 before January 31, 2013, Windows Media Center is a free feature add for Windows 8 Pro. It does not matter if you paid $15, $40 or $70: the feature add-on is free.
To get the feature upgrade, simple register your email address at Windows 8 Pro Feature Packs. Since the "free" part of the offer expires on January 31, 2013, get it ASAP.
Within 24 hours you will get an email from Microsoft with the registration keys, like the one I got. It will probably not be in Hebrew unless your computer is registered in the Hebrew language.
I can assure you that my computer has English as the language and Canada as the region. I was not trying to win Brownie points with my 93-year-old mother, although it might warm her heart to know I remember those lessons.
What does Windows Media Center do?
Besides playing DVD's automatically, Windows Media Center is another program to organize multimedia. It plays music, videos, displays pictures, and can play TV on your computer, if you have a tuner card.
Windows Media Center is a complex world of can-do's and the cannot's. Wikipedia has a good starting point to understand the complexities of Windows Media Center beyond playing DVD's and music. It can act as a client on a DLNA media server and discover content on the server.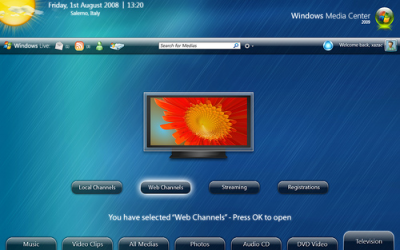 Windows Media Center as hub (Illustration Dipity)
There are add-on hardware products that will allow you to display content from Windows Media Center on your TV in HD.
Windows Media Center plays almost all video formats except RealVideo.
There are several services that provide subscription access to encrypted cable signals which allows Media Center to act as a PVR and home broadcast hub. Licensing restrictions play into this and there are more complications than easy roads to follow with internet TV.
Media Center originally shipped with Windows XP Media Center and used a proprietary Windows media file structure, along with reading most other file types.
Back in the day, I had a Windows Media Center computer with a tuner but it was too early in the history of internet TV access. Other than a brief amusement, it did not work. It may be easier today but it does take research and perseverance to make it work.
Windows Media Center does not integrate with Windows 8 Music or Video, at least that I could figure.
If you have a Media Center hookup that works, share it with us.
In the days of so-called "Smart TV", someone especially Microsoft should be able to simplify this for consumers. Perhaps they don't want to make it easy since we are already pouring money into the banks accounts of content providers and the cable companies.
By Stephen Pate, NJN Network