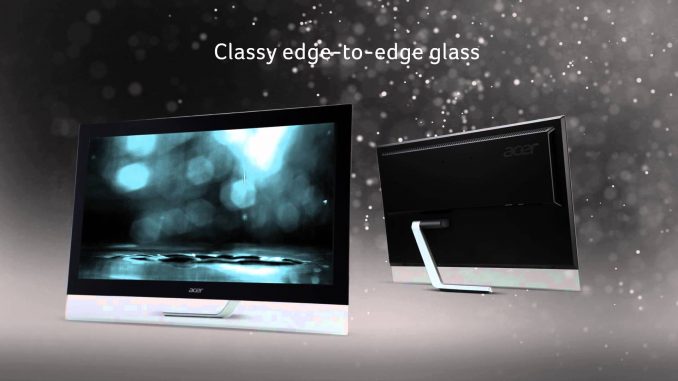 Acer introduces a stylish, high performance monitor for Windows 8 computers

The gorgeous and impressive Acer T232HL bmidz is one of the first Windows 8 multi-touch monitors available.
At $500 retail, the T232HL is a best buy for upgrading to Windows 8.
After two weeks of using it with Windows 8, I can't think of a better solution.
When Acer released the T232HL I had to get my hands on one.
For the past 8 months I have used an Acer T231H multi-touch monitor to test Windows 8. The T231H has been great but lacks the no-bezel, flat surface required by Windows 8.
Out of the box, the Acer T232HL is impressive. It's sleek and stylish, standing 16.5&Prime high and measures 27&Prime diagonally. The resolution and aesthetics are a definite upgrade from the T231H.
The display is totally flat so nothing interferes with Windows 8 edge control. Swiping in from the sides, top, corners – it all works effortlessly.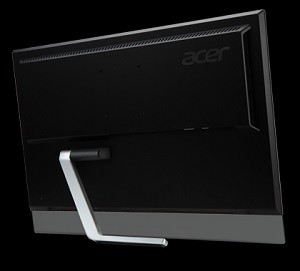 The T232HL is supported by a clear, solid plastic panel that runs underneath the front edge and a beefy metal leg and spring combination.
By pressing or pulling on the top edge of the monitor, it can be set between a normal viewing angle of 80 degrees and 30 degrees. At the low angle it looks like a giant tablet.
I didn't feel any hesitation in touching the monitor although I'm not sure I would leave it flat at 30 degrees.
There is also a standard VESA mount so you can install it on a wall or use any of the commercially available monitor stands.
Setup with Windows 8 is automatic. Connect either a VGA, HDMI or DVI cable, the USB 3.0 cable, audio and power and turn it on. Then boot Windows and it recognizes the T232HL monitor after a re-start.
All the cables come in the box including a USB 3.0 cable which is different from USB 2.0.
Depending on the video card, there should be no difference which connection you make – VGA, HDMI or DVI. Blu-Ray movies are copy protected: a HDMI connection will be needed if you watch them on your computer. I chose DVI which meant a separate audio cable.
T232HL video performance
The Acer T232HL looks gorgeous in Windows 8. The black front screen has a 23&Prime diagonal viewing surface with a 1920 by 1080 maximum resolution.
The 16:9 screen can display 1080 HD movies without any distortion. The contrast ratio is 100 million:1 with a 5 ms response time. I could not detect any video flaws watching HD movies or working with Windows 8 applications from 12&Prime-18&Prime away from the screen.
The T232HL has an IPS (in plane switching) touch display which gives it a wider viewing angle over TN and better viewing experience. It also makes the panel more expensive than the lower grade TN panels. That's the reason good multi-touch monitors cost more than low-end laptops.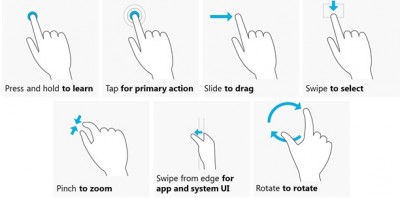 The T232HL is Windows 8 certified for 10 touch points.
For anything I could tried, it worked perfectly.
There was no lag and the touch action was accurate, as far as I could tell.
The beauty of touch in Windows 8 is that touch is optional. I still spend most of the time typing on the keyboard but when I want to move around, the hand goes to the screen instinctively now.
The T232HL monitor's aesthetics invite touch. You just want to reach out and touch the screen. My wife laughs at me when I pick up the older laptop and can't get the screen to do anything. She says the look of frustration on my face is priceless.
I don't have any software yet like Jason Rudess' Tachyon synthesizer that uses all 10 fingers at once. Therefore, I could not test the highest number of touch points.
The speakers are adequate for normal sounds but most people upgrade to a better system to watch videos and movies or listen to music.
3D
The T232HL is supposed to have 3D display ability. Using NVIDIA 3D LightBoost technology and NVIDIA 3D Vision 2 Wireless Glasses, Acer 3D monitors sync wirelessly with the glasses and video card. (Acer) This was not tested.
The T232HL has 3 USB 3.0 ports on the side of the monitor to connect other devices like phones, tablets, and cameras.
After I have used the Acer T232HL longer, I'll write a more detailed evaluation. At this point, I have few quibbles and lots to praise. The Windows 8 lock screen did not respond to touch. Click on the spacebar or mouse and it moves up. Acer support is working in why but it was not a big issue so I did not hold the article.
| Amazon.com | Tiger Direct |
| --- | --- |
| Amazon.com | Tiger Direct |
| | |
| | |
User Reviews
On Amazon.com users gave the Acer T232HL 4 out of 5 stars.
"The touch response on this screen is instant, and very precise. It is like what you have become used to on phone/tablet screens, if not better."
"The screen is extremely responsive. Soon you'll be pinching to zoom in and out. Twirling your fingers to rotate a picture. Swiping to close programs or change programs. It really is like having a tablet on a nice big screen."
"Like other reviews have said, the stand is SUPER tight out of the box, but steady pressure will make it move to the right space."
One person complained about the size. "Improperly misleading advertised Acer brand monitor is too large to fit on a household desktop and unstable."
Overall people seemed happy with the Acer T232HL monitor at the price. It also comes in the 27&Prime T272HL multi-touch monitor that retails for $680.

Acer T232HL display promotional video
Acer America has supplied a monitor for this review.
By Stephen Pate, NJN Network