You can publish this article on your website as long as you provide a link back to this page.
This article was last updated on April 16, 2022
Roland US has improved the ASIO drivers for audio interfaces, MIDI, keyboards and drums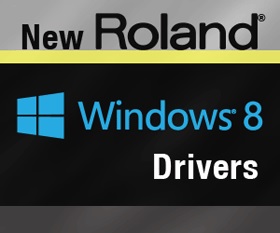 After struggling through the Windows 8 pre-release cycle of with Roland's Windows Vista drivers, I was surprised to find the driver for my UA-25EX USB AudioCapture available right away.
Roland has already released Windows 8 drivers for most of their audio capture devices, MIDI, MIDI keyboard controllers, sound modules, drums and percussion modules.
Some users are reporting latency and dropout problems from on-board audio DSPs and audio capture devices from other manufacturers. Surface sound keeps muting – Microsoft Answers.
Not only are the drivers available, Roland has improved them by adding software controllable settings including ASIO.
In the Windows 7 driver set, you had to rely on the application software to control the settings and reboot the device or your computer.
For example, with the new Windows 8 drivers for the UA-25EX, the audio buffer size can be adjusted 112 to 960 samples.
Previously, settings like ASIO Direct Monitor needed a hardware re-boot.
The improved level of software function in Roland's Windows 8 drivers makes the audio capture device more flexible.
The UA-25EX works with both 16-bit and 24 bit audio up to 96 kHz, although two channel bi-directional operating stops at 48 kHz. That's more than adequate for my needs in a secondary audio setup.
Roland has higher performance capture devices up to the half-rack UA-101 that can capture and monitor 6 channels of 24-bit at 192 kHz. Roland is not supporting Windows RT at this time.
Windows 8 drivers have been released for the Quad-Capture, Octa-Capture, MIDI interfaces up to the UM-3G, A800-Pro and PCR-800 series MIDI controller keyboards, the Octapad SPD-30 and SPD-SX pads, and the TD11, TD15 and TD30 drum modules. 32-bit and 64-bit versions are available.
For the complete list of Windows 8 supported devices see Roland US Go Windows 8.
Roland Cakewalk have tested the Sonar X2 digital audio recording software running under Windows 8 with positive results. Using the Windows 8 Consumer Preview and Sonar X2, Cakewalk testing reported better load balancing across multiple core CPU, faster bounce times, and more efficient memory usage and kernel use. For the details, see >Windows 8 – A benchmark for music production applications
Selected Roland Products Windows 8 compatible