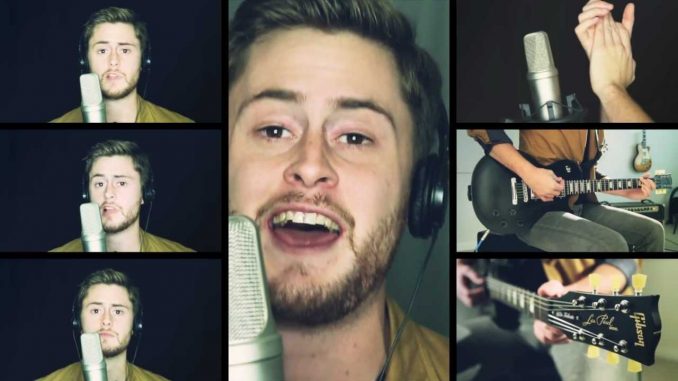 The latest version of hands-free tuning is the Gibson Min-ETune available as a $300 factory option
Gibson is re-launching the 5-year-old auto-tuning guitar as a headstock option named "Min-ETune." The system is made by Tronical.
The new Min-ETune, or Tronical Tune system, looks lighter and simpler than the original Robot automated tuner system.
The Gibson Min-ETune could be the Holy Grail of auto tuners or just another chapter in the evolution of this technology. Time will tell.
The manual is only 4 pages long. That should end the problem of remembering the intricate commands required on the Robot tuners.
The original Gibson auto-tuning guitar, also a Tronical product, was launched as the Gibson Robot.
The Robot guitars sold out before Christmas in 2007. Some people were selling the original production run for $12,000 on eBay. You can still pick up the Robot Guitar in blue for $1,600 to $2,100 on eBay.com.
For a gadget geek and musician, I just had to have a Robot guitar. So I bought one for Christmas.
I soon tired of the extra weight on the neck and head.
I sold it two years later because I never played it, although it was fun and a fantastic looking guitar.
The idea fizzled in the market because the auto-tuners made the head and neck of the guitar too heavy. The MCK knob, in the picture with the lights, was too fiddly when performing and the tuning was not accurate.
An evolving guitar technology
Every year Tronical has updated their auto-tuning system and Gibson adopted it. After the Robot Guitar, Gibson had the Darkfire, Dusk Tiger, Les Paul Standard 2010 (Limited) and Gibson Firebird X.
This year Gibson is offering the automated tuning system on more than 10 guitars from the high-end Les Paul Signature T ($3,000 approx.) to an SG Future Tribute ($1,100 approx.) The Min-ETune option add about $300 to the each guitar.
Tronical says the new system is light and easy to install. Pricing and availability announced have yet to be announced. An unofficial Tronical posting said "…expect the first retrofit kits to be available around Q2 of 2013…"
You can watch Gibson's Min-ETune automatic tuning system in this promotional video. Jeffrey James performs "Falling" on a 2013 Gibson Les Paul '60s Tribute, with the new Min-ETune.
As of this date, there are no reviews of this product that I could find.
Dealers are not stocking the Min-ETune guitars but Gibson dealers will special order them.
You should be able order the Tronical system and have a luthier retrofit your guitar. The tuning keys seem to install in standard holes and then attach to the controller.
This video is from the spring of 2012 but no retailers have stock to my knowledge.
Harmony Central posted this video in March of 2012, promoting the prototype of the Tronical Tune system.