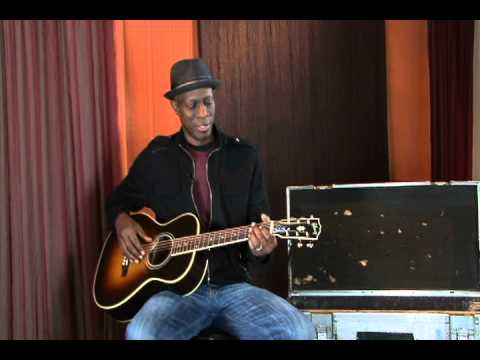 The bluesiest small body guitar Keb Mo says "This is my guitar, the one I like to play"
Gibson's Keb Mo Bluesmaster signature guitar is one small body, 12 fret guitar you might want to check out.
The guitar was released in a limited run of 300 guitars in 2009.
Since then, it has become popular enough to be production guitar for Gibson.
I'm a fan of 12-fret neck guitars. I don't play blistering lead runs high up the neck. For some songs, I prefer the mellow tone of a 12 fret neck and the longer and smaller body. The sound is elemental, earthy and bluesy.

The irony is blues guitarists did not need or usually own $3,800 guitars to get great tone. They practiced and the tone came from their fingers and the primitive sound recording used back in the 30′s and 40′s.
Robert Johnson's L00 small body Gibson cost about $30 back in his day. Those vintage guitars sell for thousands of dollars: you can find a few of them for less than $4,000.
However, there is a special sound to the "L" 00 body Gibsons. They were absent from the catalog for decades and revived sometime in the early 2000 decade.
Blues artist Keb Mo
Blues artist Keb Mo is more likely to strap on an electric guitar playing with a band, like a Les Paul or electrified resonator.
But when Keb Mo plays solo, this is the guitar he plays. "This is my guitar," says Keb Mo.
The video has Keb Mo playing this small body acoustic guitar. He explains his love for the guitar style including the warm sound, wide neck and voicing. Keb Mo says he prefers this guitar when he is playing solo.
Acoustic Guitar review of the Keb Mo Bluesmaster
"Acoustic Guitar Magazine" reviewed the Gibson Keb Mo Blues Master and posted a video.
"I'm a sucker for a 12-fret guitar," wrote Stevie Coyle covering this guitar in Acoustic Guitar Magazine. "and one look at the Keb' Mo' Bluesmaster made it clear that this is an authentic, short-scale 12-fret with vintage mojo. But rather than being a reissue of any specific guitar, the Bluesmaster offers elements of various Gibson L models and includes some handsome features such as herringbone purfling on the top and ivoroid binding on the back, fingerboard, and headstock. The guitar is extremely well made, with tight joinery and perfectly executed herringbone purfling."
"There's something redolent of the human voice about this guitar, with lots of rasp and grit and back-of-the-throat smokiness. Of particular interest is a spooky sort of hollowness in the upper midrange that really makes bent notes sing, which is perhaps attributable to the short scale."
"The guitar's active L.R. Baggs Element undersaddle pickup is simple—other than a soundhole-mounted volume wheel, there are no onboard controls but the rig sounds terrific."
"Given how many guitars attempt to re-create a vintage Gibson vibe, I was delighted to find that the Gibson turned out to be the most "Gibsonish" guitar in our lineup, as well as the bluesiest."
Stevie Coyle covered 5 blues guitars in the article in Acoustic Guitar Magazine.
Where to find a Keb Mo Bluesmaster guitar

The first 300 Keb Mo Bluesmasters were signed. Since then, the guitar has been so popular that Gibson kept it in production, which is why you can still buy a new one today.
I found the Gibson Keb Mo for $3,099 at Amazon.com, Guitar Center and Wildwood Guitars.
Amazon.com has become the largest internet retailer and now carries musical instruments from companies like Music 123, American Musical Supply, Same Day Music, Sam Ash, Chicago Music Exchange and the Music Zoo.
Amazon.com have the most competitive pricing, with excellent pre and post sales service plus the user community.
The only review on Amazon.com likes the guitar but felt cheated she didn't get a signed copy. A good point except she might not have found one two years after the first release if Gibson had only made 300 and stopped production.
Four owners on Musiciansfriend gave the guitar a 5 star rating.
Gibson have published a short interview with Keb Mo on a page called "Lifestyles". There is something ironic about calling the blues a "lifestyle."
The Gibson press release comes from Guitar International which carries plenty of good articles on guitars.
Gibson Press Release
From Gibson – "The guitar is a flat-top acoustic made in the tradition of the great small bodied Gibson blues boxes with the added versatility of a built-in L.R. Baggs Element pick up with sound hole mounted volume control. The Keb Mo Signature model is available in a limited edition of only 300."
"Gibson's "L" series acoustic guitars were there at the very birth of blues played by the great blues originator Robert Johnson, among others. This inspiration follows through with the Keb Mo Blues Master. The model packs all of the tonal nuance and sweetness you could hope for in a high-end, hand-crafted acoustic guitar while vintage specs include the 12th fret neck/body joint that positions the bridge right in the body's "sweet spot" for optimum resonance. The new model is reminiscent of the best of acoustic guitars from the 20s and early 30's."
"Finishes include Antique Natural or Vintage Sunburst with double antiquing. The guitar has a cream top, back and fingerboard binding, herringbone trim, mother of pearl inlays and double-ring soundhole rosettes. It comes with a Gibson hardshell case, a personally signed interior label by the artist Keb Mo himself, an owner's manual and Gibson Acoustic's Gold Warranty. MSRP is $3,868 USD."
Originally posted December 2009, update November 2012.
By Stephen Pate, NJN Network