Microsoft moves everything to the Cloud – Windows 8, Windows Phone 8 and Xbox 360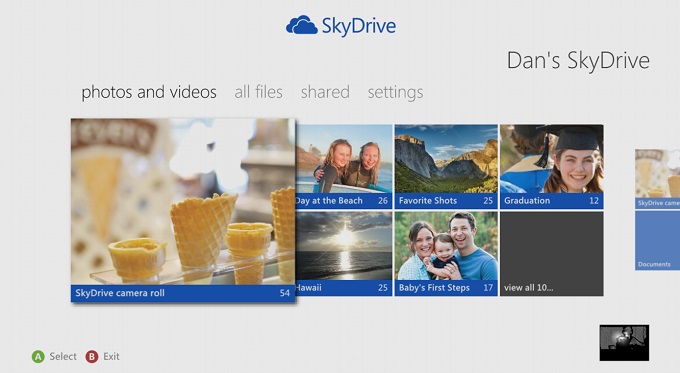 SkyDrive Xbox 360
Microsoft has released the update to Xbox 360 that integrates it with The Cloud on SkyDrive.
SkyDrive – The Cloud everywhere
You can now see videos and photos from SkyDrive on your TV. Along with Kinect that means telling the computer or waving at it to get media.
I have used SkyDrive since June and I cannot live without it. I dump all my raw photos from my smartphone or camera right on SkyDrive. All new music gets ripped to SkyDrive.
From almost everywhere, I can check out the pictures, edit them including deleting the fuzzy ones when I have time. Later on I off-load the 2nds to Windows Home Server.
Right now I am listening to music on SkyDrive on my iPhone 4. Ask me how hard it is to get my iTunes iCloud music: the iTunes upgrade wiped everything. Of course, Windows Phone 8 integrates SkyDrive with Music Player.
We do not have Xbox 360 but it would be great for sharing media at home on TVs. Adding SkyDrive will make Xbox 360 that much more flexible as a multi-media hub.
Right now our Sony LCD TV uses DLNA Digital Living Network Alliance. Sony is big on DRM controlling copyright materials so it blocks all our home movies and pictures and is extremely slow browsing the server or desktops.
Anyone have experience with using Xbox 360 to browse local stored files?
The Microsoft blog announcement
Last month, we announced that SkyDrive usage had doubled in the last 6 months, building on the general availability of Windows 8. With the growth of Windows 8, we're seeing more and more people choose SkyDrive as the easiest way to store and share their photos, documents, and other files.
Starting today, we're bringing even more value to SkyDrive and Xbox customers with a new SkyDrive app for Xbox 360. This means your favorite content is now only one click away, whether you are using the web, your PC, your phone, or now, even your big screen TV.
Dan Somrack, one of our newest Program Managers, authored this post. Dan just joined us from Cornell University earlier this year and he drove the final release details of this project.
The app will be going live later today. You can expect to see it on your Xbox after 10AM PST.
– Mike Torres, Group Program Manager, SkyDrive apps
The entirely new SkyDrive experience for Xbox 360 spotlights your photos and videos. The app connects the cloud to your Xbox and TV: every photo, video, movie, and other file you put in SkyDrive from Windows or the web will be available on your Xbox-connected TV. Your Windows Phone is also now connected to Xbox and every photo you snap can be available on your TV automatically.