As sales of Nokia Lumia 920 take off – AT&T has 3 colors for Lumia 920, Rogers has black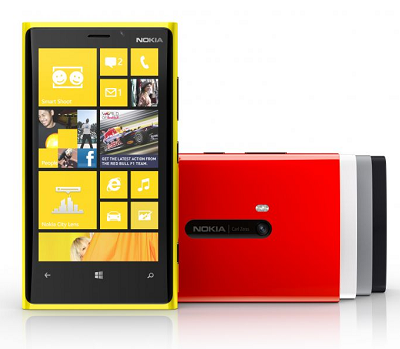 Nokia Lumia 920 in yellow, red, white, grey and black polycarbonate
AT&T is offering the hot Windows Phone 8 Lumia 920 in 5 3 colors. 2 colors are out-of-stock.
Rogers Wireless in Canada has the Nokia Lumia in the color of your choice, as long as you want black.
Sales have been so strong in the EU for this phone that Nokia is having supply chain issues. At AT&T, the Lumia 920 is the 3rd best-selling phone according to sources.
Rogers Wireless black
Rogers is silent on when the other colors will be offered. Off the record, they blame Nokia for only shipping black phones.
Nokia is also silent on when Canadians can break out of the color barrier to the lively red or yellow Lumia 920s.
This is a subject of some irritation by Canadians on Rogers Wireless Community Forums. They have a 15 page petition running on the topic.
AT&T customers hot on Lumia 920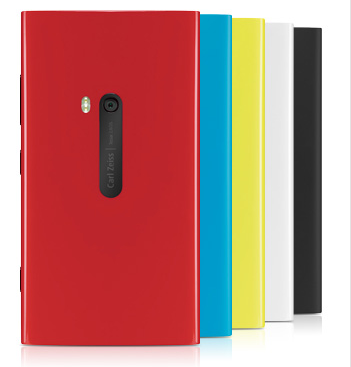 Nokia Lumia 920 colors from A&T with cyan replacing grey
AT&T have all five colors of the Lumia 920 with cyan instead of the grey announced by Nokia originally.
Yellow and cyan must be the most popular colors since they are out-of-stock online.
5 / 5 stars
AT&T customers love the Nokia Lumia 920. 96% would recommend the phone to their friends and most of the ratings are 5 stars. Amazingly, there were no grumpy users.
One AT&T customer wrote "Love with Interface/GUI Pros: 1. Skype and SkyDrive integration, 2. outlook works awesome with W8, 3. Camera quality beats galaxy-3 with a high margin. Its better than iPhone 5, 4. offline radio is awesome., 5. offline maps (don't need to worry about not getting internet while using GPS is remote areas)"
Another blackberryadictab27 wrote "This phone is a work of art. In addition to all the hardware innovations Nokia brought to the table (wireless charging, Pureview camera with OIS, curved glass screen, micro-drilled holes for speaker grill, ceramic buttons, NFC, etc.), the software is excellent. Nokia's free turn-by-turn is unparalleled in my opinion, and Nokia Music is hands-down the best music streaming service (can create mixes from artists like Pandora, but no ads and mixes can be downloaded for offline playback… all free!). The ability to download entire state/country maps for offline navigation is a must for travelers, as well as the amazing camera. I have nothing but good things to say about this phone."
The Nokia Lumia 920 is $99 on a two-year plan at AT&T and $449.99 on a monthly plan. The innovative wireless charger for the Lumia 920 is $50 at AT&T
Canadians have to sign up for 3 years and pay $549.99 for the same phone, with an official price of $49.99 for the phone after the current $0 price special.
Nokia Lumia 920 sales surge
In the UK and especially Germany, the Nokia Lumia 920 is getting hard to find as sales take off. This is driving the price of Nokia's stock up. NOK bottomed at $2.50 in October and closed yesterday at $3.79, up 51%.
"European handset maker Nokia Corporation (ADR)(NYSE:NOK) was up 13 percent on Wednesday driven chiefly by news that its Lumia 920 smartphones were running out of stock in retail outlets in Germany, Australia and some other markets." (The Markets Are Open)
The consensus is that Nokia the Lumia 920 is selling well and Nokia cannot keep up with demand.
Windows Phone 8 and Windows 8
Windows Phone 8 on the Lumia 920 shares the same interface, some applications and code base with Windows 8.
The live tiles on your computer and phone will look alike. You can also share the same Microsoft Office documents on the desktop and phone.
Microsoft Music integrates with Windows Phone 8 on the Lumia.
The Nokia Lumia 920 may be the game changer Microsoft needs to get its foot in the smartphone market.