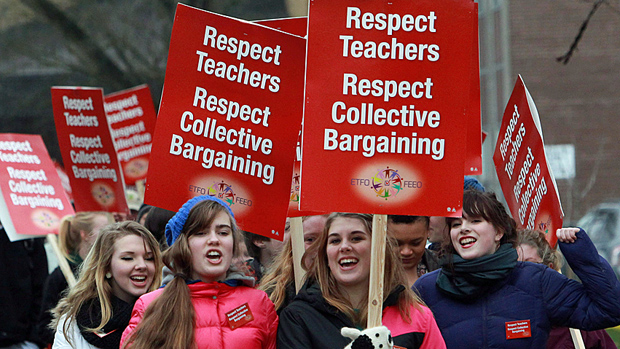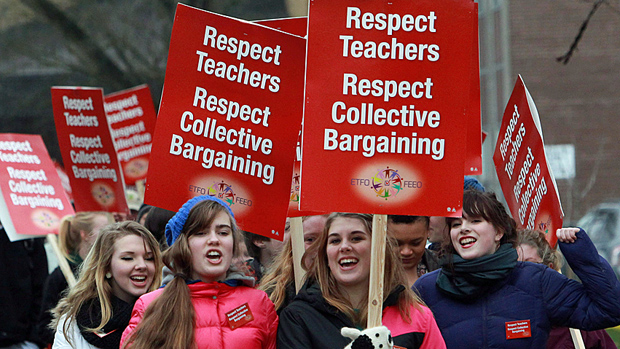 The elementary teachers of Ontario, who are currently running a protest campaign against the government and demonstrating through one-day walkouts in two regions today, have made an announcement to further increase their one-day walkouts to three new school districts on Friday. The announcement was made by the Elementary Teachers' Federation of Ontario (ETFO), which declared on Tuesday that teachers will be protesting in three districts on Friday, namely Simcoe (Barrie and surrounding areas), Kawartha Pine Ridge (includes Peterborough, the Kawarthas and areas along Lake Ontario between the eastern edge of Oshawa and Trenton) and Upper Grand (Guelph and areas north including Orangeville and Fergus).

These strikes will be added to already ongoing series of rotating one-day walkouts all over the province. The elementary school staff of the Niagara and Keewatin-Patricia school districts is scheduled to demonstrate a walk out session on Tuesday. Whereas, the elementary teachers in Ottawa-Carleton, Lakehead in Thunder Bay and Hastings-Prince Edward school districts have planned to walk out on Wednesday. The one-day strikes will move to school districts in Toronto's York Region, Trillium Lakelands and Renfrew on Thursday.

The current Liberal government has the authority of forcefully shutting down these strikes, but Premier Dalton McGuinty has given an allowance of only one-day walkouts and not anything more. The government claims to have all the legal rights to assuredly stop any sort of strikes that stretch more than one day. The union claims that its' teachers are not striking for a better pay, but they are protesting against the extremely controversial new law which gives authority to the government to stop strikes and impose a new collective agreement on staff.