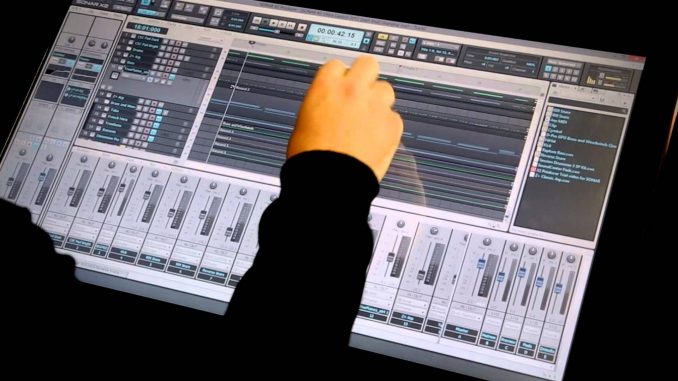 Sonar X2a makes the jump to Windows 8 multi-touch control of audio recording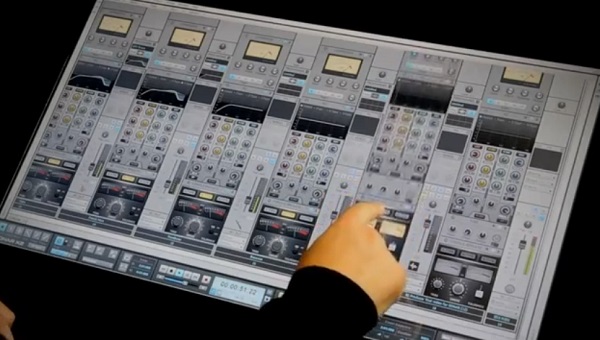 Cakewalk Sonar X2a with multi-touch screen support
Cakewalk has supported new technology ahead of its competitors like Pro Tools and Cubase. With the Sonar X2a release, which is free to registered owners, Sonar supports multi-touch controls.
With a 27&Prime touch screen, Sonar X2a will look like a giant iPad and recording engineers will be freed from the constraints of the mouse and keyboard.
Cakewalk posted 4 short videos to show this powerful use of touch technology and Windows 8.
Cakewalk has been working closely with Microsoft to develop Sonar X2 as a Windows 8 compliant audio recording program. Tests of Sonar X2 on Windows 8 pre-release software showed significant performance improvements with Windows 8. Not everyone agrees with those findings but most people find Windows 8 and 7 equal with Sonar X2.
Adding multi-touch to Sonar X2 changes the playing field.
Touch works on touch screen laptops but I can see a big demand for the 27&Prime multi-touch monitors acting as a work surface not just a screen.
Multi-touch support in Windows 8
In addition to your computer keyboard and mouse, you can also interact with SONAR X2a via touch if you have a compatible touchscreen display. This offers touch gestures for:
Scrolling and triggering cells in the Matrix View
Scrolling and basic multi-touch mixing in the Console View (multiple parameters can be adjusted at a time)
Scrolling and Zooming in the Clips Pane
Adjusting loop marker positions in the Track View
Auditioning and Dragging content from the Browser
Expanding/Resizing/Collapsing of docked views
Control Bar Transport module support
Toggling steps in the Step Sequencer View
Control of plug-in parameters (no multi-touch)
Mixing with touch
Controlling the matrix with touch
The Matrix view has been enhanced in X2a.
Matrix Captures result in extra data at the start and end of clips
MIDI Cells could get their first note clipped or stuck if timeline was looped in the Track View
Unexpected Note Offs can occur on MIDI cells going direct to a synth
Dragging a clip to the first cell/row could create Row 0 or Column 0
MIDI Cells do not trigger correctly when Cell Start = Restart
MIDI Clips dragged from the Track View will create a cell with a gray progress meter
MIDI Cells can sometimes "flam" when restarted from a different column
Sonar X2a comes in three versions – Sonar X2 Essential, Studio and Producer.
Sonar X2a Essential is suitable for home recording with a 64 track per song limit and 11 included midi instruments.
Sonar X2a Studio has unlimited audio & MIDI tracks, Skylight interface, 18 Virtual instruments including Z3TA+ Classic and 50 audio and MIDI effects.
Sonar X2a Producer is a total studio production in a box, adding BREVERB SONAR, the ProChannel module, and 59 audio and MIDI effects.
For the complete list of enhancements, see Cakewalk Sonar.