Unique wedge-shaped mouse is ultra small and has some Windows 8 touch features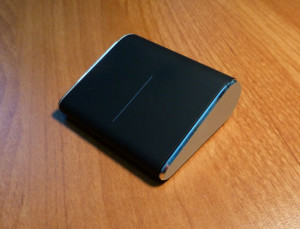 The Microsoft Wedge Touch Mouse provides a small solution for people who want to use the touch features on Windows 8 without investing in a new laptop or computer.
It provides a Bluetooth replacement mouse solution with 4-Way touch scrolling for navigating up, down, left and right.
It does not give you full 10-point touch capabilities and needs a Bluetooth receiver on your computer.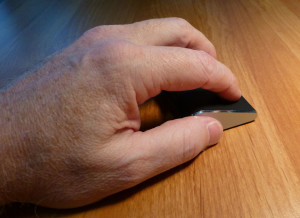 The design of the Wedge Touch Mouse is ultra tiny and sleek. Powered by a single AA battery, it makes a nifty portable solution.
Unfortunately, none of my desktops have a Bluetooth receiver so I was not able to test how well it works under Windows 8.
It does work well with a Nexus 7 tablet, providing normal mouse movement, left and right button click and up and down scrolling. The Nexus connection was flaky.
Consider how small the surface is when using it for scrolling.
The small (6 cm x 5.5cm x 2 cm) feels tiny in my hands. People with smaller hands might like it more. The Wedge Touch is ultra-portable and would easily fit in a pocket to go with a tablet or laptop.
It is compatible with Windows 7, 8 and RT and Mac OS X 10.6 and 10.7.

Bottom line: an ultra-portable, Bluetooth mouse that supports some Windows 8 gestures and best suited to smaller hands. Make sure your computer has Bluetooth.
In the $40 range it's a reasonable buy. At the retail $69.95 the Wedge Touch seems a touch expensive although the quality is good. Microsoft
3.5 / 5 stars