Microsoft's new overpriced Surface Pro launched this week during the worst blizzard in a decade to bad reviews and no retail stock
The Microsoft Surface Pro tablet / computer ships today, 96 days after the disastrous launch of its sibling the Surface RT.
Although the entry-level price of a Surface Pro is $899, it will cost a premium $1,128 to buy one with 128 GB of RAM and a keyboard. The same configuration of the immensely popular iPad costs $899, $228 less.
Early reviews are "overwhelmingly negative" says Forbes. The Surface Pro has a short battery life, is too heavy to be a tablet and makes a bad ultra lite computer.
Microsoft claims the Surface Pro is available online at the Microsoft Store and at Best Buy and Staples but they are hard to find, hardly an auspicious beginning.
Microsoft Pro premium pricing
Selling the Surface Pro for a 25% premium over the iPad is pure arrogance and a marketing death wish. The only people going to buy the Surface Pro at inflated prices are early adopters and enthusiasts.
Let's face it: Apple is the #1 tablet that people want. One in six of all computers sold worldwide in the last three months of 2012 was an iPad. The iPad made Apple the largest computer company in the world.
Microsoft needs to face the facts. They cannot gain consumer attention by pricing the Surface Pro higher than Apple. People are voting with their wallets for the iPad as their choice. Apple sold 22.9 million iPads in the last three months.
The only competitive strategy against Apple is smaller and lower priced tablets like the (Asus) Nexus 7 and the Amazon Kindle, both under $200. Asus / Nexus sold 3.1 million and Amazon sold 6 million Kindles in Q4 2012.
Microsoft sold 720,000 Surface RT tablets, after customers returned 400,000. That's fewer than the Barnes and Noble Nook, a dismal launch. Tim Coulling, Canalys Senior Analyst said 'We expect Microsoft to reconsider its pricing strategy for RT in the coming weeks. Dropping the price by 60% should get OEMs back onside'.
That means the right price for a Surface RT is $360 with a keyboard. Some of the 400,000 returned Surface RT's are showing up on eBay around $380. IF Microsoft wants to sell the Surface Pro, they need to drop the price to the same or less than the iPad.
Surface Pro Reviews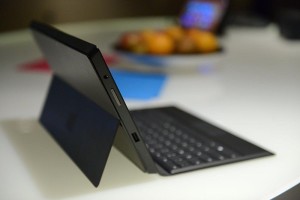 Microsoft Surface Pro with keyboard and stand, only $1,128 and the pen is free
Business Insider "calls it a heavier, more expensive version of the same (Surface RT) tablet."
Walt Mossberg of
AllThingsD wrote
"It's too hefty and costly and power-hungry to best the leading tablet, Apple's full-size iPad. It is also too difficult to use in your lap. It's something of a tweener — a compromised tablet and a compromised laptop."
Engadget liked the speed of the Surface Pro, the touch screen, running Windows 8 applications but ended up saying "sadly Microsoft's second tablet doesn't have us reaching for our credit cards. Not quite yet."
"The good news: Surface Pro is a marked improvement over Surface RT." said PC World. "The bad news: Surface Pro doesn't run away with the Windows 8 hybrid crown. And based on your needs, it might not be the best Windows 8 portable you can buy in the neighborhood of $1000."
Most of the reviews concede that the Surface Pro will be a better buy with a new Intel processor coming later this year and a lower price. That does not bode well for Microsoft's chances to catch up with Apple or Android tablets.
Microsoft are ignoring price but money is always an issue. I wanted to get a new tablet before Christmas. Logically as a Windows user, I should have purchased a Surface RT at $730 for the one I needed. Instead I got a Google Nexus 7 which does everything I need for only $250.
Don't hold your breath for Microsoft to drop prices. They are usually firm on pricing or arrogant depending on your point of view.
Where are the Surface Pro tablets
Selling retail product is all about the 3 P's of Marketing – right price, right product, and right place.
Let's go to the store and find a Surface Pro to buy or at least kick the tires. Microsoft has partnered with Best Buy and Staples to retail the Surface Pro. Those stores, along with Wal-Mart and other retailers, also sell the Apple iPad and Android tablets.
Try to find a Surface Pro. Staples are taking orders over the internet and don't have any units of the Surface Pro in stores within 800 miles of where I am. According to their website, the Surface Pro is online sales only.
Best Buy had about 40 Surface Pro's in Canada at 2 AM Saturday morning but only in the major centers and only if you reserve one. In other words, no stock at retail.
No wonder people buy Apple when Microsoft's products land with a thud.
There is good news for Microsoft. Forrester found that 200 million office workers want their tablet to use Windows. "The new Forrester report titled "2013 Mobile Workforce Adoption Trends" holds out hope for Microsoft, though. It found that when it comes to what type of tablet information workers want for their next tablet at work, Microsoft is at the top of the heap. Some 32% want a Windows tablet, compared to 26% for an Apple tablet, and 12% for Android. In all, the report says, some 200 million information workers worldwide would opt for a Windows tablet as their next work tablet." ComputerWorld