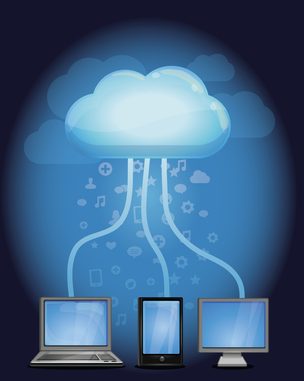 If you've owned a computer in the last 20 years, you already know about the importance of saving and backing up the data on your machine. Computer users implement data-recovery plans to prevent the loss of important files and projects with external hard drives, re-writeable discs and cloud backup solutions.
According to PCWorld.com, many IT departments that have opted to save company data and work from online, offsite networks, have chosen to adopt a cloud backup solution because it is a more cost efficient, sustainable and reliable means for prevention of data loss. Most of the larger companies that store data online at offsite servers, through paid cloud-hosting providers. If the company only needs minimum backup, many have chosen to use the free cloud services available through companies like DropBox and Google.
Cloud Backup 101
If you don't know what cloud backup is, very simply put, a cloud backup solution is designed to store media, files and web content of any size or format online. There are different types of cloud solutions, some of which require the installation of software, some cloud backup solutions also offer customer service management solutions as well, but all of the programs allow users to save, share and access important files from anywhere at anytime. Many companies that opt to utilize cloud backup storage solutions to protect it's valued data, also have been known to use cloud hosting solutions as a remote server for the companies' website.
There are many ways companies can use cloud backup solutions to further it's IT management and the virtual organization that is used in every department. George Crump, of InformationWeek.com discussed some of the ways that IT managers can utilize cloud backup solutions to further data recovery and security.
Virtual Protection
Since cloud backup solutions are meant to keep copies of information at different geographical locations, IT professionals find that these "virtual projects" are easy to access and maintain, but there is a trade off. Crump says "the use of cloud storage is not integrated directly into the virtual backup software. It has to be added on as an afterthought via some sort of gateway appliance." Adding a separate gateway to filter content reduces efficiency and increases complexity, but Crump assesses that for maximum security and the possibility of encrypting files for storage, this added step needs to be present in cloud backup.
Disaster Recovery Site
The "public cloud" as Crump calls it, can assist a company when faced with any number of disasters that can compromise the safety of it's records, archives or projects. Whether the disaster is natural, like a tsunami, or it's because of a hacker who has broken through a server's encryption, the cloud can serve as a safe haven for files that could have been lost forever if copies weren't saved to a separate cloud site. This remote site can provide a fast recovery, for Internet connection and databases, especially in situations that affect small to medium businesses.