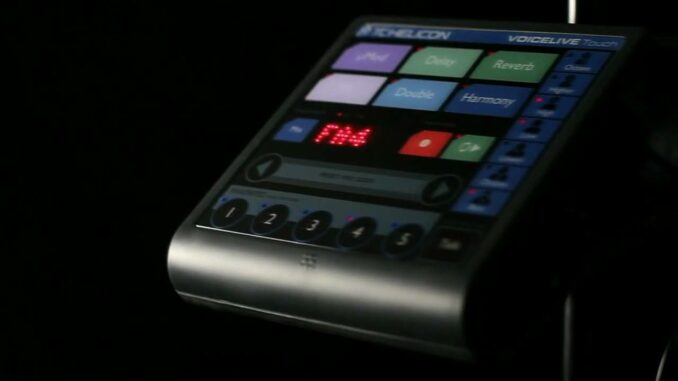 You can publish this article on your website as long as you provide a link back to this page.
This article was last updated on May 19, 2022
VoiceLive gets touch interface, easy access and looping

The folks out in Victoria BC at TC Helicon have done it again – the VoiceLive Touch was announced this week. Essentially what they have done is put the best features of the VoiceLive 2 in a smaller form factor, added vocal looping and a touch screen.
This is going to be a must try if not must buy toy for the singer/songwriter. VoiceLive Touch is expected to ship August 2010 and has a MRSP of US $695 or €470.
The best part of the VoiceLive Touch is it mounts on a microphone stand or sits on your desktop. Second best feature is touch control. Third is voice looping.
I love the VoiceLive 2. What I don't like is bending over to tweak the settings. The VoiceLive Touch is right where you need it – at your fingertips. Awesome.
The Touch feature will interesting – to adjust effects by touch. We are all getting used to touch with the iPhone, iPad and iPod Touch. It will be cool to see how Kevin Alexander and his creative team are in the implementing of touch for singers and singer/musicians.
The off-the-floor location and touch will be much better that fiddling with edit screens, tabs and knobs. There is no way during performance that I want to adjusting my vocal effects other than something simple. This looks really simple.
Vocal looping is a terrific idea. The idea of entering your own rhythm and looping it. Awesome. Did I already say that?

VoiceLive progress
I have been using VoiceLive for 6 years. The original VL was a good product but suffered from a weak user interface. For harmony you had to use a set scale or program your chords changes. That was hopeless for performance. Keyboard players like it since it responded to MIDI control.
TC Helicon added
Harmony Control Guitar
a few years ago which improved things. It would trigger MIDI changes to the key/chords using input from your guitar. It was fun to finally get some performance benefit for the guitarist/singer from the VL without struggle.
During that time, TC Helicon was releasing cool smaller pedals that did two or three vocal functions.
VoiceTone Create XT
gave you easy to use Fx, Reverb and Delay. I have the pre-XT version and it is a must have pedal for performance. Simple and powerful, it added real polish to the vocals.

VoiceTone Correct
added pitch correction, compression and shaping. The effects were subtle but helpful.

VoiceLive 2 the "Aah" pedal
It all came together in one industrial strength pedal last year with
VoiceLive 2
which had built in harmony control from a keyboard, guitar, or recorded music (sans vocals). This is the ultimate vocal pedal. There are more than 300 preset voices. The ability to control harmony by playing only two notes on the guitar is unbelievable.
In more than a year of use and experimenting with the VoiceLive 2, it has never failed me. The biggest challenge is to limit myself to a few of the almost 300 presets that are in the box.
TC Helicon have a well-deserved reputation for harmony effects. Some of the effects from the VoiceLive 2 are so good it's hard to tell they aren't real. It has effects that had been only available in the studio or with complicated rack equipment.

VoiceLive 2 is feature rich. It allows ultimate control of the signal path. Inputs are obviously the mic and either guitar or line. The outputs split to stereo or mono wet/dry with XLR and TRS simultaneously along with digital SPDIF. Output levels can be set individually. In a studio setting you can drive the house PA and a DAW at the same time.

VoiceLive 2 has MIDI control. The thing is built like a tank with sturdy stomp box controls. TC Helicon recently provided a 1.2 firmware update that fixed a few things and smoothed out others. More reasons to love the box.
The only caveat is you can get confused stomping on 10 stomp buttons with your feet when singing to an audience. It usually distracts people if you look down to check your foot. I like to set the preset and leave it alone other than turning one effect on and off during a single song. Keep it simple.

VoiceLive Touch Foot-switch
Foot-switch control of the VoiceLive 2 is redundant, except maybe for an expression pedal. On VoiceLive Touch you will need one to keep your hands on the guitar or keyboard and make changes to your presents – turn harmony on or off for the chorus etc.
Along with harmony, VoiceLive Touch carries over the feature set of VoiceLive 2 including "HardTune, µMod, tap delay, reverb, doubling, and transducer, Global Tone feature tailors adaptive EQ, compression and de-ess, 8 voices of NaturalPlay harmonies."

VoiceLive Touch is an evolution in the user interface and technology for TC Helicon and for singers. It's going to be interesting to give it a try.
So far all we have is a
promo video
with CEO Kevin and Tom Lang.
If I get time, I'll do a comparison chart between the
VoiceLive 2
and
VoiceLive Touch
. I don't think the Touch is missing anything but it will be handy to see. In reality they are aimed at entirely different experiences with
Touch
being the operative word.
Click HERE to read more columns by Stephan Pate

Related stories