Build 9364 of Windows 8 code-name Blue has minor tweaks of the unpopular Windows 8 Start Screen that may not fix the problem for many people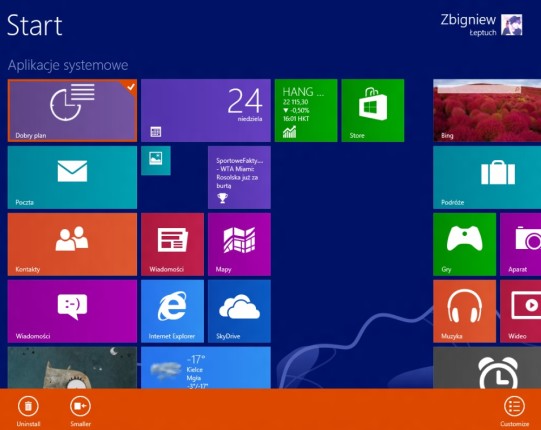 Windows 8 users are optimistic, myself included, that the rumored Blue update will make a major improvement in the Windows 8 User Experience Design or UX as its called.
The leaked video from Poland shows that we may be in for a major disappointment with only minor tweaking of what has become an almost despised Start screen.
The negative sentiment of disappointment is voiced by Steven J. Vaughan-Nichols of ZDNet in Windows 8 Metro interface Blues where he writes: "I've got a bad case of the Windows 8 Metro interface Blues. It looks like Microsoft will be releasing Windows Blue midyear, but the interface is going to be the same old Metro mess that's been giving its users the blues since day one."
I'm not as negative as the other Steven, but I do believe after a year of using Windows 8 that the once intriguing live tiles are not an efficient interface. On a computer screen, there are too many tiles, too close together that look-alike.
The tiles, and the Windows 8 flat icons, make it hard to find the application you are want. Any of the native Windows 8 apps have a two-dimensional look that makes them blend together. They do not look unique. Examples of hard to find tiles are Store, Map, Video, Games, and Sports.
The best tiles are the ones with – God forbid – 3-D raised icons of identifiable trademarks, like the Office 2010 Work, Excel and Outlook icons and Facebook. Also easy to spot are the double sized tiles that boldly display the apps name like "Netflix" and "NBC News."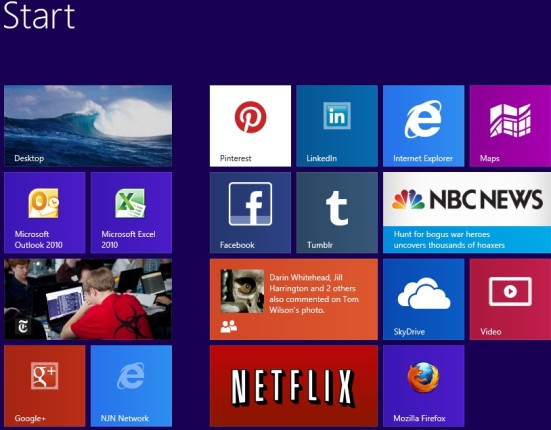 Windows 8 tiles – too many and too hard to tell apart
Tile Sizes and Groups
Windows 8 Blue is rumored to be adding two more sizes of tiles, very small and bigger. The very small ones will get lost and that is not the problem. (see the illustration below)
You will now be able to group tiles and name the grouping. That may be a small improvement in tile recognition.
Even better would be to increase the space between tiles. Note how much easier tiles are to distinguish with wider spaces in edit mode. I try to open up the Start Screen with black spaces.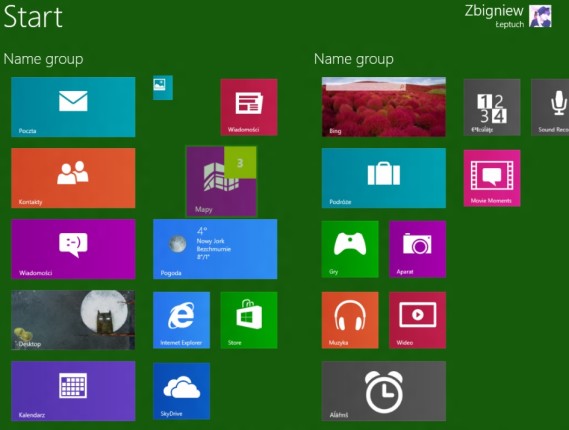 Windows 8 Blue organizing tiles to be in named groups (Build 9364 windowsmania.pl)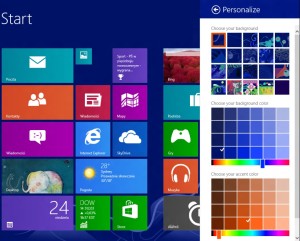 Windows 8 Blue will allow more personalization of the Start Screen (Build 9364 from windowsmania.pl)
Build 9364 is an un-official release but probably a trial balloon from Microsoft to gauge public and media response to the Blue update. An official Public Preview is unofficially rumored to be arriving in May.
Other than Windows fanboys, I expect most people are going to look past a few cosmetic changes and ask when is Microsoft going to fix Windows 8, if ever.
You can watch the live videos of the installation and changes at Windows 8 Blue leaks to the internet from Poland
Also check out the Dropbox screenshots from the video, from which I developed these screenshots.
I did not download or install Build 9364 and am deeply grateful to windowsmania.pl for their work.