Windows 8 Mail Calendar and People embedded apps get refresh with many rough edges yet and a hidden security gotcha from Office 365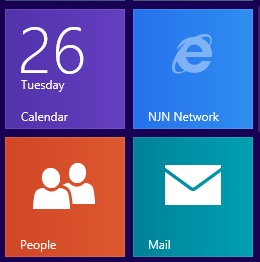 Mail Calendar and People get mid-term update on the road to real app-dom
The much ballyhooed update of core Windows 8 apps came over night on Monday. You may miss the subtle changes if you don't look closely.
SkyDrive also got an upgrade that seems positive. I'll research that a little more and report back.
My personal hopes of seeing People fixed so that social media Sharing would work were dashed. People is still an unorganized and buggy app to avoid.
This is a slow march for Microsoft towards creating a Windows-8-only world in which we don't or can't fall back on our favorite Desktop applications like Outlook and Facebook. If that is good or bad is up to you to decide.
To get the updates, tap on the Store tile and it should have an update for Mail, Calendar and People. Accept the update. In a few minutes the new-ish apps will be available.
Mail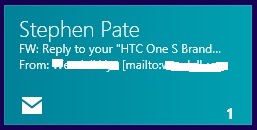 Mail Calendar and People get mid-term update on the road to real app-dom
The biggest changes come to the Mail app with multiple mail accounts, folder management, instant notification, email flags, touch control and better content formatting.
Most users will be torn between the still-basic features of Windows 8 Mail and more feature-rich mail apps like the free web Outlook client or Outlook in Office 2010/2013.
If you turn on Mail notifications in Settings, you may find yourself using Windows 8 Mail more often but missing Outlook features.
As I am writing this story, a new email notification appeared in the upper right hand corner. For email junkies this is the "instant email" adrenalin rush of integrating Mail with Windows 8. With Mail you get instant email notification on installed accounts. Too bad Microsoft is forcing more security on users to link their Office 365 accounts.
The upgraded Mail app also supports touch features which will make working on a tablet or phone easier, such as swiping from the top and bottom. On a desktop monitor it's easier to use the keyboard / mouse combination.
I suspect most people will try Mail and stick with their normal email clients such as Outlook. I am not being negative just realistic. Mail is better but not the best.
For more details on the changes in Mail, see Brandon LeBlanc's post The Mail, Calendar and People apps are getting better!. I quote freely from that post on Calendar and People later in the article. Brandon is so positive.
Mail Security Rules
Mail will now allow multiple mail accounts to be integrated into the Windows 8 app. The update of Mail slips in new security control by way of Office 365 that will catch Office 365 users off guard.
Without warning or clear instructions on the implications, adding an Office 365 account enforces new server-based security rules. These could include requiring re-sign in after inactivity, account lockout after failed attempts, and loss of picture login in.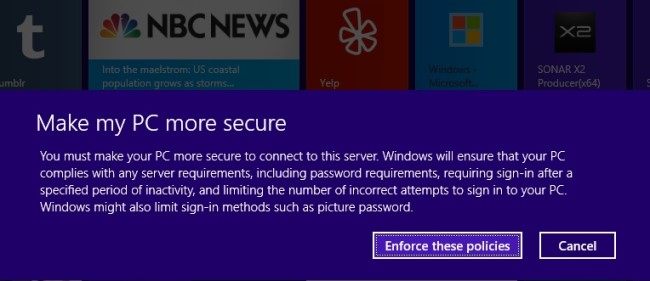 Linking Office 365 email with Windows 8 may make the computer more secure but also make it more difficult to use
I'm not sure what the new security rules would be. They depend on rules made by the Exchange Server which Microsoft controls. Since I didn't want to change my computer security settings, just so the Mail app could access Office 365, I deleted the my Office 365 connection before the sync.
I had a nasty experience with Outlook/Office 365 in January when it locked my email account when I asked for a password change. No one in heaven or earth could open the account unless I got a lawyer's certified document proving I was "Stephen Pate" at my known address, passport, and almost my fingerprints. It was the most secure password change in the history of man. The job was so difficult I deleted the Office 365 mail account. Luck was on my side that time since I had not transferred all my contacts, calendars and email history to Office 365.
Companies who want to enforce higher security may like this new feature. Your organization may have strict server-based security rules that are maintained by an administrator. For instance, you may want to log off users after so many minutes of inactivity. You may want to ban baby pictures or porn from the picture / gesture login to Windows 8. This change in security might be welcomed. I just think more warning of the benefits and effects of the policy change would be proper.
The downside to not allowing Office 365 to control your computer is Mail will not integrate Office 365 Contacts, Calendars and Mail with Windows 8. Of course, you can still use the web-based client and the Office 2010 client for Office 365 on a Windows 8 computer.
Calendar
The updates on Calendar are minor, a tweak here and there. It still does not look robust enough to use as a daily planner. Again Windows Phone and tablet users will probably benefit the most. The developers at Office Outlook are not giving up their secrets to Windows 8 yet.
The Calendar app is able to organized across personal and work calendars.

Calendar app has been updated to make looking at your calendars easier to read.

"A new "Work week" view has been added to the app commands.
The Calendar app now accommodates the use of scheduling assistant for business accounts that use Microsoft Exchange. Anyone used to scheduling meetings in Microsoft Outlook and being able to see a person's availability will be able to see the same thing in the Calendar app." (Brandon LeBlanc)


"You can now also forward meeting invitations, send email to all meeting attendees choose more recurrence options for reoccurring meetings or events and set end dates for recurring events." (Brandon LeBlanc)
People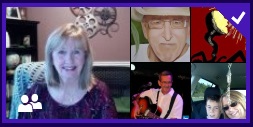 People app integrates all your contacts (Live Tile)
People is an app of great but unrealized potential.
All of your contacts from email, Hotmail, Facebook, Twitter and Skype are in one place. It seems like a great idea but Microsoft has not figured out how it will work in practice.
What Microsoft didn't fix in People were the bugs in Share.
That's the potential and the problem. Contacts are not organized or segmented. In Outlook you can group them by Categories. In Facebook they can be Friends, Close Friends, Family etc.
Most people have different people in Facebook than Twitter and probably than their work contact file. Like President Clinton, we exercise the discretion of compartmentalizing our lives. Not in People. They are all lumped together, the great and the small, friends and foes, family and strangers. The only organization is alphabetical order. Notifications are segmented by Facebook and Twitter.
"The People app is your one stop destination for the important people at work and in your personal life," says Brandon. "It's easier to stay in touch, manage and connect with the people in your life across multiple services such as Outlook.com, Facebook, Twitter, Skype – and your work."

You can now navigate the People app more easily by swiping from the top (or right-clicking) to bring up the app commands.
"There is new navigation at the top that allows you to quickly move between your profile where you can post status updates and Tweets or see what your friends are posting on the "What's new" feed. You can also now post to your friends' Facebook wall."

"You can filter your "What's new" feed by social network," writes Brandon.
On the integration with Windows 8 side that's good.
On the side of a better user experience, most people would rather use Facebook and Twitter which are much richer experiences than checking what's new in People.
People is the hub for social sharing and most of that is broken. I'm a confirmed Sharing person and frustrated by Windows 8 Share. How Windows 8 Broke the Facebook Like Button And How to Fix It
Some pundits are suggesting this update and Windows 8 Blue are an inexorable march towards a Windows 8 only world with no desktop applications in 2014.
If Microsoft forces us to only use Windows 8 apps, then we will all be in trouble.
The one take-away here is that Windows Phone and tablet users will like the changes. Is the PC really dead?