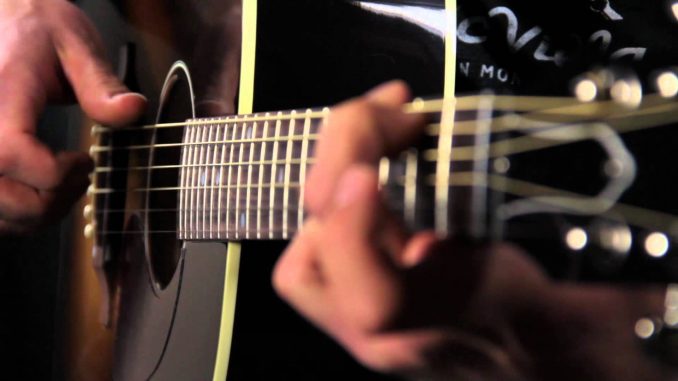 The Gibson J-45 is an iconic guitar – the classic sound of singer songwriters, rock, country and folk singers for about $2,200

5 / 5 stars
Dubbed the "working man's guitar" when it was released in 1942 to sell at $45, no other guitar except the Martin D-28 defines what a guitar should be.
The J-45 and D-18 are the most copied styles and sounds in guitars.
You can find reasonable imitations as low as $400 and expensive versions for $10,000. The street price for a new J-45 is about $2,200. Good used J-45′s go for about $1,400 to $1,800.
The round-shouldered dreadnought Gibson J-45 has a spruce top and mahogany sides and back, giving it a distinctive warm and full sound with plenty of distinctive high notes.
The deep sunburst finish looks great and hid the variability in war-time wood supply for guitars.
Since 1942 the sunburst finish has become a classic. Even my 1979 Martin D-35 tries to copy the J-45 look, one of the few times Martin made sunburst top.
The Gibson J-45 sounds great strummed or picked. If you haven't played one, you must and if you own two acoustic guitars either the first or the second should be a Gibson J-45.
My first J-45 was an 1969 model purchased on time payments from Steve's Music Story in Montreal for about $200.
Thanks to Tony Polecastro of Music Villa who does a quick review of the Gibson J-45 Custom on YouTube.
The standard J-45 comes with an Adirondack spruce top. With the feared disappearance of Sitka spruce though over harvesting, Adirondack spruce is both a great sounding and environmentally friendly choice of tone woods.
There was a knock against the Gibson J-45 that the factory at Bozeman Montana was making sub-standard guitars. American Songwriter said recently "Gibson's Bozeman plant currently produces guitars that would have shined at any time during the company's long, illustrious history."

Gibson J-45 Standard Acoustic-Electric Guitar, Vintage Sunburst (Gibson photo)
I agree, I have not played a bad or even fair new Gibson recently.
The search for older Gibson guitars always baffles me, when the brand new ones are better built and sound awesome.
I would like to still have that old 1969 guitar but would be happier with a brand new J-45. Gibson makes them better today than ever.
B- Stock Gibsons
What are B-stock guitars. "B-stock and refurbished guitars are items which upon inspection by the manufacturer fail to meet their quality control guidelines. Issues such as a scratch or minor finish flaw prevent them from being sold as "New". The flaws with B-Stock guitars are typically so minor that there is no need repair them." e-Bay
Dealers are supposed to tell customers when the guitar is b-stock. US dealers like Guitar Center and Musicians Friend name b-stock guitars and sell them at a discount.
Sometimes dealers don't. A music store in Toronto Scarborough sold b-stock guitars without telling its customers, raking in extra profit by buying cheap and selling at regular price.
Several Long and McQuade employees told me, when I was searching for a new J-45 in the past, that you had to find the right one to get a good one. I was puzzled by this for years. Secondly I wondered how L&M could match the prices south of the border and why the Gibson warranty in Canada was one year not a lifetime as they are in the US.
Is the difference in sound just normal variability in tone woods or are Canadians being sold b-stock. I don't know but a post on the gearpage may have the answer.
"Gibson stopped selling B stock in 1985. Every Gibson sent to Canada is bought by Yorkville Music "as is" and with no warranty. Yorkville determines what is B stock and what is not. That's also why all Gibson guitars purchased in Canada only have a one year warranty through Yorkville." wrote Tim Plains 04-08-2012, 09:03 PM. thegearpage.net
Most of the Gibson's sold in this country come through Long and McQuade's Yorkville wholesale division. L&M do list b-stock guitars on their website.
Gibson lifetime warranty
Gibson guitars sold in the US by Amazon.com and their other dealers carry a full life time warranty. Amazon.com add their own customer satisfaction guarantee which matches exceeds any in the music business. "You may return most new, unopened items sold and fulfilled by Amazon.com within 30 days of delivery for a full refund." Amazon.com would rather have a long-term satisfied customer and will bend that rule if you have a good reason.