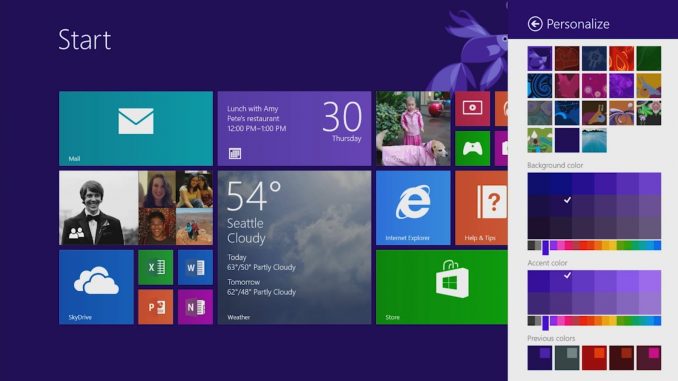 This article was last updated on April 16, 2022
Canada:

Oye! Times readers Get FREE $30 to spend on Amazon, Walmart…
USA:

Oye! Times readers Get FREE $30 to spend on Amazon, Walmart…

Windows 8.1
Windows 8.1 will ship October 18 – we review some of the improvements in the user interface
There are only 15 days before Microsoft ships the new version of Windows 8.1 making it the most exciting computer operating system for PC's, laptops, tablets and eventually smartphones.
I'm going to briefly cover the best of Windows 8.1 today including the user interface tiles, how you can personalize Windows 8.1, media rich searching, integration with the cloud and multi-tasking with Windows 8.1.
The video that accompanies the story is worth watching. It explains the new features, thankfully without any hype or jazzed up music. The video shows Windows 8.1 on a touch screen Surface but you can do everything quite easily with just a mouse and keyboard.
Lock Screen
The first thing we see with Windows 8 is the lock screen. With Windows 8.1 the lock screen can show pictures from your computer, SkyDrive (the cloud), home network or home group.
The photos can be animated and Windows 8.1 will pick pictures from the folders you choose for things like seasonality. For example, it will create a photo show of Christmas pictures in December.
If you like to keep it simple, just pick your favorite picture and change it when you get bored. I like to feature my grandson on my lock screen. He's so cute.
Start Screen Tiles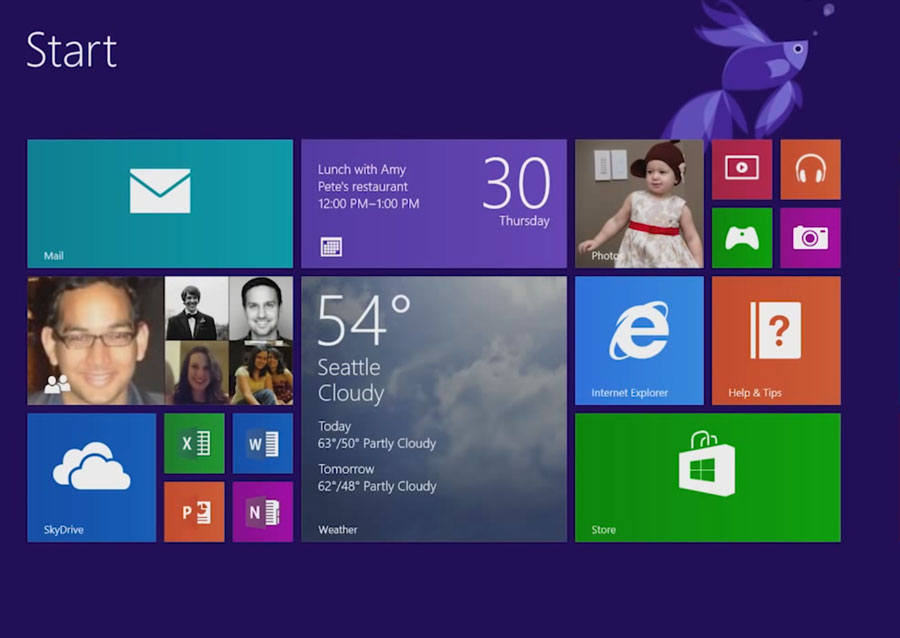 Windows 8.1 add new tile size customization, named groups and organization features
With Windows 8.1, you get four sizes of tiles, including very small and very large, similar to the Windows Phone 8 interface. You get to choose what size and where they are located.
In organizing our Start Screen, you can grab multiple tiles at once and pull them over to a new group. Groups can be personalized with a title. Groups are separated by a larger space than between tiles which helps to keep the Start Screen from being a confusing blob of tiles.
Personalization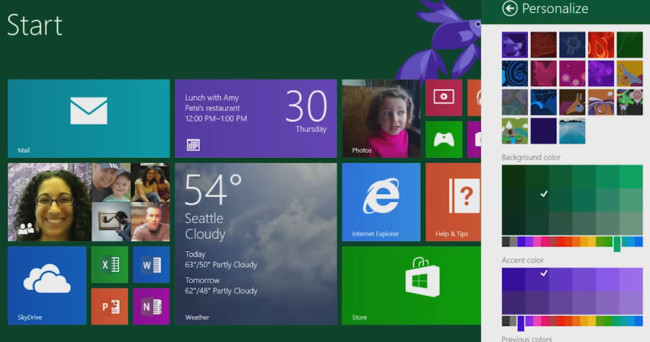 Screen colors can be anything from the color palette
Windows 8.1 extends the screen personalization to include the color palette. Pick your favorite color by selecting it, previewing it real-time and accepting it.
Motion accents can be used to animate the moving screen. That's cool.
Some people don't like the different backgrounds on the Desktop and Start Screen. Presto, that's fixed in 8.1 where they can both have the same background.
Rich Media Searching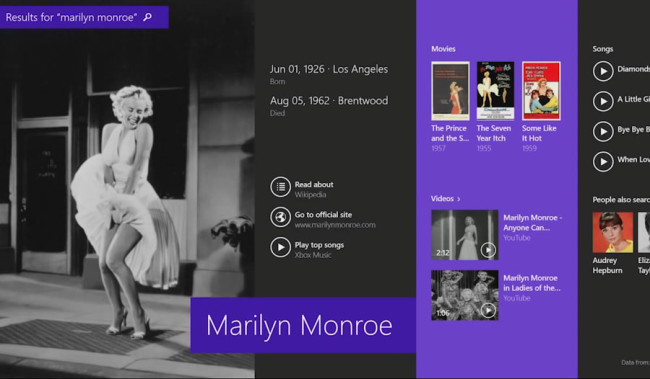 Media rich search results in Windows 8.1
Search in Windows 8.1 returns a media rich app-like screen from your computer and the internet with text stories, pictures, video and music. Internet links will have previews. I think it will take getting used to after years of looking at the flat text screens that Google search serves up. Even Google is moving in that direction although nothing like Windows 8.1.
SkyDrive and the cloud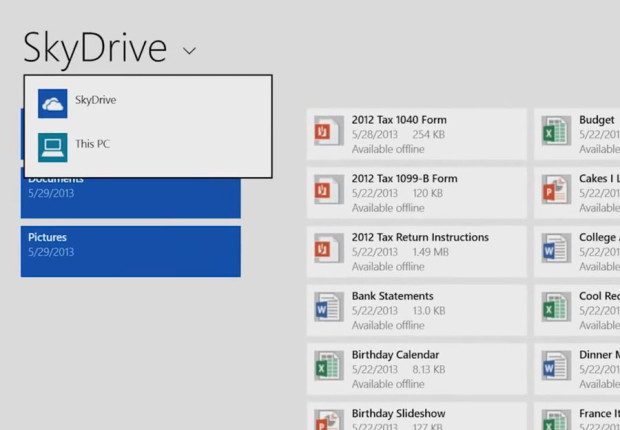 Windows 8.1 integrates SkyDrive cloud storage into the operating system.
Windows 8.1 has integrated SkyDrive and the cloud within the operating system.
Unlike Windows 7 and 8 where SkyDrive is a link or favorite, Windows 8.1 naturally assumes your files are either on SkyDrive or on your computer.
If you need to use your documents or photos from more than one computer and from different locations, its easy to imagine how liberating it is to get the file you want wherever you are.
I've used SkyDrive since last year and trust it with almost everything I do. I will cover SkyDrive in more detail soon.
Multi-tasking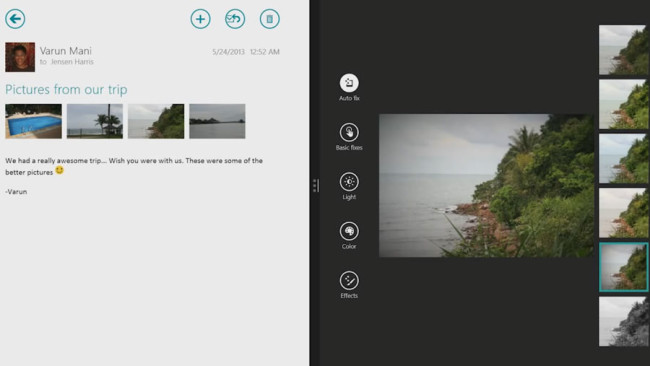 Windows 8.1 split screen showing Mail and Photo apps working live, side by side.
One of the big complaints about Windows 8 apps was that they were not multi-tasking, something we have had with earlier versions of Windows. Windows 8.1 fixes that with multi-tasking and user defined split screens.
In the picture above, Mail is open and live. The Photo app is also live and the video demonstrates some video editing in multi-tasking mode
The number and size of screens that can be displayed is dependent on the monitor size.
Windows 8.1 is a free update for Windows 8 users, available on the Windows Store starting October 18, 2013. Users of Windows 7 and earlier versions can buy Microsoft Windows 8.1 – Full Version for $120, available on pre-order from Amazon.com.
By Stephen Pate, NJN Network
You can publish this article on your website as long as you provide a link back to this page.