You can publish this article on your website as long as you provide a link back to this page.
This article was last updated on April 16, 2022

Windows 8.1 can automatically install updates or let you decide
Windows 8.1 can automatically update the OS and apps or let you set the schedule
Windows 8.1 and Windows Server 2012 fixes a bug that forced updates at 2 AM, when they were available, and restarted the desktop.
That's why some mornings you see your computer has re-booted. Windows 8 can also update the OS with fewer restarts but some days it needs a reboot.
Users and server administrators could set the update to "on request only" but the bug let the system update anyway.
I like that updates are automatically installed, a feature that is being extended in Windows 8.1 to Windows Store apps. The idea of updating computers while most people are sleeping is a good idea but not always the best if people expect to access 24 x 7 or if other procedures like backup are scheduled at night.
To find out how your computer is set, at the Start screen type "Automatic updates" at Settings and select "Turn Automatic Updating On or Off."
In the Microsoft KB post Allow configuration of Automatic Updates in Windows 8 and Windows Server 2012 the problem and fix are identified.
"Assume that Automatic Updates is enabled on a Windows 8 or Windows Server 2012-based computer. You choose the 4 – Auto download and schedule the install option, and define the frequency and time for updates to be installed in the following Group Policy setting: Computer Configuration\Administrative Templates\Windows Components\Windows Update\Configure Automatic Updates.
However, the scheduled day and time in this policy setting has no effect. The computer still installs downloaded updates during automatic maintenance, which defaults to 2:00 AM. Additionally, the computer no longer restarts 15 minutes after installing updates. To help avoid unintended data loss, a restart timer instead begins 3 days after updates are installed, and only when you are actively using the computer and are able to see and react to the restart timer."
Bug resolution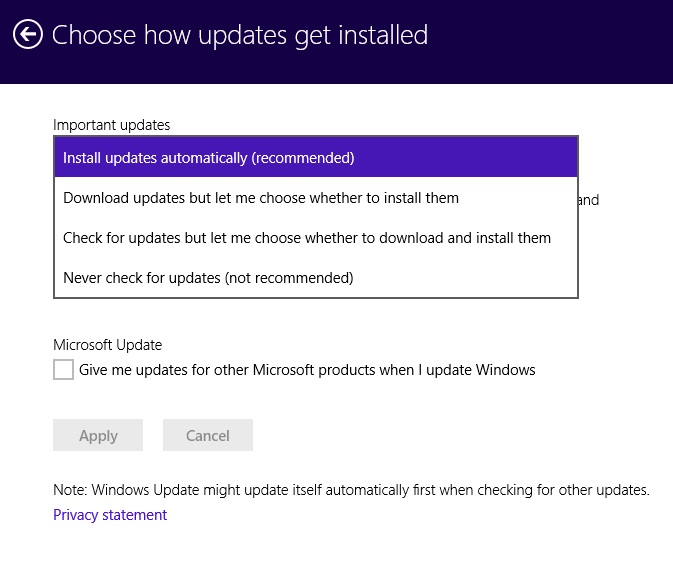 Choosing when and how to apply updates in Windows 8.1
There is a bug resolution for this problem KB 2883201 Windows RT, Windows 8, and Windows Server 2012 update rollup: October 2013. If you are familiar with applying Microsoft updates, go ahead and try it.
Otherwise, I would wait 8 more days for Windows 8.1 and the client side will be fixed automatically, although Microsoft don't say that explicitly.
Now that I am caught up from yesterday's debacle of writing a 15 day series on Windows 8.1, I am taking the rest of the day off. Well, not exactly, I want to try KB2883201 first. After all, I am a geek.
Update – KB2883201 is an optional update. You can apply if from Control Panel, Check for Updates and click on optional updates.
Windows 8.1 free upgrade

Windows 8.1 is a free update for Windows 8 users, available on the Windows Store starting October 18, 2013. Users of Windows 7 and earlier versions can buy Microsoft Windows 8.1 – Full Version for $120, available on pre-order from Amazon.com.
Here's a tip. If you don't already have Windows 8.0, you can save some money by finding a discounted copy of Windows 8.0 upgrade and get the update free. Amazon.com still has Microsoft Windows 8 Pro – Upgrade

for $85.