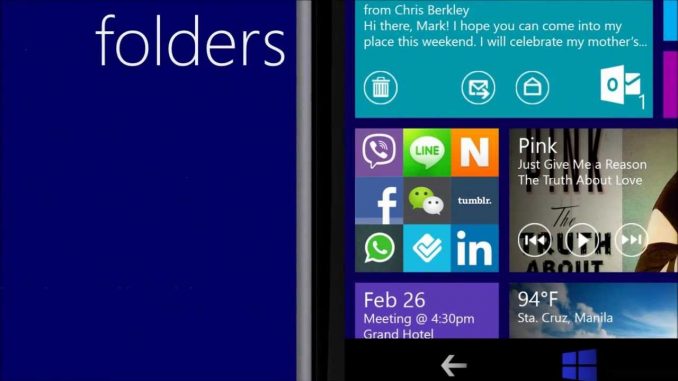 Microsoft is rolling out an upgrade to Windows Phone but it probably won't be exactly like the video above
From the comments by Microsoft on their blog, here's what we can expect – more Live Tiles, a new, customizable Driving Mode and better accessibility options. Windows Phone 8 is also being modified for larger phones, rumored to be up to 7&Prime like new models from Nokia.
Too bad Microsoft didn't hire Christian Del Rosario who prepared a comprehensive mock-up of features that would make Windows Phone 8 more usable for us. A more extensive update to Windows Phone 8.1 is expected in the spring of 2014.
On October 14, 2013, Microsoft announced the latest update to Windows Phone 8, officially known as update 3 (8.0.10512). It will be rolling out to Windows Phone users over the next few months.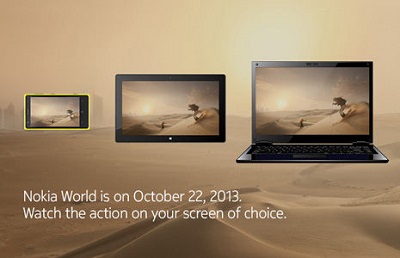 On October 22, 2013 Nokia is expected to reveal its Lumia 1520 phablet with a 6 inch 1080p screen, the Lumia 2520 Windows 8.1 RT tablet with a 10.1 inch screen and maybe even the notebook shown in their promotional photograph. (Photo Nokia)
The update has three main engineering goals:
"1.Enable new larger Windows Phone devices;
2.Enhance the platform with new capabilities for current users and partners; and
3.Improve overall quality."
Support for bigger, higher-resolution screens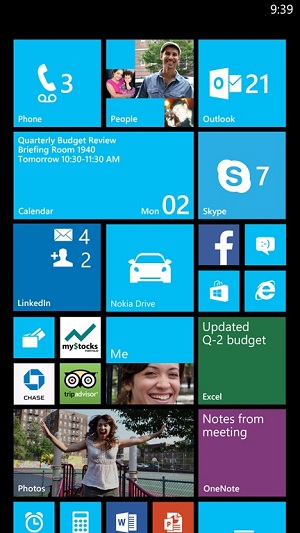 Larger screens on Windows 8 update 3
Windows Phone 8 devices can arrive with 5- and 6-inch touch screens. The larger, 1080p HD displays have "jumbo-sized Start screens with room for six Live Tiles across instead of four."
Bigger Start screens means the ability to pin even more of the people, info, and apps. Built-in apps and Hubs like email, Photos, People, and Music and Videos will also be carefully scaled to take full advantage of 6-inch screens.
More powerful hardware
Update 3 supports quad-core processors like the Qualcomm Snapdragon. Windows 8 is already smoother and faster than other platforms but the speed race never ends.
Driving Mode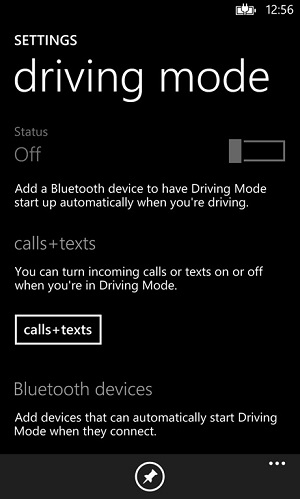 Windows Phone 8 update 3 driving mode
Driving Mode helps you get from point A to point B with fewer distractions.
Working with a connected Bluetooth device, Driving Mode is designed to limit notifications on the lock screen—including texts, calls, and quick status alerts—until you're safely parked.
You can even configure Driving Mode to send automatic replies to people who call or text when you're behind the wheel, to let them know you'll get back to them.
New accessibility features
Mobile Accessibility for Windows Phone 8 is a suite of apps designed to make Windows Phone easier to see, hear, and use.
The apps, which include a screen reader, make it easier for blind and visually impaired users to manage calls and contacts, send texts and emails, browse the web, make Skype and Lync calls, and hear notifications like alarms, calendar events, and low-battery warnings.
Improved Internet Sharing
In Update 3, it will be easier to use your phone as a hotspot for Windows 8.1 devices. Just pair your phone and Windows 8.1 PC or tablet over Bluetooth, tap your network name, and you'll be connected and ready to go. No need to enter a password or dig out your phone and turn on Internet Sharing.
The little things

Enhance contact pages
With Update 3, you can use custom ringtones for more things—including instant messages, emails, voice mails, and reminders. You can also assign custom ringtones to contacts for text messages, so you'll know who's texting you without even looking.
Does your screen keep spinning when you're trying to read emails in bed? Use the new rotation lock option to keep it fixed in place.
New storage settings make it easier to free up space on your phone and manage temporary files. A new category view shows what's taking up space at a glance.
Easily close apps: Now you can use the App switcher to quickly close apps when you're finished with them.
Wi-Fi access out of the box: You can now connect to Wi-Fi during phone set up, so you can start conserving cellular data right out of the box.
Better Bluetooth: The team made a bunch of improvements to improve connection quality for Bluetooth accessories.
I hope Microsoft has taken Christian's video into their suggestion box. You can add your own suggestions for future updates by submitting them to the Windows Phone Suggestion Box site.
Microsoft says they "always appreciate the feedback and take it into account as we prioritize new work."
Can you spot how many of Christian's suggestions will be in the update?
When will update 3 arrive?
"The rollout initially kicks off in the coming weeks and will continue over several months. Specific timing depends on a number of factors including your carrier and phone model."
Partially from The Microsoft Blog