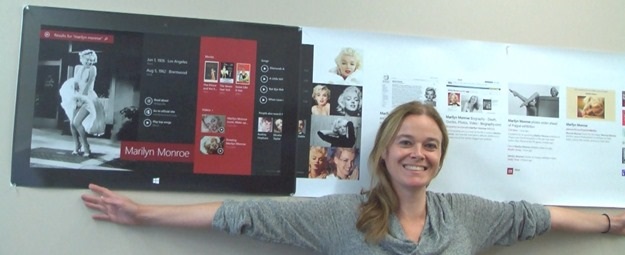 Bing Search creates a rich media experience extends infinitely to the right, demonstrated by Kieran Snyder, Group Program Manager in the Bing User Experience team (Photo Microsoft)
Bing for Windows 8.1 creates a whole new experience for web searches, unlike any other. The Bing Product Manager gives an insiders look at how Bing will impact Windows 8.1
Blogging Windows – My name is Kieran Snyder, and I'm a Group Program Manager in the Bing User Experience team. I'm excited to tell you a little bit about our work with the Windows team to build what is one of the coolest and most visible improvements to Windows 8, and highlight a few of my favorite things, now that it will be broadly available to everyone tomorrow.
Integration from the Start
The Bing/Windows collaboration on Smart Search for the Windows 8.1 update started with our work on Windows 8 when our teams worked together to build the Bing search app. The focus for that app was a cross-team effort to create a modern, fast and fluid search experience that was great for touch, and took advantage of what the revolutionary Windows 8 platform offered. And as we worked through that initial project across teams, we realized how much more opportunity there was to rethink what search should be and to build something really great for people that brought all the pieces together.
From the start of Windows 8.1 development both the Windows and Bing engineering teams knew that we wanted to go all in on search – together. For me personally, the Windows 8 collaboration brought me back to my old roots in natural language processing and got me hooked on the search space, so when work began on Windows 8.1 I moved to the Bing team to learn everything I could about it.
All told, nearly 1,000 people in Bing have contributed to Smart Search in some way, including program managers, developers, testers, designers, researchers and our colleagues in business development and marketing.
Rethinking what search should be
The promise of creating something together – making a modern search experience that includes the best of Windows search and the best of web search all in one place was an exciting challenge. We wanted to help people find what they needed, no matter where it lived or what it was.
"Why should someone have to remember where they saved something? What if there is a forgotten note or picture tucked away that can be helpful; how would you know to go look for it? Shouldn't Windows help you find all of that?"
That was the underlying goal with Smart Search – let you simply swipe or type to find everything, all in one place – a document on your PC, an app you downloaded months ago, a picture stored in SkyDrive or a website,
Bing Smart Search will bring it to the surface. As you'll see, Smart Search helps you find stuff fast wherever it lives.
A challenge with designing search that works everywhere was reconciling how people have historically searched on Windows versus how they have historically searched on the Web. On the web, when you enter a query in the Bing search box, hitting enter launches a search query for exactly the string you've typed – like this for "Sky".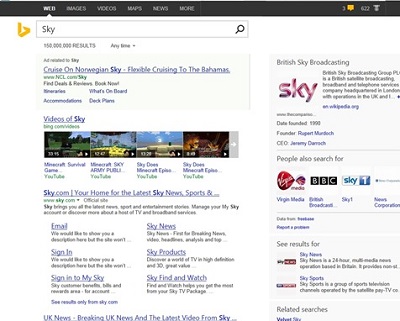 Typical Bing Search results on the web (Microsoft photo)
But in the world of Windows when typing "sky" and pressing enter, you expect to launch SkyDrive directly, rather than searching for "sky" and getting a web search results page.
It took us many rounds of iteration to make sure the Smart Search experience exactly preserved web search expectations, but didn't compromise the efficiency of quick commanding in Windows.
Notice how typing "sky" in Smart Search surfaces SkyDrive, as well as related Control Panel settings, and more: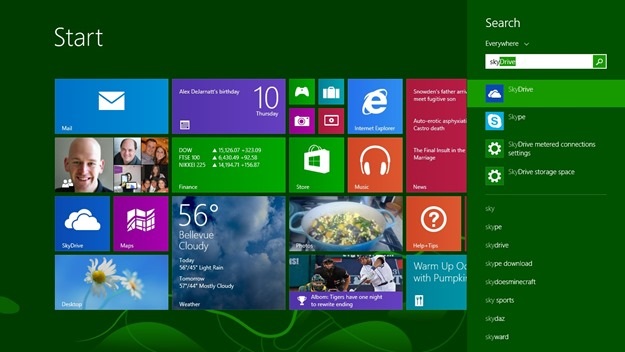 Windows 8.1 Search with Bing finds SkyDrive, Skype, etc. from typing the search "Sky"
That is just one example of the challenges we had ahead of us to rethink the search experience for a new and improved Windows experience. We quickly realized that even with a great team and a strong partnership, this wasn't going to be easy!
Leveraging Satori for the Windows canvas
For many years, Bing has invested in Satori, which is essentially a repository of the many people, places, events, and objects in the world – what we call entities – and more importantly the relationships between them.
At last count, and this changes due to the constant changing nature of the web, Satori includes hundreds of millions of entities and understand billions of points of information linking them together. Satori provides the foundation for our Snapshot experiences on Bing.com, so that when you search for your favorite celebrity or famous landmark, you get an arrangement of facts, biographical information, images and other key information in addition to the most relevant web results.
Windows 8.1 provides a fantastic, full-bleed canvas where apps can shine, and we realized pretty quickly how the investment made in Satori could be leveraged across this canvas for a Smart Search experience that is beautiful as well as functional.
"Search heroes" take this vast set of structured data that Bing has about the world and turns it into something that feels beautiful, curated, and relevant – something that looks and feels like the best modern apps.
Thanks to Satori and Bing, you can think of these experiences as mini-apps that Windows creates on the fly. As you would expect of an experience built for Windows, they include deep links into your Windows applications to help you get stuff done.
Take music, as an example. With Bing, Windows, and the Xbox team working together, we can present a big, beautiful answer that puts the most relevant information and actions front and center. We are able to include immediate music playback of all the most popular songs in the Xbox Music catalog, serve up music videos, launch apps that can help you go deeper and get more done, and surface other information that is easily accessible with a swipe of your finger.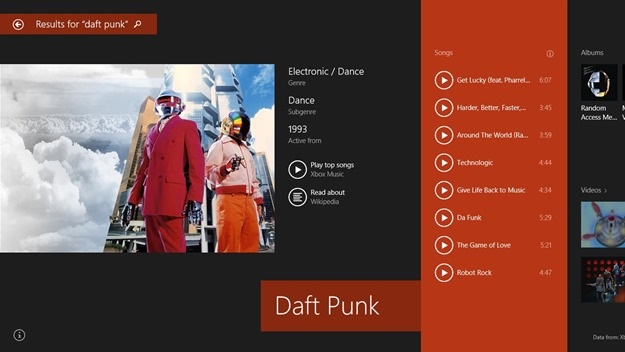 Bing Search on "Daft Punk" starts on home screen and goes right off the screen
Dynamic and agile
Perhaps the most critical investment that we've made together is our update pipeline and flighting service, which allows Bing to deploy new search features and refinements to Windows every single day.
Now you can get critical search updates every time you use Windows – versus waiting for periodic updates. With Smart Search we dynamically reflect the ever-changing web, we can learn what's popular and what's not, we can try out new experiences to see how well people like them, and we can improve your experience daily.
This is the largest-scale investment in server-side development for Windows that Microsoft has ever made, and it took incredible commitment on the part of the Windows team to build this.
One Microsoft
Smart Search is just the beginning of what's new in Windows 8.1. We can't wait for you to check it out!
If you have Windows 8, (tomorrow) just go to the Windows Store on the Start screen and get the update. If you don't yet have Windows 8 or are waiting for all the great devices coming this holiday season, you can head to www.bing.com/smartsearch to see it in action and get a feel for what you're missing.
Note – there are changes in where Microsoft SkyDrive stores files in Windows 8.1. The default setting is online, that is not on your computer. It's always recommended to backup before doing an update. With Windows 8.1, the safe bet would be to backup your SkyDrive before hand.
This story was edited from the original post which you can read here.