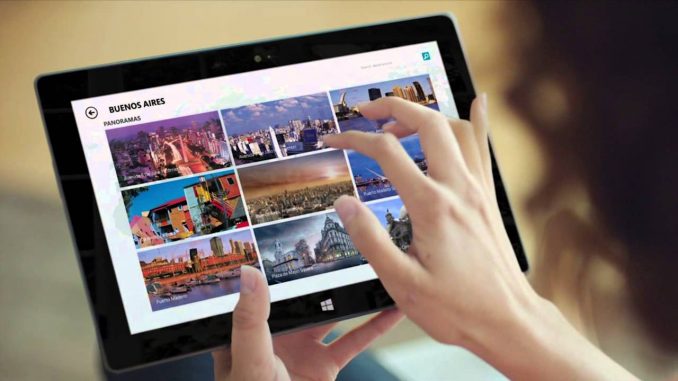 Windows 8.1 comes embedded with Bing Search which now has search-by-date. Here's how to turn it on
Bing in Windows 8.1 may be pretty but is it smart? That has been the criticism of Bing for years. Bing search results are not as good as Google search.
Bing did not have top results by date so you often got old results with Bing that are useless if you want the latest answer to a question or price of an item to buy.
There is a fix for Bing Search by Date, although it took me a week to get Bing to help me find it.
In reality most people won't like the complexity of USA-only Bing search-by-date and will stick with Google search since the feature is automatically included in search.
Let's get started.
At the Bing home page . Open the Preferences (red arrow in the illustration).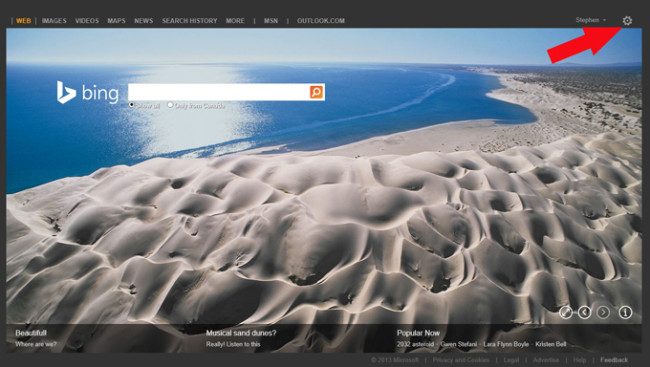 From the Bing Home Page select "Preferences"
The mistake make is to assume the option for "search by date" is a browser option. It is a Bing option only available if your settings are the "United States". At the Bing Settings screen, select Worldwide.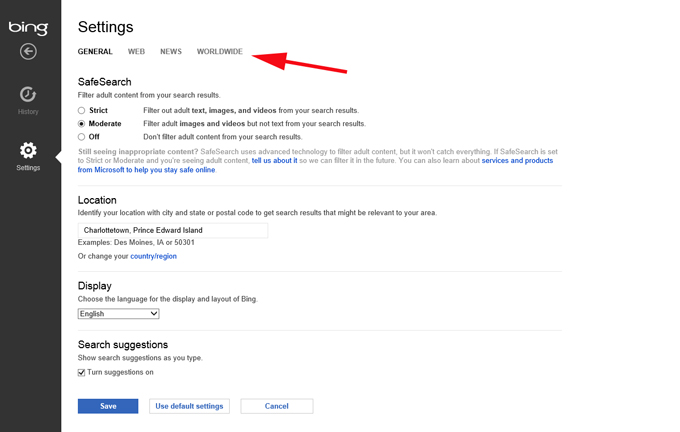 Select "Worldwide" in the Bing Settings Screen
On the Worldwide screen, select "United States English". For their own reasons, Bing only supports search-by-date in the United States. Since all search engines are updated by munchkins working in search labs, one might assume Bing has fewer munchkins that Google Search.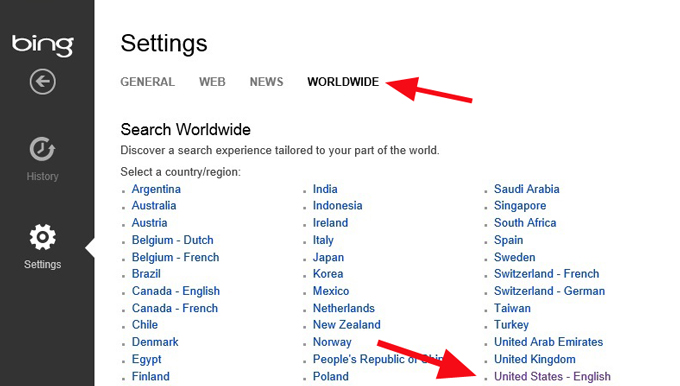 Select "United States – English" and the option will be set and the page closes
Your next search will have search-by-date. On my Bing Search of "NBC" the drop-down has four choices: All, Past 24 Hours, Past Week, Past Month.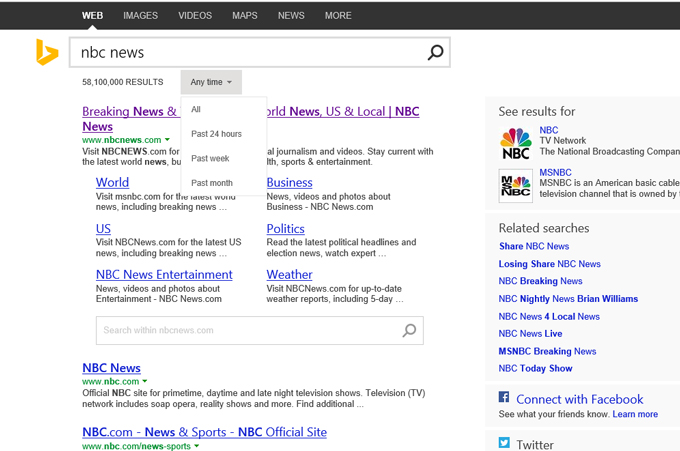 Bing search-by-date results inside the box
I did not find the Start Screen Smart Search from the Charms Bar matched the Desktop Explorer search-by-date results. However, it is a different experience, with the emphasis on rich media curated results. Perfectionists, like me, who want exact search results can use Desktop Internet Explorer 11.
To make search-by-date work reliably, your Desktop Explorer 11 home page has to be set Bing or MSN USA. The moment opened MSN/Bing Canada, it removed the feature.
I will miss the gorgeous Bing screen backgrounds of Canadian scenes, no doubt to be replaced by the good old USA. I asked if Bing was going to extend "search-by-date" to Canada but did not get a response. Bing has several US only programs already like Bing Rewards.
From Bing Adds Search By Date.