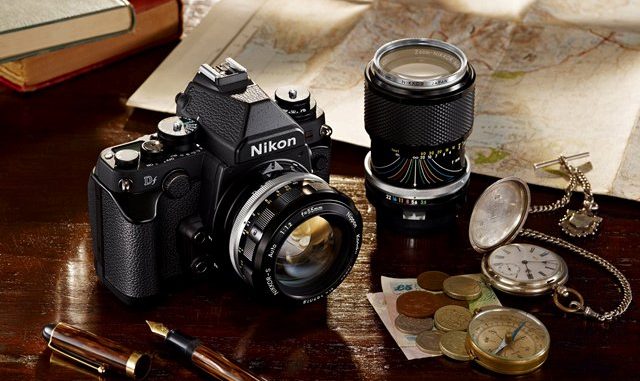 After much anticipation we're getting our first look at the Nikon Df; a DSLR camera that is styled and built to evoke feelings of when photography was a pursuit of the truly passionate. Nikon aficionados will recognize the Df as a direct descendant of F-body film SLRs of the 70s and 80s.

This digital remake of the classic film camera forgoes the ability to shoot video in favour of maintaining its purist image. In addition to a two-tone silver-black body full of dials and manual knobs, the Df also supports use of Nikon's pre-1977 non-AI lenses –lenses sold under the Nikkor brand at the time. Augmenting the retro feel of it all, the camera even includes a textured leather grip.

On the inside the new Df is anything but retro. The DSLR borrows a sensor from one of Nikon's most respected modern full-frame DSLRs: the D4. As it is in the D4, this 16.2 MP sensor offers up an ISO range of 100 – 12,800 with high ISO boosts that can be pushed to 204,800. The Df also features a 39-point autofocus system and a 3.2-inch 921,000 pixel LCD screen. In a nod to its design inspiration, the Df opts to not have a pop-up flash but offers a hot shoe for mounting standard speedlights.

As it was with the classic models, physical dials on the Df will allow practiced users to make adjustments quickly without moving away from the viewfinder. Veteran film SLR photographers can tell you how the grooved texture of the dials and click-stop response makes changing settings easy to a light touch.

With a Canadian MSRP of $3,099.95 for the Special Edition 50mm 1.8 lens and body kit, the Nikon Df isn't targeted at the casual user. This is a camera for those who truly appreciate the purity of photography and can justify dropping three-grand on a modern full-frame camera that mimics an old one. I for one, am in love.
Start rounding up garage sales and collecting those old non-AI Nikkor lenses, perhaps reselling them on eBay at a premium to deep-pocketed Df buyers is the ticket to affording yourself a Df of your very own. As a scribe of things non-financial, I should warn you that any investment nuggets I offer here could very well be terrible advice.
Images courtesy of Nikon
Kanishka Sonnadara is on Twitter @autoKsS and can be reached by email at kanishka@oyetimes.com
Check out this mini video series released in six parts by Nikon helping set the tone for the launch of the Df:
http://www.youtube.com/watch?v=fxjTnDxnb7s
http://www.youtube.com/watch?v=x6C9gbxBFPU
http://www.youtube.com/watch?v=DBzjFkMpWQw
http://www.youtube.com/watch?v=IHUQeZP3g88
http://www.youtube.com/watch?v=g3fVjaiWa6g
http://www.youtube.com/watch?v=t0HBVt7_TYQ