5.1 Project and Video Studio Special at Studio Economik on high-end Neumann Monitors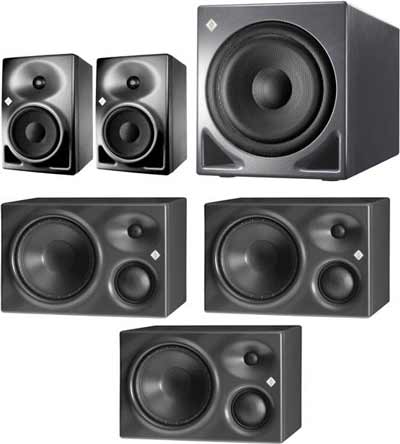 Neumann 5.1 Studio Bundle KH310A, KH120A and KH810
Neumann microphones are legendary for quality audio in a studio setting.
Less well-known are Neumann's equally high-quality near field monitors for project studio recording.
I came across this bundle at Studio Economik for $9,182 including freight, which is a deal if you are putting together a 5.1 recording or mixing studio.
The heart of the system is the O810 sub-woofer which has a 7.1 high def bass management system built-in.
The system advertised is a 5.1 system but you can easily add two more channels if your projects grow.
I have the KH O-810 and KH O300′s in my studio. They are simply the best and most neutral sound I could find for mixing. Neumann upgraded the monitors to the KH O-310A to add a higher decibel range and slightly better mid-range definition. For what I record I am happy with 90 dB but movies and new pop music need louder output.
The O810 bass management system and the O310A's have AB power amps and enough EQ and controls to tailor them to any small to medium-sized studio. They are simply professional grade monitors.
This is pro-level equipment that you get when you're committed to putting out the best product. Not many home studios use Neumann monitors because they don't come cheap but they are popular in professional studios and broadcast. You just never find used Neumann KH monitors on eBay or Kijiji. A studio rarely parts with them.
Studio Economik, in Montreal, have super prices and service. Other than being a customer for 5 years, I have no relationship with them. The special price lasts until December 25th, 2013.
Hugh Robjohns of Sound on Sound gave the KH O310A's a glowing recommendation and bought the review pair. It was his earlier review of the O300′s that convinced me to buy them and I'm glad I did.
"Neumann market the three-way, fully active KH310A towards the project studio, broadcast, post-production and mastering sectors, as a high-quality nearfield monitor suited to small- and medium-sized control rooms."
"The KH310A presents a huge amount of information without being obviously forward or 'shouty'. It is extremely detailed and revealing, but remains unfatiguing, even after many hours of listening."
"In every way, this is a stunningly good reference monitor and one that is genuinely worthy of that title. It also represents excellent value for money, too. For a number of reasons I never quite got around to purchasing a pair of O300s (although I did borrow pairs a few times for specific jobs), but I will buy these KH310As rather than let them go back to Germany – I really couldn't work without them now! " Sound on Sound.
By Stephen Pate, NJN Network