This article was last updated on May 26, 2022
Canada:

Oye! Times readers Get FREE $30 to spend on Amazon, Walmart…
USA:

Oye! Times readers Get FREE $30 to spend on Amazon, Walmart…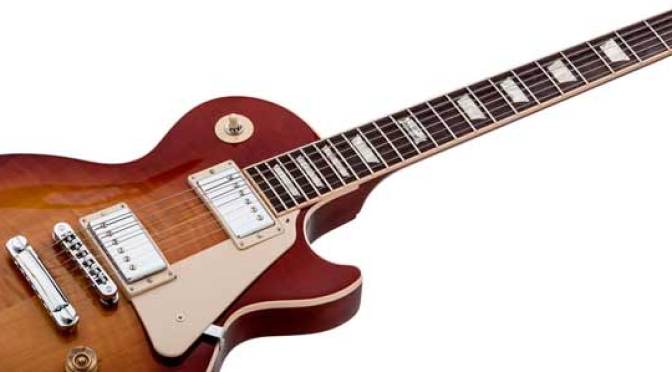 By Peter Hodgson , Gibson – I don't know about you but personally I'm a real geek for this stuff, having worked as a setup and repairs tech, and obsessed over the 'little things' on my own guitars.

All those little things add up, especially when you're throwing down onstage, and as you'll see there are plenty of features to make your 2014 New Model Year Gibson gig-friendly.
A lot of the features are the kinds of things that just make life easier for gigging guitarists in terms of ergonomics. Other features are designed to enhance playability and tone. All up it's a lot of info to take in, so here's a concise look at what's what.
New Strap Buttons

For starters, when you strap your new Gibson on, you'll find a redesigned strap button designed to hold your strap more securely. This has gotta be a good thing for anyone whose strap couldn't handle the pressures and spontaneity of the stage, and who subsequently ended up with a squished toe.
It's an extra layer of security whether you're playing a 2014 Les Paul Standard Premium at the top of the price range or the most wallet-friendly 2014 Les Paul Melody Maker.
Graph Tech Nut

Graph Tech has been enhancing tone and tuning stability for decades with their range of nuts and bridge saddles. The nuts used on 2014 New Model Year guitars and basses are made with a special formula developed specifically for Gibson.
New Proprietary Strings
Gibson USA guitars now leave the factory with newly redesigned proprietary strings designed to remain bright and lively sounding for an incredibly long time. Extensive testing in a retail environment has demonstrated that these strings remain new sounding longer than uncoated strings.
Non-Slip Knobs

Many guitarists are perfectly happy with traditional guitar knobs, but some would prefer a little more grip for extra-precise control changes, whether you're rolling down your volume at the end of a song, rolling it up for cello-like swell effects or setting your tone knob just-so for a honky lead voice.
Many 2014 New Model Year Gibsons include non-slip "Max Grip" speed knobs that give the appearance of traditional knobs from a distance but have a molded grip as well. (Some models such as the Les Paul Traditional have traditional gold speed knobs with dial pointer.)
Undercut Fret Over Binding

On recent models, the frets stopped short of the neck binding; 2014 New Model Year Gibsons feature frets which reach over the edges of the binding to provide a smoother playing surface, especially if you find yourself in the midst of an especially impassioned vibrato workout on the high E string.
Cryogenically Treated Frets

The fret wire used on these guitars is cryogenically treated for longer life and enhanced resistance to corrosion. Combined with one-piece fingerboards, you can expect plenty of sustain as well as a nice smooth playing surface: corrosion-free frets equal smoother bending and silkier vibrato.
And of course each guitar is treated with innovative PLEK technology, which involves taking a 3D scan of the neck under string tension and then shaping the fret according to various parameters including height, radius and amount of fall-off at the edges.
15dB Boost
Some models such as the Les Paul Classic feature a 15dB boost for kicking your volume for solos if you're on a cleaner amp setting, or kicking your gain into a higher gear if you're blasting through a cranked amp. It's like having a clean boost pedal right there at your fingertips, no matter where you are on stage, and you can use it either for more gain and sustain during lead work, or just to generally boost the output power of your guitar for more aggressive musical styles.
Min-ETune™

Gibson's Robot Guitar was a pioneer in self-tuning guitars and the evolution continues in 2014.

The Gibson Min-ETune system
found on various models is very low profile, compact, battery-powered robot tuner that tunes your guitar in seconds, and you can get 80-100 tunings on a single charge.
You can still adjust the tuning pegs manually when you want, or you can turn on the Min-ETune™ to tune all six strings automatically.
There are also 12 alternate tuning memory slots, including six you can program yourself. or select any of 12 custom tunings, including Open E, Dropped D, Low D, DADGAD and Open G plus six you can program yourself).
New Pickups

There are several new pickup models being debuted on the 2014 line: the Sidewinder P-90H (which uses two Alnico V magnets); '59 Tribute humbuckers designed and crafted in the image of the legendary PAF humbuckers of the late '50s; and '61 Zebra neck and bridge humbuckers which are based on original PAF hum buckers but with increased power for modern styles.
Gibson guitars are available from Amazon.com and other guitar dealers.
Follow me on Twitter at @sdpate or on Facebook at NJN Network and OyeTimes.
By Stephen Pate, NJN Network
You can publish this article on your website as long as you provide a link back to this page.