This article was last updated on May 26, 2022
Canada:

Oye! Times readers Get FREE $30 to spend on Amazon, Walmart…
USA:

Oye! Times readers Get FREE $30 to spend on Amazon, Walmart…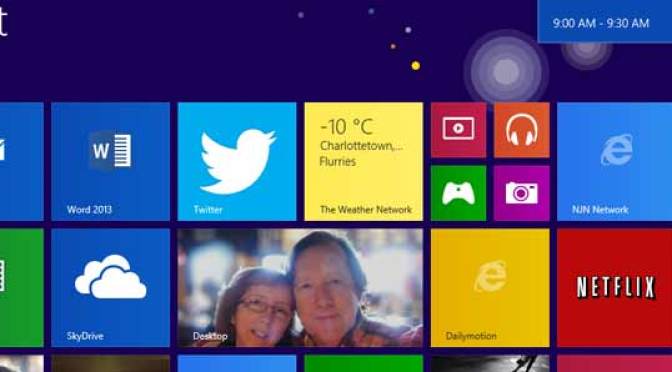 Windows 8.1 small screen tablets are more annoying that fun. Windows Phone 8 is a better choice for small screens.
By Stephen Pate – Using a Dell Venue 8 Pro is a frustrating experience. I spend far too much time trying to find fixes or workarounds for mine. The more I use the Dell tablet, the more issues arise. I'm not going to say I hate the Dell tablet but it comes close.
To save this from being a rant, I have tried to find workarounds for the what I call "design deficiencies" in the Dell Venue.
Here's the list: The 8&Prime screen is too small for Windows 8.1 Desktop. The battery saver turns off the screen at the wrong time. The Home Key is in the wrong place. The screen is ultra touch sensitive. The onscreen keyboard takes up too much space. Dell updates are a kludge. And the Screen Narrator turns itself on at the weirdest times.
Dell sold a ton of the Dell Venue 8 Pro tablets before Christmas at prices from $199 to $329 which seemed like a bargain for a full Windows 8.1 tablet with Office. I should have bought the Surface 2 and returned the Dell, but a Surface was 3 times the price.
I have also come to the conclusion Microsoft was right the first time: Windows 8.1 needs a 10&Prime or larger screen. Any mobile screen smaller should have Windows Phone 8. In comparison, I rely on my Lumia 920 which has Windows Phone 8 on a 4.7&Prime screen all day long without a problem.
The base Dell Venue 8 Pro has an 8&Prime screen, Intel Atom 1.8GHz Quad-Core processor, 32 GB flash RAM, MicroSD slot, USB port, Wi-Fi, 1.2 MP front-facing lens and 5 MP rear-facing camera, Windows 8.1 and Office Home and Student. I have spent so much time trying to sort out the problems with this tablet, I can't tell you if the cameras are good, bad or ugly.
It would also help if Microsoft completed the development of Windows 8.1 and did not use the Desktop, where most of the problems on small screens occur.
1. Windows 8.1 Desktop
You have to use the Desktop browser and Desktop applications to navigate Windows 8.1; however, the Desktop was not designed for 8&Prime screens. Our fingers are too big to select the Desktop buttons and menu items in Internet Explorer 11. As a result, it is frustrating doing the simplest tasks on the Dell Venue 8.
One solution, which I reject as a nuisance, is the carry around the $40 Dell pointer that can select smaller menu items. The special pointer is something to misplace when you need it most. It also takes away one of your hands that you might want to use to hold the tablet. The iPad Air, Surface, Nexus and Kindle HD tablets don't need a stylus.
My survival technique is to use only Windows 8.1 Modern Apps and the Modern Internet Explorer 11 browser. This solution does not work for MS Office, Desktop Explorer or any of the system screens that are used to manage Windows 8.1.
The only real solution is Microsoft has to complete the coding for Windows 8.1 tablets with the Modern interface, discarding the Desktop. Alternatively, an operating system designed for small screens like Windows Phone 8 makes a better choice.
2. Battery saving
The screen dims to save the battery. That would be fine if it did not dim right after you touch it. If you are working with the tablet for a minute or two, it will dim after you select something, as though it cannot tell you are still working.
Dell had a problem with the screen saver from the first. The latest fix is only moderately successful. If you change the settings, the battery will not last all day which is a bad trade-off.
Solution: wait a few seconds and the screen will return to normal brightness.
3. Home Key on the side
The Windows 8.1 Home Key is normally in the lower middle of the screen. Dell put theirs on the upper side, next to the headphone jack.
The non-standard place is so different from every other Windows 8.1 device, it never comes naturally for me.
Solution: get used to it.
4. Ultra Sensitive touch screen
The touch screen on the Dell Venue 8 Pro is too sensitive and regularly mis-interprets touch gestures. For example, tap the space bar and it inserts a period "." Entering even small amounts of text is an exercise in frustration making you wish there was a real keyboard.
While the 8&Prime screen is sharp to look at, ultra-sensitivity combined with the little tick boxes and buttons on the Desktop make the Dell Venue 8 Pro a constant annoyance.
On the upside, for under $300, the screen has good color and resolution.
Solution: learn to tap very, very lightly.
5. On screen keyboard is too large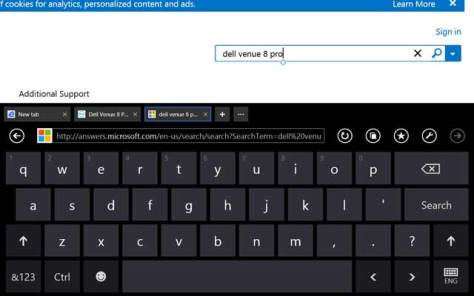 Dell Venue 8 Pro onscreen keyboard takes up most of the screen
The 8&Prime screen is only 4&Prime high which is workable until you need the onscreen keyboard. As soon as the keyboard appears, most of the screen is taken up by the keyboard covering the entry box.
Unlike the iPad and Surface, the Dell onscreen keyboard does not always pop-up automatically. It often needs to be coaxed from hiding and then asked to leave. The keyboard is better than the one on the iPad Air for visual cues because it shifts the keys when you are in lower or uppercase.
Solution: use the Venue 8 Pro in Portrait mode for typing. That feels really odd since the tablet is much taller than it is wide. I end up flipping to Portrait, typing in my user name and password and flipping back to Landscape mode. Sometimes that gesture causes the input box to disappear. You can also get an optional keyboard but that seems over-kill for an 8&Prime tablet.
6. Dell Updates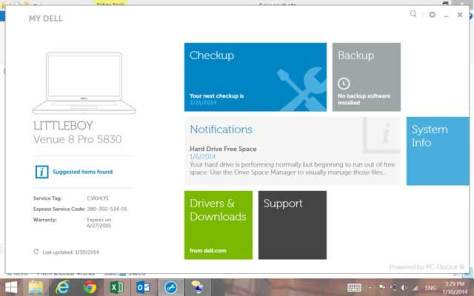 My Dell – updates and maintenance
My wife says I am gullible, always hoping bugs are fixed with the latest update. I call it optimistic. Most tablets apply hardware, firmware and O/S updates automatically.
With the Dell Venue 8 Pro you have to go to the Dell site, identify your device by Service Tag and search for something new like a driver or BIOS update. This is Dell's old school thinking which is not normal for tablets. People are buying tablets because they are easier to use and do not like having to play computer mechanic.
Solution: Install My Dell and check for updates. Even when you do that, the program does not reliably tell you what is already installed. Keep a written note of the latest drivers and BIOS updates you have installed.
The Checkup tool is largely a waste of time. My Venue 8 is almost out of memory on SkyDrive. Running PC Checkup told me to delete large files, which would delete them permanently from SkyDrive, not a smart idea.
8. Screen Narrator
If you press the Home and Volume Button the wrong way, the Desktop Narrator will start reading the screen to you. I did it trying to get the screen shot of My Dell above. You can see the little icon toolbar with a bubble and computer screen. Hard to see isn't it? Narrator is even harder to turn off.
This is a feature for people with a vision disability. It will drive you crazy if you don't need it. Imagine a robotic voice reading every label on the screen. "Double click to select. Double click to select."
Without a stylus to pick at the tiny icon in the menu bar, the only way to shut it off is to restart. When installing Miracast which uses Desktop screens, I triggered Narrator over and over reading in that annoying robotic voice. The odd thing is the Screen Narrator is difficult to start accidentally on the Surface or any desktop. I knew it existed. I can't get rid of Narrator on the Dell Venue which could make it a good tablet for people who can't see. No, the screen is too small.
9+ Sundry other things in Windows 8.1 that don't work
Windows 8.1 Charms/Share does not work reliably for Twitter, StumbleUpon, LinkedIn and other social media sites. Solution: If I want to share a story on Twitter, compose the Tweet in Notepad, copy the text and go for Charms, Share, Twitter. Sometimes it works, sometimes it doesn't.
You cannot play music from other computers on the Homegroup in Xbox Music.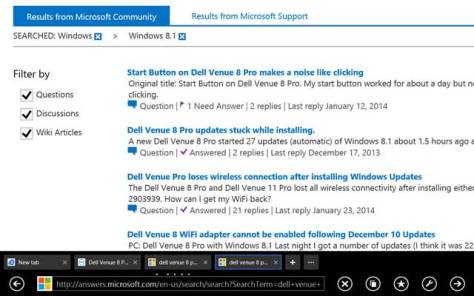 Internet Explorer does not re-size screens to fit the 8&Prime Dell Venue. Example – Microsoft Community support
Most webpages don't size properly to the 8&Prime screen with IE11 including the Microsoft Community support forum. You can't pinch them smaller: they bounce larger as if the pinch was pinch-to-zoom.
Miracast is advertised as easy streaming of "HD videos, photos or presentations from your Dell Venue 8 Pro tablet to your compatible TV." Miracast is a dreadful feature with a difficult installation process and the need to enter a unique code every time you want to send a screen to the TV. Imagine how cumbersome that would be for say printers if you had to connect to your printer for each job and add a new security code every time. That's Miracast.
I have to laugh at Intel who under-developed Miracast. Intel announced wearables at CES2014. That should have Samsung shaking in their boots.
SkyDrive on the Dell Venue 8 has error messages without any way to fix them. While you are supposed to be able to choose the SkyDrive directory as online only, which uses less room, the feature does not work for me on the Dell Venue 8 Pro. It does not take long to fill up the 32GB flash ram.
SkyDrive support is weird. MS support moderators rarely post the solutions on Microsoft Community. Solutions are sent by PM, which seems the antithesis of sharing information.
Follow me on Twitter at @sdpate or on Facebook at NJN Network and OyeTimes.
By Stephen Pate, NJN Network
You can publish this article on your website as long as you provide a link back to this page.