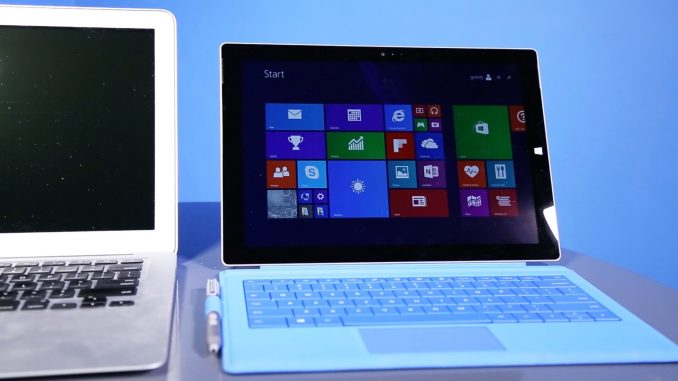 Microsoft's 3rd pass at a modern tablet is definitely a winner
By Stephen Pate – With the larger hi-res screen, sleek low weight design and improved features, the Surface Pro 3 is going to hit the right spot for corporate and power users.
The Microsoft Store is taking pre-orders for the new 12&Prime Surface Pro 3 starting at $799, and $849 in Canada, although the only model shipping in June is the i5 version. We also have all the models priced and the staggered delivery dates announced.
Microsoft must believe the Intel i5 powered Surface Pro 3′s will be the most popular. They ship on June 20th. The rest will be available by August 31, 2014.
Surface Pro 3 Pricing and Availability
Model
RAM
Storage
Avail
US Price
Available by
Intel i3
4GB
64GB
36GB
$ 799
Aug. 31, 2014
Intel i5
4GB
128GB
96GB
$ 999
Jun. 20, 2014
Intel i5
8GB
256GB
211GB
$ 1,299
Jun. 20, 2014
Intel i7
8GB
256GB
211GB
$ 1,549
Aug. 31, 2014
Intel i7
8GB
512GB
450GB
$ 1,949
Aug. 31, 2014
The Surface Pro 3 is aimed at the professional and business market which is just fine. The iPad Air is a fun tablet for viewing content or single purpose apps. Even the Surface 2 works well for that purpose. But when you want to edit video or photographs or create complex Office documents, there is a need for memory, processor power and storage.

Looking at the product lineup by specs, I would venture the first two models would work well for Office and productivity users. There is enough power in the i3 and i5 chips plus 4GB of RAM is more than enough for Office 365 and Windows 8.1.
The next three models all have 8GB of RAM which is my choice for a power user or anyone trying to work with Adobe Photoshop. With Microsoft OneDrive cloud storage, the need for device storage goes down and users can always add 128 GB of SD storage to increase local device storage.
RAM can't be increased so that's the decision point for which model to pick – 4 GB or 8GB. Personally, I would pick the 8GB models although I'd bet the lower priced 4GB models outsell them, based on price.
The weight game
You can't believe the published specifications on tablets since they play the weight game. When I picked up an iPad Air in the store, it seemed so sleek and light. Then you add a case and a keyboard and the game changes. The same iPad Air now weighs 1.9 lbs and with a keyboard case 2.2 lbs. The "Air" part got lost in adding useful accessories.

The Surface Pro 3 with a keyboard and built-in kickstand weighs just slightly more at 2.4 lbs. The kickstand is not a choice you get with the iPad Air if you want a keyboard. Most of us can't tell the difference. The Surface 2 with a 10.6&Prime screen and keyboard weighs just slightly less at 2 lbs.
Surface Pro 3 as tablet and laptop replacement
The Surface Pro 3 is aimed directly as a replacement for the MacBook Air and iPad Air combination.The pitch from Microsoft is why buy and carry two devices when one will do the job better. That's true. It's a pain to take both an iPad and laptop around but if you are doing work, you will need the laptop as well as the tablet.
The Apple combo will cost about $2,000 for the 13&Prime MacBook Air and iPad Air. Total weight about 5 lbs.
The same configuration in a 12&Prime Surface Pro 3 and keyboard will cost $1,130 and weigh 2.4 lbs. The Surface also is also a touch device, which the MacBook Air is not, had better cameras, faster processor, runs the suite of Microsoft Office and Windows programs, connects to the cloud with OneDrive automatically and has better network security.

Mashable – Can the Surface Pro 3 Crush the MacBook Air?
The early reviews are praising the Surface Pro 2 with a complaint they don't think the keyboard is exactly up to snuff with laptops. The Surface Pro 3 keyboard has a little flex. That makes sense but it is considerably lighter and more portable than laptops and more powerful than competitive ultrabooks. Check out the reviews in Engadget and ArsTechnica which generally like the Pro 3.
Unfortunately like most of the tech media writers, they have ABM bias – Anybody But Microsoft. If I had relied on reviews, I would have passed on the Surface 2 which is an awesome tablet for the price. Of course, I am in the Microsoft world, like Windows 8.1 and rely on Office and other Microsoft products to get my job done.
Follow me on Twitter at @sdpate or on Facebook at NJN Network, OyeTimes and IMA News Buzz.
By Stephen Pate, NJN Network