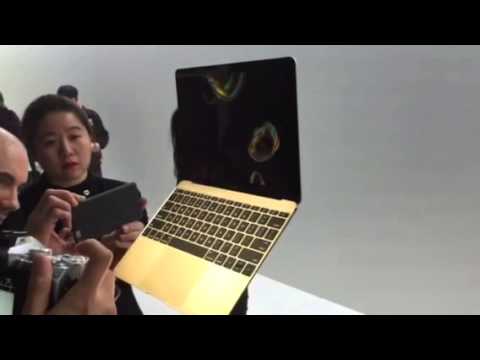 MacBook 2015 is a slightly improved model with a 12&Prime Retina display that will have fans opening their wallets or passing
By Stephen Pate – MacBook Air fans may have gotten their dream update – a 12&Prime Retina screen MacBook that is even thinner than the last one, due to Intel Core M processors and fanless design.
What they may have to swallow hard for the price, especially outside the United States, slower processor and the less than tactile keyboard.
The MacBook – drop the Air – comes in two models. (Apple Store Canada)
256GB PCIe-based flash storage
1.1GHz dual-core Intel Core M processor with Turbo Boost up to 2.4GHz
8GB memory Intel HD Graphics 5300 $1,549.00
512GB PCIe-based flash storage
1.2GHz dual-core Intel Core M processor Turbo Boost up to 2.6GHz
8GB memory Intel HD Graphics 5300 – $1,899.00
If those prices seem high, it's because Apple stopped using US pricing and started applying market exchange rates to Canada, the EU and UK.
In the US those prices are $1,299 and $1,599. The difference is the lower Canadian dollar against the strong US dollar. Prior to yesterday, Apple was eating the difference.
Smaller is not faster
Apple followers are waking up to realize today that the MacBook Retina has some drawbacks. The Intel M-processor is slower than the old MacBook Air, more like a Celeron than a Core I. Speed goes down to make it smaller. (Gizmodo The New MacBook Isn't What You Think)
There are many reports of weird feedback from the keyboard. CultofMac has several negative responses about the new "butterfly" keyboard.
"… the keys felt fairly stiff to me, with such little travel that I wasn't sure if I was really typing," wrote The Verge's Dieter Bohn. "The new trackpad is accurate, but the Force Click action is very far from intuitive. You press down hard and keep pressing through the click, as though you were karate chopping with your finger and trying to hit a target behind the trackpad."
David Pierce, of Wired, declared "good lord is it beautiful," but hated the feeling of the keys.
"There's basically no travel, no movement — it's not that different from tapping on a touch screen," Pierce said. "The keyboard … doesn't give a great first impression…the new MacBook feels a bit like the Apple Watch: it's beautiful, a status symbol I'd be desperate to show to everyone I know…. But it's expensive, it's a little underpowered for such an expensive laptop, and it feels a little like it might be a device without a market beyond the curious and the early adopter."
MacBook Air 2014
The MacBook Air got a minor refresh and price reduction in the United States and a price increase in Canada.
MacBook Air 2014
US
Can
11&Prime
128GB. 4GB Ram
899
1,099
256GB, 4GB RAM
1,099
1,349
13&Prime
128GB, 4GB RAM
999
1,199
256 GB, 4GB RAM
1,100
1,449
Virtually ever product Apple sells has taken a price increase outside the USA from iPhones to MacBook Pros.
Pass or buy – it depends on your wish for the latest Apple gadget. If you must have the latest, lightest Mac laptop, the MacBook Retina is it.
I sold my older MacBook Air waiting for this new model but I will pass. For $399 I got a more powerful Windows laptop in the Acer Aspire with a 15&Prime screen and 1 TB hard drive.
Personally, I don't care whether I use OS X or Windows 8.1 – both are great operating systems and I just need to get my job done. And I am $1,500 richer for not getting the new MacBook Retina. Hard to beat the cash savings and the extra pound won't kill me. See Great Laptops For Under $400
Follow Stephen Pate
Twitter – @sdpate
Facebook at NJN Network
Add the NJN icon to your desktop
Subscribe and get new stories by email
By Stephen Pate, NJN Network