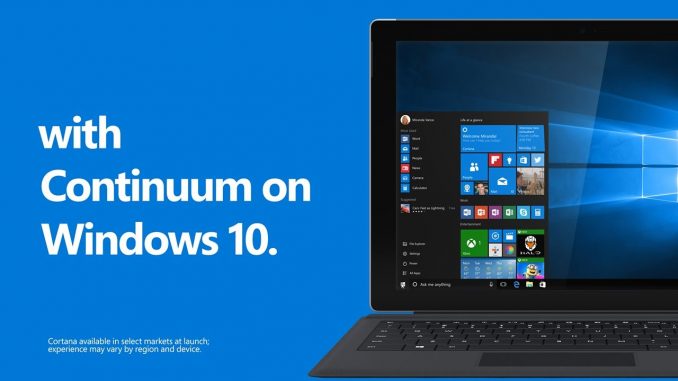 Windows 10 Continuum allows you to use a computer like a tablet and add a keyboard or mouse to a tablet and smartphone
The ultimate operating system may be arriving with Windows 10 on July 29, 2015. Windows 10 with Continuum is the same operating system across all computing devices. Desktops, laptops, tablets and smartphones all share the same operating system look and feel.
Continuum also allows you to make a tablet – or smartphone – more productive by adding a Bluetooth keyboard and mouse when you want to do some serious work away from your desk. That is cool.
Windows 10 is a free upgrade from July 29th onward for registered owners of Windows 7 and Windows 8.1 which is the first time Microsoft ever gave away the upgrade for zero, zilch or nada.
Windows 7 is the most popular operating system and Microsoft is hoping hundreds of millions of people will upgrade for free in year one. The free upgrade expires July 29, 2016.
For Windows 8.1 users the upgrade is a no-brainer and they will hardly notice the change. Hopefully, Windows 10 will remove the bad memories of Windows 8, like Windows 7 got people to forget Vista.
Sign up for the upgrade and Microsoft will tell you when it's ready to download on your computer. If you have been updating Windows 7 and Windows 8.1 you can find the Windows 10 icon on your toolbar. It's the one that looks like the Windows logo.

Continuum on your desktop
Windows 10 adjusts your experience for your activity, device and display, so you can do your thing in any mode anytime you want. Onscreen features, like menus and taskbars, adapt for easy navigation. Apps are built to scale smoothly from screen to screen so they look good from the smallest app window up to the largest 8k displays*. You can even change from desktop to tablet mode anytime you want – your screen will give you a smooth transition and a beautiful display. Available exclusively on Windows, Continuum is designed to ensure that the best screen is always the one you're on.
Blogging Windows
By Stephen Pate, NJN Network