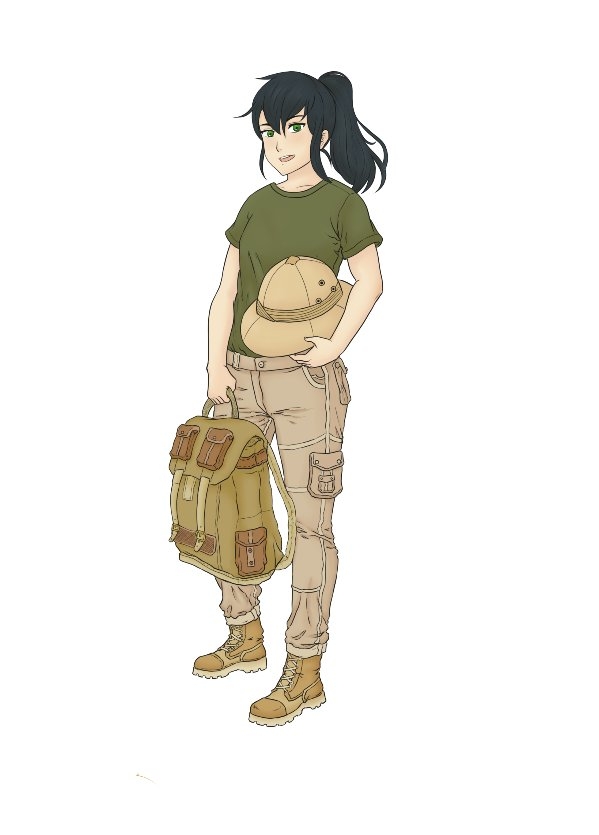 The Maharaja has arranged for a little camel caravan into the desert, with tents and even a traveling show for entertainment that is reminiscent of bygone days. You can't wait. For once, on assignment you get to actually do something enjoyable where there isn't any danger or the need to keep your eyes peeled, as the saying goes.
The early breakfast on the white washed terrace of the palace is something you won't forget. The terrace overlooks a beautifully trimmed and lavish garden surrounding a plush green lawn where there is a snake charmer performing his snake charming trick. Not long after he finishes, there is another servant who appears with a beautiful tiger on a leash that is instructed to speak and roll a ball. It's like being in a dream. It's just breathtaking. Time to leave for the caravan. You laugh at yourself at your first attempt to get onto the back of the camel. There is certainly a knack to it! Thankfully, you are shown the easy way and soon you are up, up and away on your very own camel. Talk about a bumpy ride! It's like being in your own movie. All of you on camel, riding along into the desert with all of the bearers on hand to set up the tents and camp. There is one tent that will serve as the dinner and entertainment tent for everyone. This is a huge tent full of rugs and pillows. Dinner is prepared in the outdoors and brought in and there are performers to entertain everyone. You are eating a delicious vegetable curry when it is announced that they will perform the Hindu Rope Trick, something you have always wanted to see. First the rope emerges from the basket, swaying to the music of the magician's flute. It rises up to the top of the tent. Next a small boy climbs up the rope and he disappears into a cloud of smoke and then the rope drops. In a few moments the boy appears from outside the tent! You love it! Never have you ever witnessed anything like it, although father said that he had seen it in India when he was there many years before. There are dancers, trained monkey's, musicians and other magicians.
Back in your own tent, however, you can't help but feel that you have been being watched. You have a familiar feeling that someone is near, someone whom you have encountered before. Someone with whom you have brushed past, or bumped in to that is somehow always in the shadows. Your mind knows it can only be one person. Always in the background. Always just out of reach. Always in on things that, as a double agent, he has access to, that others do not. The Fox. He is too smart to try to steal the sword from the palace, but somehow he has gotten wind of the fact that you'll be transporting it back to London and he plans to get it. There can only be one place where he will try to do that.
The next two days at the desert are lovely and things move along very nicely. On the return to the palace, you are taken to another very famous place. Not one visited by many westerners. It is one of the locations of a special collection of documents known as The Book of Brighu. It is an extant body of work that seems to be able to predict that certain people will arrive on a particular day to ask a question that Brighu will answer. It is really an honor to be able to visit this place. As westerners on their own would never be able to gain entrance and even if they did, they would have to be able to speak the dialect of the presiding pandit who is the guardian of the extant work.
The 9 Escapdes of Jade Charme Agent Extraordinaire by Khadi Madama is available at Amazon.com
For more information about Jade Charme please follow her on Facebook:
https://www.facebook.com/The-9-Escapades-of-Jade-Charme-Agent-Extraordinaire-403172016520692/
Movie Log Lines and Treatments www.yourstrulyprandmedia.com and Instagram. @JadeCharme