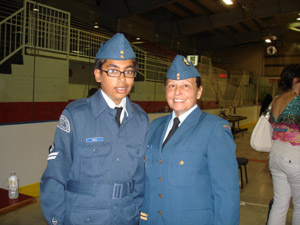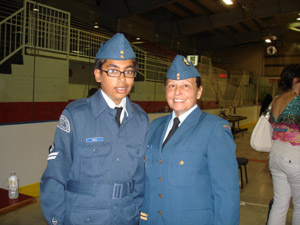 "Discipline is the bridge between goals and accomplishment." – Jim Rohn. Jim Rohn born in the 1930's was an American entrepreneur, author and motivational speaker. Mr. Rohn's quote still lives on today to influence discipline in communities like Milton. To serve, To Learn and To Advance is the motto for the Royal Canadian Air Cadets and I will discuss the background of cadets, the benefit of cadets and last but not least the reason why you should join cadets.
The background of cadets goes a long way back in history – as early as the late 1800's. At that time, there were early squadrons as part of the school curriculum training boys over the age of 12 in military skills and drill. Of course back in the day, the army was one of the first core leagues of cadets and was slowly followed by navy and air. It might surprise you to learn that the Air Cadet League was only founded 72 years ago with the helpful support of the Royal Canadian Air Force. This youth group has come a long way ever since, 1940.
The advantages of being a cadet are unlimited because as a teenager you get a sense of maturity quickly and develop a sense of discipline/responsibility in your early teen years which benefits you a lot more presently and later in life. For example learning how to decide priorities in a survival setting helps to learn how to prioritise things in everyday life. Another factor that I have personally experienced would definitely be to build new long-lasting friendships for life. This really taught me some great social skills within cadets.
There are many reasons why you should join cadets but the main reason is to learn discipline and new things you wouldn't normally learn. It may be your personal choice to join sea, army or air cadets, but let me tell you they all have fun while learning new skills like leadership, building confidence and much more!!
We meet every Monday evenings 6.20 pm – 9.00 pm from September till June throughout the school year at 820 Chris Hadfield Squadron in Milton, Ontario. We march in parades, learn about the history of the Air Force and take our evening classes with much enthusiasm. Many things that I also like about cadets are field training exercises (FTX) where we go camping for about 3 days straight and learn some nifty survival skills and of course a few tips of discipline. As a cadet it's essential to participate in parades such as Remembrance Day where I learned a lot about our veterans and their importance towards our country can make a huge difference. I am also proud to say that through cadets, there are these ranks and through that I am currently a FCpl (Flight Corporal) which is the fourth highest rank in cadets standard.
In conclusion, Cadets is amazing and you should join a local squadron today to develop skills that will set you on the right pathway for life.
Finally, I will leave you with a funny joke that I came across during my summer training camp in Borden, Ontario in 2011. One of my Sergeants was looking for some help to do cleaning and everyone was tired enough from all of the day's training and other activities. Among my subordinates, I was the newest and first recruit cadet, so I wasn't aware of these kinds of jokes. My Sergeant asked everyone if anybody wanted "Cookies", nobody raised their hands because they knew about it except me. And by putting my hand up instead of getting a cookie, I ended up cleaning the area where help was required and in fact that help was my "Cookies" which I will never forget. Having said that, on the way back to home on the bus, there was another new recruit who ended up in the same situation as me last time getting caught for being interested in having "Cookies"…. And I was laughing in my head and thinking to myself that someday when I become a Sergeant I would pull the same prank on another cadet. So, remember you can never have enough, "Cookies "
Questions on who can join Cadets? Visit: http://www.cadets.ca/How_to_join_us/
More information can be found about sea, army and air cadets at http://www.cadets.ca/home-accueil.aspx?LangType=4105.
For any further queries you can e-mail them at cadet-info@forces.gc.ca