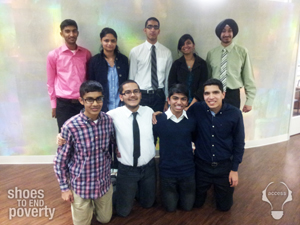 This article was last updated on April 16, 2022
Canada:

Oye! Times readers Get FREE $30 to spend on Amazon, Walmart…
USA:

Oye! Times readers Get FREE $30 to spend on Amazon, Walmart…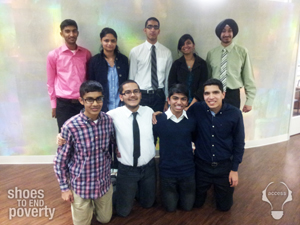 "The honest poor can sometimes forget poverty. The honest rich can never forget it." – Gilbert K. Chesterton.
Mr. Gilbert Keith Chesterton was an English writer who wrote fiction including detective fiction/fantasy, literary and art criticism, ontology, plays, public lectures and debates, poetry, philosophy, biography and even Christian apologetics. All in all he was just a colossal genius when it came to describing and reaching out for things out of other people's reach such as poverty. In this following article, you will be surprised to learn about a dedicated Brampton youth who is reaching out for people affected by poverty, how you can do something like this and how you can connect with him.
Shekhar Kumar, 16 years old, a high school student at Turner Fenton Secondary School in Brampton, Ontario is a poverty-driven individual along with other capable youth has developed an organization that is not only successful but also helps solve poverty in third world countries by collecting and distributing SHOES!! I exaggerate shoes because I usually go through a pair quite fast, end up giving it to the Salvation Army but knowing that a fellow youth is collecting and distributing these shoes to third world countries makes me want to act upon it. Hearing about how over 740 million adults/children in developing countries suffer from disease just from inadequate footwear just saddens my heart and makes me want to do something to help them which I can through this non-profit organization.
What motivates Shekhar to reaching out to the people is his genuine desire for service to his community. From the tender age of 8, Shekhar has taken the role of a community volunteer and leader. STEP is only one of his many accomplishments and involvements.
Shoes to end Poverty (STEP) were created in order to help third-world countries such as Africa, China and India. STEP is currently working on a project where their next quantity of shoes will be successfully distributed in Uganda, Africa by February 2013. This group, STEP was officially launched by founder/president Shekhar Kumar with other promising youth on March 1st 2012 when he witnessed something that changed his passion for poverty forever. This occurred when Shekhar saw some homeless people deprived of life's necessities sitting on the streets and a homeless man without shoes was participating in the day's marathon that Shekhar had decided to attend.
STEP's non-profit organization model is as follows:
– Redefine what a Shoe means
– Think beyond shoes and poverty, always keep sustainability in mind
– Find an innovative solution to ending the global poverty crisis, whilst also keeping local community problems in mind
Shekhar hopes to collect 500 pairs of shoes and $5000 by the end of this School year (June 2013).
Much like myself, Shekhar is quite involved in his community, and here are some links, which include information about him:
http://ca.linkedin.com/in/shekharkumar
http://www.bramptonguardian.com/community/article/1552452–group-takes-a-step-to-help
http://twitter.com/#%21/shekharkumar565
http://www.facebook.com/shekharkumar565
In order to support such a noble cause to the wombs of success, please take your time to support them and donate shoes. For more information, please feel free to Facebook their website – shoestoendpoverty.ca. You can also check them out on their Facebook fan page where they regularly post about their plans to partake in various initiatives – https://www.facebook.com/shoestoendpoverty
Make sure to donate a pair of shoes to STEP as part of their motto "One shoe at a time"
With my final note that needed your attention to support STEP — I wish you Happy Holidays!
You can publish this article on your website as long as you provide a link back to this page.