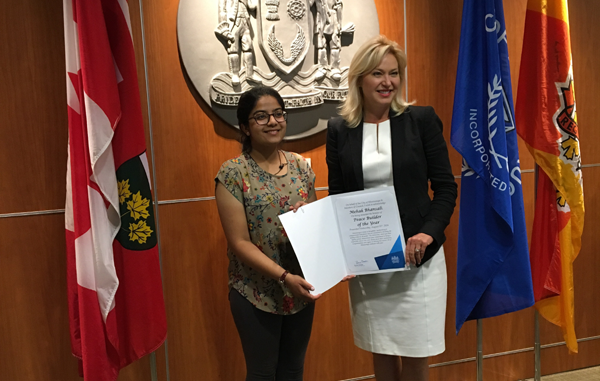 This article was last updated on April 16, 2022
Canada:

Oye! Times readers Get FREE $30 to spend on Amazon, Walmart…
USA:

Oye! Times readers Get FREE $30 to spend on Amazon, Walmart…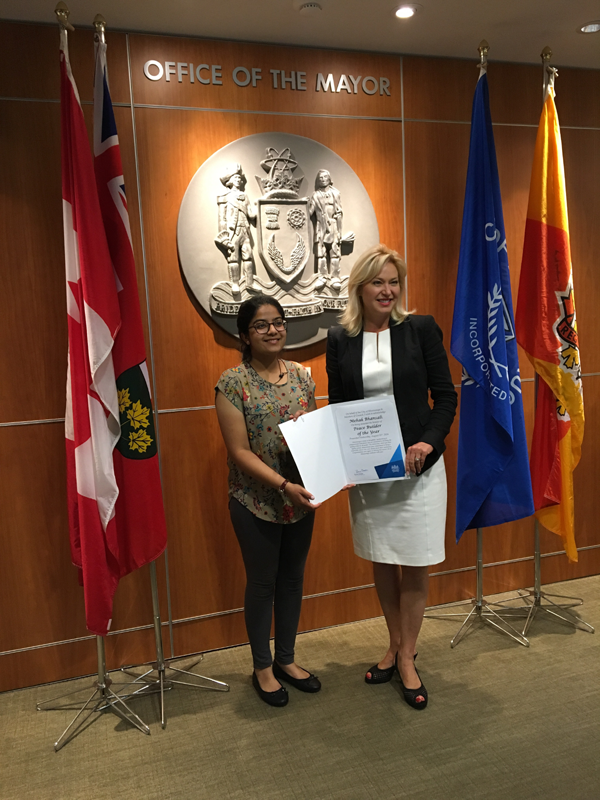 The near future is predictable, but the distant depends on the road you've paved for yourself. It's up to yourself to realize your strengths and weaknesses to become the person you want to become in the future. This year's Peace Builder of the Year has taken the road less traveled, which emphasizes the importance how much of a difference this has made in her life. In other words, she has already taken it upon herself to make sure her future is not only predictable but also certainly filled with opportunities benefitting her community. According to the majority of society, teenagers supposedly spend more time only pursuing anything for their self-benefit, but this award seeks those individuals who put other's self-interests before their own. There is no one more deserving this year for the 2016 Peace Builder of the Year Award than Mississauga's own exceptional leader, Mehak Bhansali.
As the founder of the Peace Welcome Club, I've always focused my attention on bringing the best out of our volunteers and members by emphasizing the importance of volunteering with communities. It helps to keep people together in the toughest times in our lives and insists on people to stick up for each other when the time comes. I cannot even begin to express the amount of effort Mehak has brought forward for our team at Peace Welcome Club as well as the amount of endless dedication she has showcased for the greater good. It's unbelievable how she can juggle everything in our life including doing well in school, being there for her family, volunteering in the community and participating in extra-curriculars within her school community. However, the formula that she has used to do well in everything is to stay focused on the end goal and that volunteering merits its own awards that people who dedicate their time can only ever understand.
I accepted Mehak Bhansali as a PWC Mississauga ambassador after conducting a phone interview, and after speaking on the phone with her it was essential that I have her on the team because of her enthusiastic tone on reflecting on her volunteering accomplishments. Mehak's first project was a simple task, a drive that she enjoyed because it was enjoyable as well as a benefit for her community. She decided to pursue a book drive in order to involve her entire Grade 8 class and the goal was to raise 250 books for a group of 300 students. Mehak didn't hesitate and got to work right away by setting up certain days during lunch in order to work on constructing boxes for the books of each class. She didn't hesitate to continue with an announcement script in order to further announce her thoughtful cause to the entire school during the playing of announcements.
An amazing outcome from the drive was that she took the time to empower her class to take this initiative and take action right away about it in order to help with the cause of those unfortunate enough to not have access to books. Mehak's drive was an expected success because of her endless dedication through the amount of hours she put into the task. Instead of only raising 250 books for those 300 students, the inspiration she lead was able to help raise 750 books. This successful experience leads her to the second drive she lead, which was the mitten drive. Mehak fell into this task because after removing her gloves for a moment's time, her hands got cold in the winter weather. She realized that it was fortunate for her to have gloves during the bitter Canadian winter, but her realization that there were people out in the world without gloves at all motivated her to change those people's lives. Delivering over 300 flyers by distributing them to local neighbourhoods, Mehak successfully not only collected over 200 mittens but also received multiple jackets, scarves, and socks. On behalf of the PWC, Mehak made a valuable contribution to the Great PCSS Welcome Syrian Refugee Drive by getting her entire community involved and donating toys, books, and even household items. Her volunteering ventures continue to impress me and I realize that she will make a huge impact regardless of what it takes to get there.
I really enjoy how Mehak does not limit herself to not just PWC and she is taking time for other clubs and places that she feels require her help. As a student at Port Credit Secondary School in Mississauga, Mehak plays a key role in providing students with a chance to volunteer outside of Canada because of her role as president of the Medlife Chapter at her school. This opportunity helps to provide students with like minded thinking of hers to pursue the opportunity to participate in educational and developmental projects and mobile medical clinics in places like Peru, Tanzania and India. She finds time to also act as the vice president of the school's Free the Children club, and acting as an executive member for the WE team, an environmental group. Throughout the many clubs and extra-curricular activities that Mehak is a part of, she dedicates her full interests into the task in order to help the task at hand to become a huge success.
As an active community member, Mehak has associated herself in the past with many volunteer opportunities, with the Great Canadian Shoreline Cleanup, Enersource, Riverwood Conservancy, at the Honorable Dipika Damerla MPP's Mississauga East-Cooksville office, and Newcomer Centre of Peel. She currently enjoys her time volunteering at the Mississauga Trillium Hospital.
As an active member of her place of worship and a regular volunteer at a medical walk-in clinic, she still finds the time to be a dedicated youth ambassador for the Peace Welcome Club. In her time this year as a youth ambassador, she recognizes her duty as a youth to give time and help those who need other's help to move forward in life. Mehak reflects that it is important to always have fun when getting out volunteering; the importance is to show people how much you care by giving your time to aid those who are in need. It's important to ensure we do this moving forward because it's not about helping the community; it's about making a positive impact in your life as well as for those around you. I honestly couldn't be more proud of her and Mehak is truly a volunteer prodigy of Mississauga who dedicates her time to the community than most.
Therefore, as the founder of the Peace Welcome Club, I commend Mehak Bhansali of Mississauga, Ontario on becoming 2016's Peace Builder of the Year!
You can publish this article on your website as long as you provide a link back to this page.