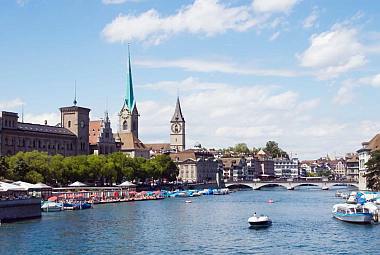 You can publish this article on your website as long as you provide a link back to this page.
This article was last updated on April 16, 2022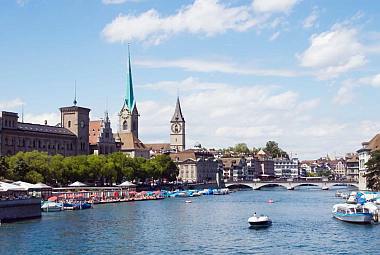 The surroundings were hazy. The sun was dazzling. Rubbing my eyes, I blinked hard. People were bustling around, oblivious to the anomaly in their midst. Where was I and what was I doing here? And why was it so bright at 8 pm?
Squinting hard, flashes of the last few hours went through my head. A surreal train ride to pick my baggage…snatches of picturesque countryside…and an eerie feeling of déjà vu, thanks to Yash Raj and his legacy of films.
Zurich, Switzerland is a quaint city that has grown up quite impressively from her humble status of a Roman customs post in 15 BC to a town, until finally fulfilling her life's ambition and becoming a city in 1218.
Enamored by the imperfection and insanity of India, I had always scoffed at the storybook perfection of Switzerland, sure that it would become passé once the novelty of bluer sky and greener grass wore off. Comfortably nestled in amongst a forest of striking green firs, with the pristine Alps in the distance, the pretty picture almost seemed to mock me.
Nonetheless, armed with a map, I decided to explore every nook and cranny before my cynicism completely took over me. Untouched by the ravages of war, much of the Old city is either well-preserved or been beautifully restored.
The Town Hall, church steeples and baroque guild houses along the River Limmaut, added to its guise of a quiet, charming village. In sharp contrast to this were the imposing banks and office buildings, that made Zurich a hub of business and trade, and the cobbled streets of Bahnhofstrasse, a collection of elegant boutiques that make up one of the most beautiful shopping streets in Europe.
Or, the numerous by-lanes and dark alleys in the bohemian Nierdorf area, which felt like Harry Potter's Diagon Alley. These hid a treasure trove of antiques, second-hand books, smoky clubs and cabaret bars. As I soon found out, there is also a lot to do in Zurich apart from walking around staring agog at the simple beauty of the surroundings.
The 'Grossmünster' and the 'Fraumünster', were tall imposing structures with the peace and serenity that came with churches, intact. They added to the stunning visual and architectural panorama, especially with Chagall's famed stained glass windows in Grossmünster. The Kunsthaus also had a fine art collection, amongst them Degas, Miro and Monet, capable of making the unassuming observer stare at them for hours- a sneaky talent I soon realised that everything in the city seemed to possess.
Of course, who could forget the legendary Kronenhalle restaurant, once patronized by James Joyce, which I avoided since I resented the idea of a book that presents a gargantuan challenge to read or the Schauspielhaus which kept German drama alive during WWII.
And if all this bored you, there are always numerous hills and mountains to climb, which is precisely what I did on my second day. As I stood at the top of one these mountains, looking down at the city below me, feeling the crisp Alpine air, what lingered in my consciousness was not the babbling brooks, or the postcard houses, with deep blue lakes and snow-capped mountains in the background. Nor was it the punctuality of the buses and trains, or the scrumptious chocolate. It was as usual the people.
Curiously, they were always on the move, either to enjoy a dip in the river after work or to meet friends by the lake and feed the ducks before dinner or to go hiking amongst the numerous parklands and forest smattered with trails, when the sun came out.
As an eighty year old man jogged past me, I chuckled. Zurich had bewitched me. It was the inhabitants that made the charming city come alive. It was the bliss on their faces that drove the hordes back every year. And seeing that, is never passé.