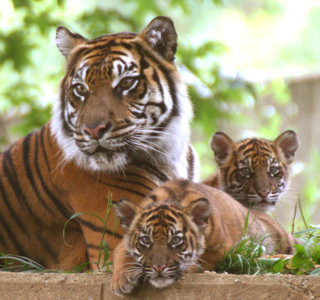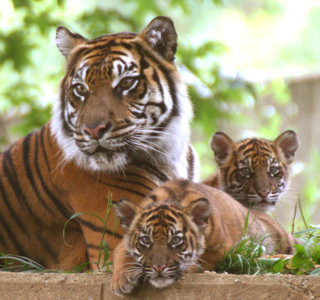 We are now in Ranthambhore National Park. After watching the sunrise over the Taj Mahal from our balcony at the hotel in Agra, we had a quick breakfast and then our driver took us to Bharatpur where we were to catch the train to a town near the park. We had been "warned" by our tour coordinator in Delhi that the trains in India are not like the trains in Europe and North America and this would be quite an experience for us. Then, two days ago, we read that two people were killed and eight injured in a stampede at the train station in Delhi. I guess they announced that the train would be departing from a different platform than where people were congregating; in their rush to get to the new platform, a stampede was triggered and people got trampled. This tragic news came as no surprise to us, since we have found since our first day here that although Indian people are generally very polite, they are insanely pushy in lineups and are ALWAYS trying to worm their way in front of you. We asked one of our guides why this was, and he replied simply "one billion people". I guess that makes sense, but it's such a contrast from how they are normally. Prepared for the worst, our guide met us at the train station to make sure we got on the right train and correct car. We were booked in "first class" but unsure what, if anything, that might mean. Our guide told us there were only 10 seats in first class and that it was the only air-conditioned car on the train. We hopped on the train when it pulled up and were directed to a private room that was very spacious for two people – it was by no means fancy (musty smell, dingy walls and encrusted fixtures), but was very comfortable for our cruise through the desert landscape of Rajasthan state.
We arrived in Ranthambhore at the height of the blistering afternoon heat and were met at the train station by a local guide and a representative from the hotel. The minute our bags hit the ground this decrepit old man (bearing a mild resemblance to the creepy astrologer) grabbed both our bags to carry them for us. James quickly asked the hotel representative if creepy dude was with them, and he said yes. When we reached our waiting car, James gave creepy dude some money for carrying the bags and we hopped in. The old man appeared at the window a few seconds later wanting more money; this seems to always be the way things work out here (of course he was not with the hotel at all). We gave him a bit more money (less than one dollar) and were then whisked away. We pulled into the hotel gate, and this is the first hotel we have stayed at in India that didn't have armed guards at the gate checking all vehicles with mirrors under the car and a visual inspection inside the car. I guess the terrorists don't venture to the desert. As we exited the car, we were greeted by the hotel's two elephants – very impressive. We are staying in luxury "tents", which are like nothing either of us have ever seen. The tent is roughly 700 sq ft, air conditioned, has hardwood floors, a canopy bed, walk in shower room, separate bath tub, dressing area, etc. and is surrounded by a mud-hut style privacy wall with a private garden and outdoor seating all the way around. How luxurious!
There really isn't anything to see or do in Ranthambhore other than go on safari in the morning and evening, so it is a nice respite from trying to learn about, and absorb, the vast amount of history and culture in India. We took lunch by the pool when we arrived and went for a swim to temporarily combat the 46 degree heat. We then went on a safari around 16:00 where we saw all manner of wildlife; monkeys, exotic birds (parakeets, peacocks, king fishers, cranes, etc.), deer, antelope and most importantly tigers (there are 35 wild tigers in the park right now, the highest concentration in the world for Bengal Tigers). We were fortunate to see both a male and female tiger on our first outing. We got very close to the female tiger, but the male we were only able to see from a distance. It was so exciting for us and we both commented we felt like we had been transported to Africa. We have arrived during the hottest, most arid time of year in Ranthambhore (and India in general). It is amazing to think of how the landscape will change into a lush green jungle once the monsoon rains arrive in a couple of months. There is a certain stark beauty to some of the vistas of parched earth, bare desiccated trees, and dust punctuated by occasional ruins from the Mogul empire. There are also occasional watering holes, where it is often easier to spot tigers looking for prey and/or water for themselves. The park was once used as a royal tiger hunting grounds, and there is an impressive fort built along the top of some ancient cliffs as well as a few scattered remains of former palaces, now mostly inhabited by monkeys, birds, and other wildlife. Riding in the open back of the safari jeep with our Tilley hats on (thank goodness for those!) and the hot dry wind whipping across our faces was exhilarating, especially as the sun began to set.
This is the first place we've been in India that is without significant levels of air pollution. This is likely due to being in the desert and the population being relatively low in this area resulting in much less burning of biomass for fuel – the air is much less hazy. We can actually see blue sky, and we even saw stars (brilliantly, so far away from urban lights) for the first time since arriving in the country. The hotel has a lovely observation tower that Simon climbed after dinner last night to do some stargazing surrounded by the sounds of the dry jungle night.
We got up early this morning (05:00) to go on our second safari. This morning the air actually felt cool outdoors for the first half hour before the sun began to gather strength. The cool, fragrant morning breeze in some parts of the forest carried wafts of jasmine, and the silence of the dry jungle save for the periodic animal calls was tremendously peaceful. We had different people with us in the Jeep today (it seats 6 guests) and two of the girls were from NYC. They were a lot of fun, and are doing their trip in the opposite order from us, so we offered tips and suggestions to each other for our next respective destinations. They said their hotel was not serving meat at the restaurant, as it was too hot to keep it safely, so we invited them to come to our hotel for dinner. We are hoping that they decide to come, as it would be nice to have some new people to talk to and they seemed like they would be interesting to get to know. We were fortunate again today and got to see another tigress up close, so our trip here has been a success. Some visitors go on many safaris and never get to see a tiger.
We got back around 08:00 and were greeted again by the hotel's two elephants, and the "drivers" of the elephants gave us food to feed them with – what a thrill (James, though very excited, was a bit tentative for fear of being trampled or maybe tossed about by their massive trunks). We were told by the girls from NYC that we can ride elephants to the palace in Jaipur, so we will definitely try and do that. We decided to forego the afternoon safari today and focus on relaxation of the mind and body. James went for a long run in the exercise tent, and then we both went to a yoga class at noon – we both enjoyed it very much. On our way back to the tent, we came across a bunch of monkeys (they are all over the property, and eat the mangoes that grow on the trees here). Simon crouched down a few meters away from one to say hi. It immediately presumed it was being threatened (we've walked and driven past hundreds of them and they've always been very nonchalant about people), and hissed and bared some VERY sharp-looking teeth. Simon's expression of sheer terror delighted James, and we fled safely to the tent.
We took lunch again today poolside, alternating between the lounge chairs and the water to keep ourselves cool. A tough life for sure. At one point while we were in the pool a staff member approached us with their standard tray of iced tea, water, cold cloths, frozen fruit, etc. and after leaving the tray at our chair Simon thought he heard him ask, "Sir, may I wipe your asses?". He had said "glasses" with reference to James' sunglasses on the table, but it might just as well have been as it sounded! The staff here are definitely trained to within an inch of their lives. We did however love the surprise of a small scoop of lemon sorbet they brought each of us just as we were departing for our tent.
We leave this beautiful desert oasis tomorrow for Jaipur, where we will re-immerse ourselves into Indian culture for the second half of our trip. We'll send our next update from there.