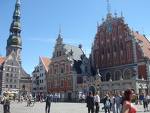 You can publish this article on your website as long as you provide a link back to this page.
This article was last updated on April 16, 2022

My hotel in Riga was bugged. It said so right in the guide book that hotel workers used monitoring equipment to listen to guests' phone calls. But that was decades ago, in the Soviet era. In fact, The Museum of the Occupation of Latvia has some old KGB equipment on display. It was donated by the hotel's owner after a 1999 renovation turned up the bugging gear in the walls.
The capital of Latvia, a country once part of the Soviet Union, still has an air of mystery. Walking down the long, dark hallways of the Hotel Riga, I imagined hushed conversations being captured on old tape decks.
Latvia gained independence from USSR in 1991. Its capital is now a cosmopolitan city wrapped in a beautiful, ornate coat of history. Although its urban centre dates to medieval times, the city is referred to as the 'Paris of the Baltics' because of its Art Nouveau architecture, built in the late 19th and early 20th centuries. These streetscapes have earned Riga designation as a World Heritage site by Unesco.
Rich visuals
An architectural tour of Riga highlights the best examples. Every structure along Albert Street fills the bill. The facades are gloriously decorated with carvings of lions and serpents, birds and dragons, flowers and shells, and both the bodies and elongated faces of lovely ladies. The styles reflect influences from Germany, Austria and Finland.
My hotel was across the street from the National Opera House, right on the edge of the historic Old Town. It was a convenient base from which to check out Old Town's medieval buildings, churches, the gunpowder tower and the guild halls. For nightlife, here are plenty of bars and restaurants with a variety of cuisines. This is a mix of two worlds at its best. Never mind the hidden microphones.