Welcome toMoney Diaries , where we're tackling what might be the last taboo facing modern working women: money. We're asking millennials how they spend their hard-earned money during a seven-day period — and we're tracking every last dollar.
This week: a compliance consultant who makes $101,000 per year and spends it on Peeps Oreos.
Occupation: Compliance Consultant
Industry: IT
Age: 26
Location: Chicago, IL
Salary: $101,000 base salary, plus 5-30% performance bonus
Paycheck Amount (2x/month): $2,350
Monthly Expenses
Housing: $1,550 mortgage, including taxes and insurance. (I have a roommate who pays $1,250/month in rent.)
HOA Fees: $600
Utilities: HOA covers water and gas. I pay $40 a month in electricity.
Health Insurance/Dental: $0. This is covered by my company. (High deductibles though!)
Internet: $50, reimbursed by company.
Cable/HBO Go: $15. I trade this with my friend for her Netflix account.
Phone Bill: $100, reimbursed by company
Savings: I fully max out my IRA, 401(k), and HSA accounts. I don't have a set savings amount, but instead I try to set budgets for myself in various categories (e.g. groceries, eating out, entertainment, shopping). I try to stay under $1,000 in spending a month excluding housing, but it really tends to vary.
Beauty Box: $25.90. I started treating myself to this because I thought I should start taking better care of my skin. (And it's fun to receive a new package every month.)
7:30 a.m. — I don't know what is happening with my body lately, but I keep waking up at 7:30 a.m. on the dot. Is this part of getting old? I dread the day when I'll wake up at 4 a.m. and won't be able to fall asleep again, like my mom. I lay in bed, mindlessly watching YouTube on my phone for another hour.
8:30 a.m. — I finally drag myself out of bed, dress haphazardly, grab a banana, and leave to go do some work at a Starbucks. I'm not really much of a coffee drinker, but their new Cinnamon Almondmilk Macchiato is amazing — and such a delight for my lactose intolerant digestive system. I order a Venti and a cup of water; it's a small price to pay for being more productive than I would be working from my room. $5.85
1 p.m. — Hot damn, work was busy this morning. I eat the banana I brought this morning before diving back in.
2 p.m. — I finally manage to pull myself away and decide to take a lunch break and pick up my birth control from CVS. My pharmacist hands me a three-month pack of my new prescription, which ends up being a whopping $48. I ask her if it's possible to fill the generic prescription or only give me one month to see if I can lower the price later. She performs her magic at the counter and finds that one month of the generic is free!
2:30 p.m. — I get back to my apartment and eat a salad with sliced turkey breast for lunch. I'm trying to eat healthier this week after having spent several weeks before traveling and eating out. We'll see how it goes.
6 p.m. — Finally wrap up with work. I have been traveling so much for work lately that my bedroom is an absolute shamble, and it has been stressing me out. It feels like the messier my room is, the messier my life is. Time to clean!
9 p.m. — Cleaning took much longer than anticipated but I feel like a new person now. I scrape together a strange pasta dish with leftover whole grain penne, turkey kielbasa, sundried tomatoes, and muenster cheese.
10 p.m. — I put on a face mask, light a candle, and lounge on my couch. I've been trying to make to-do lists and review them once a day. Right now, I have a "Things I Need To Accomplish" list and a "Stuff I Kind Of Want To Buy But Don't Really Need Right Now" list. I end up treating myself to a new pair of sneakers on Zappos because they've been on my list and are finally on sale ($51.80). I also buy an amazing Japanese sunscreen I discovered recently; a couple bottles for me and my mom ($33.30). $85.10
12 a.m. — I been trying to learn a new language for the past year, on and off. I watch a TV show to practice my listening skills and to try to add 20 new words to my vocab list. It takes me almost three-times as long to finish a 45-minute show because I have to pause and look up every single new word, so I end up going to bed at 2 a.m. Waking up tomorrow is going to suck.
Daily Total: $90.95
7:30 a.m. — Ugh. Again. Why?
8:30 a.m. — I hide under the covers with my blanket pulled over my head before finally deciding that it's time to crawl out of bed. I make myself a chocolate protein shake and grab a banana for breakfast. I'm waiting for a couple packages today, so I'll just work from my desk at home.
12 p.m. — There were a couple of calls this morning, but work hasn't been too bad. I do have quite a bit of stuff to review this afternoon. I take a break and make the same salad as yesterday. As I munch, I chat with a friend about her house-hunting progress. Our discussion makes me want to increase the amount of money I pay toward my mortgage. I don't think it's worthwhile to pay it off super quickly, but it would be nice to shave off a few years. I decide to start contributing $300 additional per month toward the principle, starting next month.
5 p.m. — Done with work! I lay on my bed and stare at the ceiling for a bit before getting ready to go to the gym.
6 p.m. — I hop on a bus because I stayed in bed a bit too long. $2
6:20 p.m. — I realize that I forgot to grab food before going to the gym, so I stop by the 7-Eleven across the street and grab a jumbo hot dog and Cheez-Its. It's a disgusting and delicious combo at the same time $4.02
6:30 p.m. — I find my friend and get going. I started rock climbing because I get severe back pain from being hunched over my laptop all day. Rock climbing helps to stretch out my aching muscles, and it's also a hell of a workout; I also really like the achievement of conquering more difficult routes. After trying it out for a month, I paid for an annual membership, which cost a lump sum of $800 instead of $125/month.
8:30 p.m. — After a good, tiring workout, I find out that my boyfriend just so happens to be driving through the area, and I ask if he can pick me up. He does, and I tag along as he gets some groceries from Whole Foods. He generously buys me a cold-pressed juice because I am parched from my workout.
9:30 p.m. — After some intense traffic, we finally make it to his place. I'm pretty exhausted and pass out five minutes into watching Black Mirror with him.
Daily Total: $6.02
8:30 a.m. — My brain allows me to sleep in a bit today! (It must be the power of being the "little spoon.") I eat some Cinnamon Toast Crunch in my boyfriend's cupboard before getting to work.
12 p.m. — Lunch break. My boyfriend grills up the pound of skirt steak he bought from Whole Foods last night, and I steal half.
5 p.m. — I meant to buy a green juice earlier from a cute little shop nearby, but I got caught up with work. I've been craving Korean food, so I borrow my boyfriend's car and make a trip to a local Korean grocery store.
6 p.m. — I pick up fresh rice cakes to make ddeokbokki (spicy rice cake), silken tofu, frozen dumplings, seaweed snacks, ramen, and some random sauces that have been running low in my pantry ($29.82). I also swing by Target and buy some good ole American treats, including Peeps Oreos and gummy bears, that I'll send to my pen pal later on ($9.17). $38.99
7 p.m. — I get home, put all the groceries away, and make myself the ddeokbokki and tofu soup that I have been craving forever. As I eat, I watch TV and write down 20 new vocabulary words.
8:30 p.m. — I pack the snacks I bought earlier, a perfume rollerball, a couple of US-only beauty samples, and a two-page handwritten letter to my pen pal. I've had this on my list for an eternity. (She mailed me a letter back in November and I'm only responding to it now!) But the reason I like making lists is because it prevents me from forgetting about things like this. I print the international shipping label and add Go to the post office to my list. We'll see when I actually get around to mailing the package… $22.75
9 p.m. — My boyfriend gets home from the gym and I decide to play some video games with him to unwind. We end up playing until about midnight before calling it a night and going to bed.
Daily Total: $61.74
10:30 a.m. — I groggily open my eyes and paw at my phone, only to find that the friend I'm supposed to work out with at 11 has canceled on me. I should still go, but instead, I make myself some cereal and sprawl out on my couch to watch my TV show. I add 10 more vocab words!
12 p.m. — There's a torrential downpour outside and I'm supposed to Uber to meet my friend at Randolph Street Market, a cute vintage and handmade goods market downtown. After some texting, we change our plans and go to the Rosemont outlets instead.
12:15 p.m. — I steal my boyfriend's car again and pick up my friend before heading to the outlet. It's raining crazy hard and it ends up causing a 45-minute delay on the highway. I realize en route that my boyfriend was going to drive to teach his class at 2, but he's totally un-peeved and tells me he'll just take an Uber. He's the best human being.
1:30 p.m. — We FINALLY make it to the outlet and are happy to find that parking is free now. We wander the mall for about two hours. I end up buying candles at Bath & Body Works and chocolates at the Lindt store. (Holy balls, they're expensive.) I trade my friend some of the chocolate in exchange for some of her Auntie Anne's pretzel, a mall classic. Overall, it's not a super successful outlet run, but it was fun to catch up with my friend. $38.39
4 p.m. — After dropping my friend off, I make my way to my boyfriend so that I can save him from the monsoon. It was a battle getting through the rain and traffic, so I get there almost an hour later.
5 p.m. — We drive over to San Soo Gab San, a local Korean BBQ restaurant, and order a feast of meat. He graciously pays.
8 p.m. — After dinner, we nurse our food babies and somehow convince ourselves that eating sorbet will somehow help make us feel less bloated. We drive to a cut local paleteria and order three massive scoops of fresa, mango, and limón sorbet. $4.50
9 p.m. — Completely full and happy, we get to his place. My boyfriend spends half an hour diligently searching for a good movie to watch before finally settling for The Fifth Element. ("Good" is subjective here.) We rent it through my Google Play but despite my best efforts, I fall asleep within the first five minutes. I apparently wake up halfway through the movie to argue with my boyfriend that Will Ferrell is part of the cast. Half-asleep Me confused Zoolander Will Ferrell with The Fifth Element Chris Tucker. I blame the hair. The rental is $3.99, but I have use some old Google Play credit to pay.
Daily Total: $42.89
10 a.m. — I'm pretty sure I slept a full 12 hours last night. Maybe my body is trying to catch up on my messed-up weekday sleep schedule. I get up, munch on some cereal, and study some vocab in an attempt to prepare myself for my study date later today.
12 p.m. — My boyfriend finds a soaking wet area near one of his windows from the downpour last night and asks if I can help him troubleshoot the leak. We take turns spraying the garden hose at the side of his house to see if we can figure out how the water came in last night, but the results are inconclusive. Ah, the joys of homeownership.
12:20 p.m. — I change into proper clothes and take an Uber Pool to meet up with my language exchange buddy. $2.99
12:30 p.m. — We meet up in Wicker Park and walk down Milwaukee Ave., browsing the cute boutiques and used-clothing stores. I didn't intend to buy anything today, but I find a pristine AllSaints wool sweater at Crossroads Trading Co. for only $18.50. Um, yes. $21.05
2 p.m. — Not quite hungry yet, we decide to sit at one of my absolutely favorite bars, Links Taproom, that specializes in local brews. We grab a pint each and chat about life. I awkwardly fumble my words trying to use the new one I learned this week. I'd give myself a 60% success rate — but the beer seems to make me more and more confident in my language skills with each sip. $8
3 p.m. — Something about beer just makes you want to devour fried things. We decide to walk down the street to Kizuki and take advantage of their happy hour specials by ordering shochu flights, fried chicken, and fried potato croquettes. We also get a bowl of ramen to share and it's just the right amount of food. $25
5 p.m. — Feeling happy and a little bit buzzed (even though it's barely dark out), we stumble to the El before saying our goodbyes and deciding to meet again next weekend. I buy some donuts from Stan's Donuts ($6.85) for my boyfriend before grabbing an Uber back to his place ($2.99). $9.84
5:30 p.m. — When I get back, my boyfriend is just making dinner. I hop on a barstool to watch him cook and tell him about my language study date – intermittently feeding him pieces of donut.
7 p.m. — After eating dinner, we both pack up our suitcases for work. Him, for a Sunday evening flight today, and myself for an early morning Monday flight tomorrow. We walk to the train station and kiss each other good bye for the week. We take the train in opposite directions as I head back downtown to my apartment $2.50
8:30 p.m. — I get back to my apartment and head right back out after a change into gym clothes. I hop on a bus to my climbing gym to meet up with one of my partners for a late-night climb. I need to get one in before my travel week or else my back is going to hate me. I get to take advantage of one of the cheap transfers on public transport. $0.50
10 p.m. — We climb until close and I hop on a bus back home to shower really quick and try to go to bed early for my flight tomorrow. $2
10:30 p.m. — I set four different alarms for 5, 5:15, 5:20, and 5:30 a.m. (sorry, roommate) and make the final preparations for my early flight tomorrow. I pack up everything except for my toiletries for tomorrow morning.
Daily Total: $71.88
5:20 a.m. — I'm up. Mondays.
5:45 a.m. — I finish packing in a flurry and run out the door to catch my UberX. I forget to even brush my hair. ($27.85, expensed)
6:30 a.m. — I arrived quickly at Midway and security is a breeze with my pre-check. I make a beeline for McDonald's and order an orange juice and an Egg McMuffin. I've learned not to make the mistake of ordering a coffee and staying awake the whole flight. $4.29
7 a.m. — There's still time before my flight, so I eat breakfast and get a head start reviewing some of my documentation on my laptop.
8 a.m. — The flight boards right on schedule and I pass out in a contorted pretzel shape the whole way there. When I wake up after our we land, my back serves as a constant reminder of how uncomfortable airplane seats are. Sadly, I don't travel enough to warrant a status with free upgrades.
10 a.m. — I pick up my rental car. The client is expecting me to be on-site sometime around 12, so I have a bit of time to kill. I decide to swing by a Which Wich for a turkey lettuce wrap. Like a sad consultant, I eat the wrap in my car and try to reassemble my hair and do my makeup. ($8.49, expensed)
11 a.m. — I make the short drive to the client site and lead the meeting to kick off our procedures. We are only out there here for two weeks, so hopefully it will be a breeze. I dive into the documentation and don't resurface until it's time to leave.
5 p.m. — The client leaves the office at around 4:30, so I follow suit shortly after. I'm pretty hungry due to my early lunch today, so I quickly look up nearby restaurants on Yelp. I settle on a cute bistro called Twisted Cork about five minutes away from my hotel.
5:30 p.m. — I'm in the mood for some wine (on a Monday…!), so I order a glass of Riesling to go with a summer salad and tuna carpaccio. Sometimes I get room service when I am really lazy, but it's stupid expensive after all the fees are included. Sitting and eating at the bar alone used to be a scary thing, but now I kind of like the chit chat with the bar staff. $35.62
7 p.m. — I check into the hotel and settle in. I managed to get through a lot of work during the day today, so I don't need to play catch up tonight. Instead, I install and start using a language exchange app and somehow manage to spend four hours chatting with people and writing down new vocabulary and grammar. I feel moderately productive.
Daily Total: $39.91
7:30 a.m. — I wake up to hives all across the left side of my face. As someone who is not really allergic to anything, I get really freaked out. Maybe it's the pillowcase or the detergent that the hotel is using? I call down to the front desk to request new pillows and also ask them to send up some Benadryl and bill it to my room ($5).
8:30 a.m. — With new pillows and my hives settling down, I finally do my makeup and head to the lounge for breakfast. I grab soy milk, granola bars, and bacon to before heading to the client's office.
11 a.m. — After a busy morning, I catch up with the client and see if they want to have lunch together today. It's a no-go, so I end head out to grab a salad down the street at a place called Greenbelly. I order a coconut chicken salad, which turns out to be an amazing, delicious decision. $10.95
7 p.m. — I start late getting work done and get kicked out by the janitors. After I return to the hotel, I find that the lounge has a full dinner spread. I help myself to cheese ravioli, salad, and manage to resist a free glass of wine from the server.
8 p.m. — Back in my room, I decide against changing my clothes and working out in the hotel gym. I don't really feel like making the trip, so I stay in and do some stretches and PT exercises to help stretch out my back and shoulders.
8:30 p.m. — I realize that I haven't looked at my to-do lists in a while. One of my tasks is to figure out a graduation present for a friend who is finishing medical school in a few weeks. After a few hours of research, I finally decide on a custom medical caduceus necklace for her ($45). While I'm shopping on Etsy, I remember that another friend uses the platform to sell beautiful antique jewelry. I treat myself to a beautiful necklace while also supporting her business ($25). $70
11 p.m. — It's late and I should study a bit but my brain is tired; I compromise by writing down five new vocab words. After, I get ready for bed, pop a Benadryl, and fall asleep while watching Netflix.
Daily Total: $85.95

Click HERE to read more from Refinery29.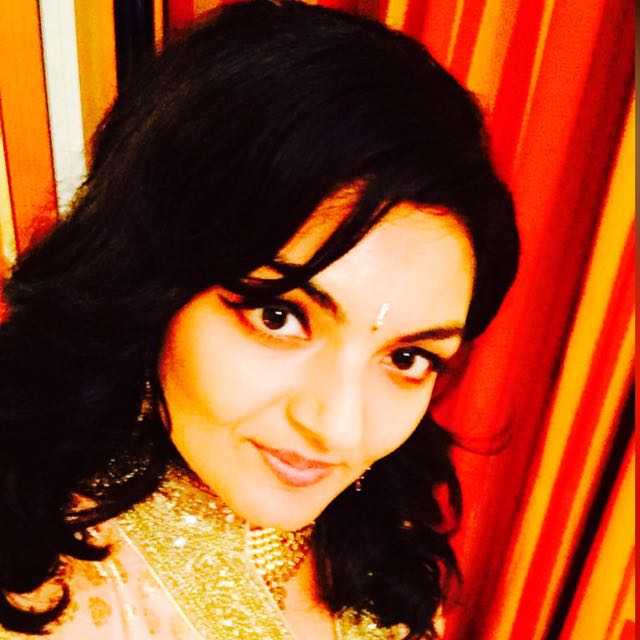 Vote for Shikha Dhingra For Mrs South Asia Canada 2017 by liking her Facebook page.


Loading ...