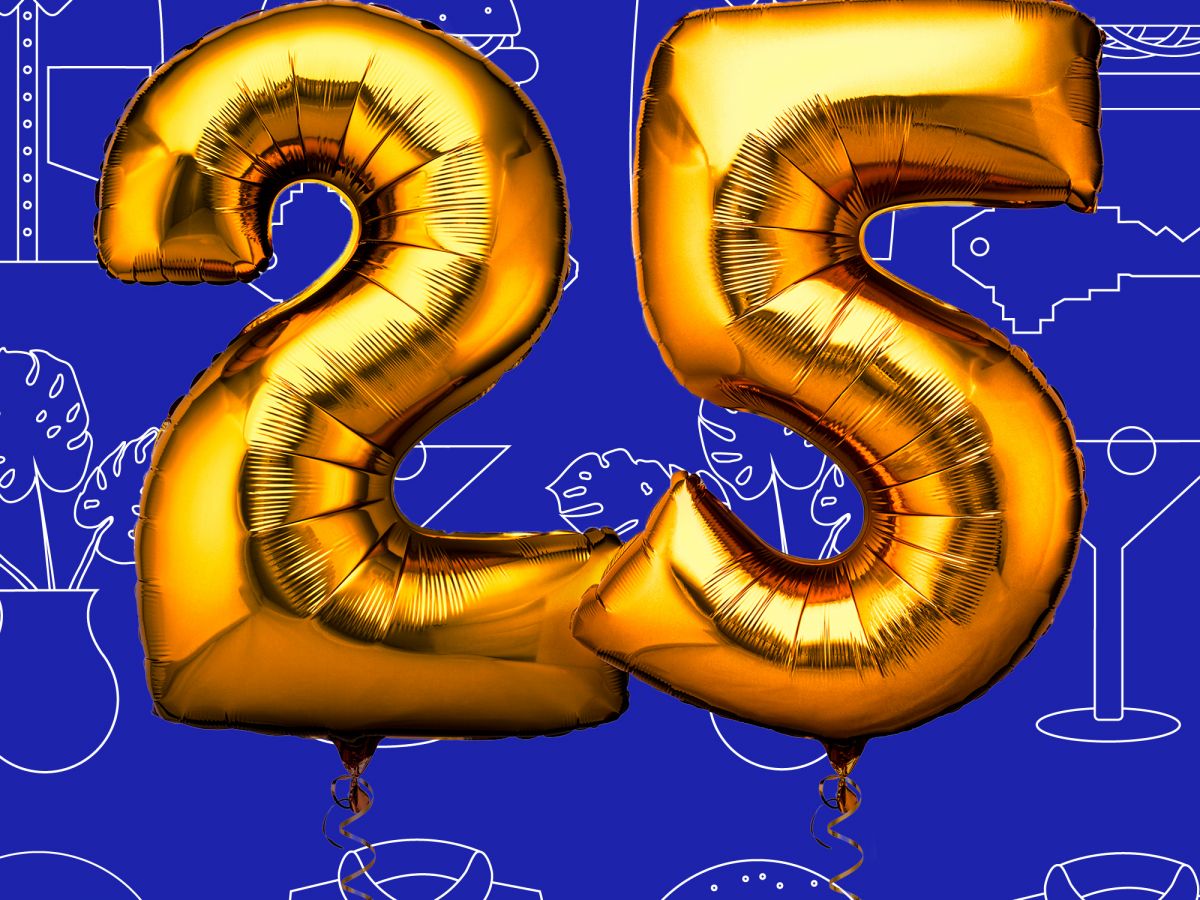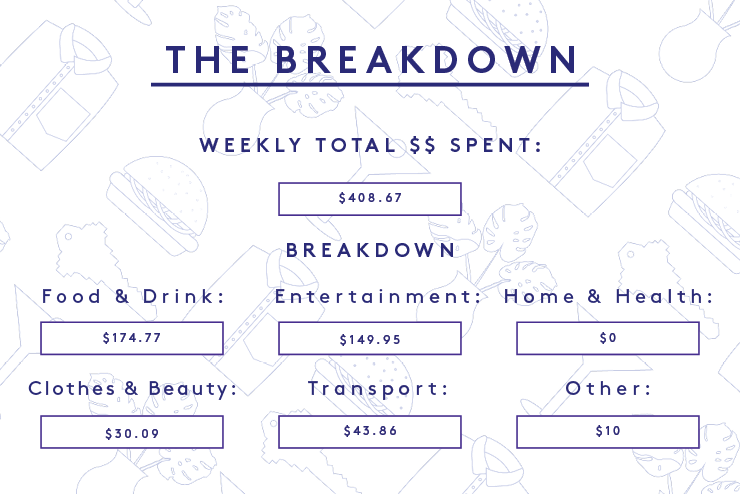 First up: a fundraiser who makes $30,000 per year. This week, she spends some of her money on lobster.
Occupation: Fundraiser
Industry: Nonprofit
Age: 25
Location: Cincinnati, OH
Salary: $30,000
Paycheck (Biweekly): $775
Bonus: $3,000 ($2,000 annual bonus, and $1,000 one-time bonus)
Monthly Expenses
Housing Costs: My share is $700, and my parents give me $300/month toward that.
Loan Payments: $0
All Other Monthly Expenses
Utilities: $60-$80
Wi-Fi: $17; I split with neighbors.
Ipsy: $10
403(b): $150 per paycheck, which is taken from my gross pretax income. My company matches 5% of my salary, so another $57 per paycheck goes into my retirement account.
Betterment: $100/month auto-deposit, plus a SmartDeposit of $100 whenever my bank account balance is $3,300 or higher. I move all leftover money after my bills have been paid each month into here as well, usually close to $300 or more if it is around my birthday or Christmas and I have gotten money from family.
Day One
8 a.m. — I wake up to an alarm reminding me to log in for a training course for work. I set up my laptop in bed and grab the pack of almonds I was eating last night for breakfast. I haven't spent more than a night or two a week at my apartment lately so there isn't much food in the house. I go into the kitchen, survey my lunch options, and order a Jimmy John's roast beef Unwhich and a pickle to be delivered to my office after I finish my morning training. $12.94
12:05 p.m. — I get to work and luckily snag a parking spot close to the building. I check in with my boss and report on how the training went this morning, then start on a project I put off the day before. My food arrives soon after I sit down and I head down to the kitchen with my coworkers to eat. I buy a Coke Zero from the work fridge and spend my break listening to my coworkers discuss celebrity news. $0.50
5 p.m. — I leave work and call my boyfriend to see when he'll be home. He has at least an hour left, so I head to Kroger to pick up dinner. At Kroger, I run into one of my friends and we spend a few minutes catching up and talking about my boyfriend's recent acceptance into business school and our upcoming move. I spend the next 40 minutes browsing the store to restock my boyfriend's place with snacks. I pick up protein shakes, olives and mozzarella from the olive bar, two salmon fillets, a tub of buffalo chicken dip, unsweetened chocolate almond milk, and an avocado. $31.41
6:10 p.m. — I get to my boyfriend's apartment and as I'm parking, I run into my best friend walking her dog. We spend a few minutes gossiping before I head into the apartment with my groceries. I'm not feeling great so my boyfriend starts cooking the salmon for dinner while I drink a Sprite Zero, eat olives and cheese, and watch Travelers on my phone. He hasn't started the second season yet, so I can't watch it on the TV.
10 p.m. — Hulu kicked us out of my boyfriend's brother's account since it recognized we weren't in the same area as him. I decide to put my parents' account on his TV since they have one of the higher plans and it lets us in. We continue to binge watch Shut Eye until we finish the season, then head into the bedroom. I attempt to read the most recent White Girl Problems book, but immediately pass out.
Daily Total: $44.85
Day Two
7:30 a.m. — My boyfriend's alarm goes off and I make the decision to sleep in for another hour since I still don't feel great. The walls are very thin and I doze in and out, constantly awoken by the neighbor who is a serial alarm snoozer. By 8:38, I am up and dressed. I grab a protein shake from the fridge and head to my car. My car has not been liking this sub-zero weather and barely starts. I am expecting a promotion to come through next week and really hope the raise will be enough to be able to buy a new car. I text my parents about the car and my dad offers to take a look at it this weekend.
11 a.m. — Qdoba finally opens on UberEATS and I order a taco salad. I have been really bad lately about cooking and bringing lunch. I make a mental note to meal prep more on Sunday so I can spend less on delivery next week. $13.39
3 p.m. — I completely forgot it was Friday and have to rush through an end-of-week report for accounting. I check my hours in our HR system to see how long I have left before I have to leave, and while I'm in there, I check to see if my estimated compensation for the year has been updated. To my surprise, it has — and it is a lot more than I was expecting. I text my boyfriend and my parents the number and plan to start looking at new cars over the weekend. My parents have been subsidizing my rent for the past few years since I have never made much, but this promotion and raise means I can comfortably support myself on my own. I'm sure they will be thrilled by this, but it makes me question why I am about to spend a few hundred more dollars a month on an apartment I don't really live in.
4:50 p.m. — I leave work and stop by my boyfriend's to grab clothes. My boyfriend picked me up from the airport last week from a two-week trip and I haven't taken my suitcase home yet, so all my clothes are here and dirty. He doesn't have in-unit laundry so I head to my parents' house. My parents live less than a mile away (very convenient) and I do laundry at their place about once a week. I have in-unit laundry at my apartment, but since I am rarely there I never use it. This probably saves me money on utilities — and my parents feed me when I come over — so it's a win-win.
8:30 p.m. — I ended up passing out for a bit while doing laundry and wake up feeling awful. My boyfriend is still at work and has to be up early to go back in so I decide to stay at my parents' place tonight. I manage to eat a little bit of the pork chops my dad makes and watch Sharknado 4 with them. I still feel awful after the movie so I take a hot bath and watch more Travelers before going to sleep.
Daily Total: $13.39
Day Three
11:30 a.m. — I sleep in late but wake up feeling a lot better. My mom needs to go to Target and I tag along with her. She asks if I need anything and buys me tampons, four chicken noodle soup cans, string cheese, and a jar of pickles ($23.44).
12:30 p.m. — We stop at Raising Cane because my mom needs to place a catering order for a party she is throwing. I order three chicken fingers without any sides after looking up the nutrition info, and a fountain drink. I figure I've been really good lately through the holidays and deserve treats. She pays ($5.20).
3 p.m. — I bought my boyfriend a VIP tasting tour of our favorite brewery for Christmas and we are going this afternoon. I pack up clothes for the next day and head to his apartment. He drives us downtown and we park at my apartment and I order an Uber to the brewery. $6.58
5:30 p.m. — We finish the brewery tour and stick around for another drink, my treat. We text some friends and make a reservation at a restaurant down the street for later. My boyfriend orders an Uber after we finish our beers and we head to another bar closer to the restaurant to kill some time; he gets a round of drinks for us this time. $14
7:30 p.m. — We give up the first table we get and let someone go in front of us because the table was next to the front door and it is currently one degree out. Less than 10 minutes later, we are seated at a warm and cozy table. I order a sour beer I haven't tried yet ($7) and my boyfriend and I decide to split our regular, mussels ($14), and a gourmet hot dog that comes with crushed BBQ chips on top ($11). We split the bill down the middle. $26.47
11:30 p.m. — I've been drinking water since we got to the bar after dinner because I've been a little sick lately and was really feeling the drinks from earlier. We're both tired and decide to bail instead of going to the next bar. We split an Uber home. $3.50
Daily Total: $50.55
Day Four
10:30 a.m. — We sleep in and I convince my boyfriend to watch Boss Baby with me. When we finish the movie, I pack up the stuff I brought to my apartment and we drive to a diner near his apartment where I order an omelet with olives, feta, tomatoes, and onions. $13.91
5 p.m. — We go back to the apartment and I somehow take a four-hour nap. I wake up feeling a little better and hope that I'm getting over whatever sickness has been coming on. We have been discussing buying Movie Passes and finally decide to go for it. We sign up, but I'm disappointed that we have to wait a few weeks to get the cards. I wish they were available to use immediately. $9.95
7:30 p.m. — My mom brought my boyfriend his favorite pizza from Chicago (frozen) so we thaw that for dinner and watch Animal Kingdom while it bakes in the oven. I browse car dealership websites to start narrowing down car models I want. The whole process seems overwhelming and I hope my current car can survive a few more months so I don't have to rush to find a new one immediately. I have been on an animated movie kick lately and have been dying to watch The Emoji Movie; my boyfriend reluctantly agrees to watch with me. After the movie, we go to bed and watch an episode of The 100 before going to sleep.
Daily Total: $23.86
Day Five
7:30 a.m. — I leave early today expecting the bad weather to make my commute harder, but the roads aren't too bad. I get to work in record time since very few people are out. I'm not sure how many people will be in the office today, but I use the quiet time to get a project finished. I didn't cook yesterday and put in my regular order to Jimmy John's. I vow to have this be the only delivery I order all week. $12.94
12 p.m. — I spend the morning in meetings and doing database projects before going out to eat with coworkers. I decide to stick to water today since I have been bad about hydration lately. I get back to my desk about an hour later and decide to tackle our recurring gifts setup. My boss provides his credit card to set up his gift, and I decide to do a gift of my own for $10/month. The gifts run through without a problem, giving me the confidence to start running board commitments next week. $10
5:20 p.m. — I leave work and go to my parents' house to kill time before my meeting at 6:30. It is a two-hour meeting and we are reviewing organizations that have applied for a grant. I grab a LaCroix, a cheese stick, and a tiny pack of olives from the fridge to bring with me. During the meeting, I browse a shopping app and see a dress that looks perfect for a spring wedding coming up. They had limited sizing but it was so cheap, I figure I can give it to a friend if it doesn't fit or return it. $30.09
8:50 p.m. — The meeting goes over time, which was not unexpected, but I still head to my boyfriend's place starving. He is cooking dinner tonight and we eat salmon, avocado, and St. Angel brie. I pop open a bottle of champagne and we toast to my unofficial-official promotion; there was verbal communication today about my new title and I have already seen the compensation package. Hopefully, I will get a formal notice tomorrow. We watch Battle of the Sexes and finish the rest of the bottle of champagne before going to bed.
Daily Total: $53.03
Day Six
8:45 a.m. — I sleep in and grab a protein shake and my leftover salmon and head to work. When I get in, I catch up on emails and discover that today will be the day I will be formally told my salary for the new position. Since we are saving for the move and our rent will be more expensive when we move, the raise will mostly go to my investment account each more for short-term growth. My car has been acting better since it has warmed up a bit, so I think I can put the car search on hold a few months, giving me more time to save for a larger down payment.
12 p.m. — Before lunch, my boss pulls me aside and tells me my title and salary. I thank him and am told to sit on the title until it is formally announced. I go down to lunch with my coworkers and reheat my leftover salmon and open a pack of my favorite buffalo tuna. I use mayonnaise from a coworker and make a little tuna salad. After I finish eating, I make a coffee and catch up with my coworkers on their days.
5 p.m. — I leave work and stop to get gas, and swing by the bank to pull out $60 in fast cash. $33.78
5:30 p.m. — I drive to a seafood store and purchase two 1.75-pound lobsters. It is a small business that prefers cash so I hand over the crisp bills I just got from the bank. I stop by my parents' to borrow their lobster pot and head to my boyfriend's to start preparing the lobsters for dinner. The lobsters are delicious and we open a bottle of prosecco and officially celebrate my promotion. After dinner, we clean up and I wash and put the lobster shells into a large plastic bag and put them in the fridge so I can make lobster stock this weekend. $49.21
11 p.m. — We both have sore throats and feel like we are getting sick so after a few episodes of The 100, we go to bed.
Daily Total: $82.99
Day Seven
7:30 a.m. — It's payday! I check my Mint app to see what the pending deposit is the minute I wake up. I didn't reduce my withholding percentage for my retirement, which means more money will be withheld each paycheck, but since my expenses will increase by $300/month for rent and even further once I buy a new car, I can adjust it to equal what I was withholding each month previously in dollars if I need to. The pending amount looks like enough of an increase to cover my expected new expenses, but I may broach the subject of moving in together with my boyfriend once the weather warms up in a month or two. It would save him half his rent and save me $200 a month in rent. I've been at his place most nights for the past few months anyway. I grab the last protein shake from the fridge, pack up my dirty clothes in a bag, and head to work.
9:15 a.m. — My group of friends from college is planning a mountain weekend for next month and we've finally decided on a beautiful house. I pay the organizer for me and my boyfriend ($140 each); my boyfriend will Venmo me back. $140
12 p.m. — Work is fairly uneventful. I send out some acknowledgement letters and write reports in the database. I make it through a rather long grant calendar planning meeting before heading to the kitchen with my coworkers to eat lunch (buffalo tuna packets and string cheese). I make a coffee after lunch and browse Facebook until we decide to go back to work.
2:15 p.m. — The cloth tape measure I've had for years broke a few weeks ago so I look for one on Amazon. I find a cute pink one and order it ($3.40). I use my mom's account and charge her card for it since she covers items related to fitness and the supplements I take.
5:30 p.m. — I leave work and drive to my parents' house to see the dog and do some laundry. My boyfriend has plans tonight so I eat dinner with my dad and finish the new season of Travelers. My dad hands me a $300 check for my rent this month and I deposit it into my bank app. We haven't broached the subject of what my finances look like now but they know how much the raise was, and I assumed they would stop contributing to my rent. Most months, I end up contributing at least as much as they give me to my investment account, if not more. I really believe in saving and investing as much as I can afford to and building up a nice nest egg to be able to put a larger down payment on a car and eventually a condo or a house.
9:45 p.m. — The dog and I head to bed and I switch my clothes to the dryer on the way. I browse Netflix for a new show to start and settle on Episodes, which I struggle to engage with for a bit before falling asleep to the dog snoring.
Daily Total: $140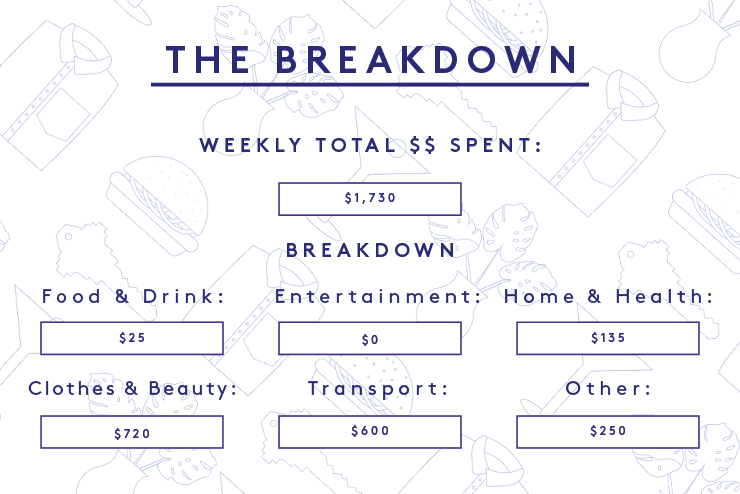 Next: an events marketing coordinator who makes $39,000 per year. She spends some of her money this week on a wedding band.
Occupation: Events Marketing Coordinator
Industry: Marketing
Age: 25
Location: Royal Oak, MI
Salary: $39,000
Paycheck (2x/month): $1,162
Monthly Expenses
Housing Costs: $650. I recently moved in with my fiancé and he owns the house we live in. We plan to combine our finances when we get married, but for now, I pay him rent to help with the mortgage and other monthly expenses.
Loan Payments: $0. I'm fortunate that my parents paid for my undergrad education.
All Other Monthly Expenses
Fitness Studio: $50 for unlimited yoga, barre, and other exercise classes
Car Insurance: $100
Savings: $300. I allocate at least this much for savings every month, but I also keep track of my monthly spending. If there is anything left in my budget, I add that to savings as well.
Day One
10 a.m. — It's New Year's Day, so no work! My fiance runs out and gets bagels for us and our four friends that stayed over the night before. It's the perfect way to recover from the previous night's festivities. We eat and drink our coffee while watching 2017 Recap videos on YouTube.
12 p.m. — Our friends leave to finish recovering at their respective homes. I take a nap for a few hours and when I wake up, do some laundry and light cleaning and get ready for the week.
5 p.m. — Thank goodness for my fiance! He runs out yet again to get us takeout for dinner. There's a taco place we love that is really close by. It has been an extremely lazy day and I have yet to get out of my PJs, but that's how New Year's Day is supposed to be, right? We eat our tacos in front of the TV.
7 p.m. — It has been a very quiet day since we're both mentally preparing to go back to work tomorrow. We have both been off since December 23rd for the holidays, and I'm not expecting the transition back to be easy. I decide to do a little pampering to relax, and I take a long bath with scrubs and salts I got for Christmas. I also do two face masks, one to detox and one to hydrate. After that, I feeling refreshed, tired, and ready for bed. I get to bed at 10 and read my book (currently reading Dinner at the Homesick Restaurant by Anne Tyler), but I don't last long before I'm out.
Daily Total: $0
Day Two
7:45 a.m. — Alarm one goes off.
8 a.m. — Alarm two goes off.
8:30 a.m. — My New Year's resolution is not to be on my phone before I get out of bed, so naturally I scroll Instagram and read emails for 30 minutes after my second alarm. Off to a good start! I finally get up and put some water in the kettle to boil. I like to sip on warm lemon water while I get ready. My morning routine is largely dictated by my skincare routine. It's not anything too crazy, but I never skip a step. It starts with a double-cleanse, first with micellar water then face wash. Next is toner, serum, eye cream, moisturizer, and (usually, but not always, unfortunately) SPF. I wear minimal makeup, put some loose waves in my hair, and get dressed. I grab things to eat throughout the day and I'm out the door by 9:20.
12 p.m. — It's been a slow morning. I eat some yogurt and granola that I brought from home with a few coworkers for lunch.
1:30 p.m. — This day is dragging! I can't help myself from browsing all of the post-holiday sales online. I find a jacket and a pair of flats from J.Crew that are too good to pass up. $80
4:30 p.m. — I get home and eat a snack of apples and cheese before heading to a yoga class. My studio is close enough that I can walk, but it's so cold out today I opt to drive.
7 p.m. — I get home and see that my fiance went grocery shopping after work ($150). I so appreciate when he does that! We use the iPhone Reminders app to share a list we can both constantly update with things we need. This time, I added "spaghetti squash," and he brought home spaghetti and a butternut squash. User error. We typically spend $100 to $200 a month on groceries for the two of us, but because of the holiday, our pantry is pretty bare. We're not strict about splitting these costs, so he covers it this time and I'll get it the next time.
8 p.m. — We're both exhausted from the first day back after a long, indulgent break. We eat a quick dinner of sandwiches with the new groceries and are in bed by 9.
Daily Total: $80
Day Three
9 a.m. — I roll out of bed and decide to work from home today since I don't have any meetings. I eat some oatmeal for breakfast and set up my computer in the living room.
12 p.m. — Since we got a blender for Christmas, I decide to try out one of the many smoothie recipes I have on my Pinterest board. It turns out really well and I put the leftovers in a mason jar and into the fridge for breakfast tomorrow.
12:30 p.m. — I'm still hungry and head back to the kitchen for hummus and pita.
4:30 p.m. — I've been working all day in my PJs, but have to get dressed to get to my hair appointment. I just get a trim ($50 for the cut, $20 tip) hoping to grow longer locks for the wedding. $70
6:30 p.m. — I get home and my fiancé has already eaten. I don't want to do anything extensive, so I just make buttered noodles. While washing the dishes, I look down and realize I'm standing in a puddle; something under the sink is leaking. I turn it off and clean up as best I can. We will call the plumber in the morning.
10 p.m. — After watching some TV, we get in bed. I try to make more progress in my book but again fall asleep quickly.
Daily Total: $70
Day Four
9:30 a.m. — I get to work and drink the rest of my smoothie from yesterday for breakfast. I also packed things to eat for lunch, so I'm already feeling pretty accomplished this morning. My fiancé calls the plumber, but he can't come until tomorrow morning.
4:45 p.m. — My jeweler had a 20% off sale in November so I wanted to pick out my wedding band. I found one I love and put a deposit of $135 down when I ordered it. Now it's ready to be picked up, so I head there after work. I try on the ring (still love it!) and pay the rest of what's owed. $570
5:30 p.m. — I get home and don't feel like doing anything except plopping down on the couch and watching whatever mindless TV is on. Fiance gets home around 6 and we throw together something easy for dinner. Bean burritos, our go-to.
9:30 p.m. — This week has felt so long and it has been a short one! Off to bed early again.
Daily Total: $570
Day Five
8 a.m. — I'm up early so I'll be ready for work before the plumber arrives at 9 a.m. He's right on time and I eat breakfast while he works. He's very chatty but fixes the sink in no time! We're back in dish-washing business. He gives me a bill and leaves off the mileage fee because he was in the area. I write him a check and get to work by 10:30. $135
12:30 p.m. — I get lunch with two of my girlfriends. We go to our favorite salad and smoothie place which is close enough to my office that I can walk. We chat and talk about our holidays for an hour. It's the perfect way to end the week. $10
4 p.m. — I head home. Fiancé and I watch a movie and eat butternut squash for dinner. (Thankfully, Pinterest showed me what to do with this mistake purchase.)
10 p.m. — We head to bed early again. This week has really tired us out.
Daily Total: $145
Day Six
8:30 a.m. — I usually go to a morning yoga class on Saturdays, but it's so cold I can't pry myself from bed. Instead, I stay under the covers a little longer before getting up to make eggs for breakfast.
11 a.m. — It hasn't warmed up at all, but I decide the best way to warm up is in the studio, so I head to class. It's a great class and I see a friend I haven't talked to in a while. I spend some time after catching up with her.
1 p.m. — I eat a quick lunch at home, shower, and then meet my mom at the nail salon. This is a guilty pleasure for us and most of the technicians know us well. My mom picks up the tab for my manicure ($35) this time.
6 p.m. — My fiancé and I meet my parents and my brother for dinner at one of our favorite restaurants. My dad loves the whole process of dining out. He always orders drinks, multiple appetizers, and there's usually dessert, too. I have a San Pellegrino and the sole, which is the special tonight. My dad pays.
8 p.m. — We all head back to my parents' house for a movie, All the President's Men. Somehow my fiancé hasn't seen it, and it's much longer than I remembered. I'm pretty much falling asleep by the time it's over. Fiancé and I drive home and are in bed a little after midnight.
Daily Total: $0
Day Seven
10 a.m. — Fiancé and I get up and get ready because we have a coffee meeting with a potential officiant for our wedding. Neither of us is very religious, so we've been looking for someone who is non-denominational to run our ceremony. We meet her at a Starbucks and I buy drinks ($15) but have a gift card so it works out perfectly. We chat for an hour and love everything she has to say. We get back in the car and have basically decided she's the one, but decide not to text her right away so as not to freak her out with our excitement.
12 p.m. — We head back to my parents' house because this weekend is full of wedding planning. My mom is helping us with the flowers and the florist has sent over a proposal. We go over this while eating cheese and crackers for a snack. We also talk about the trip we're taking this summer to Seattle for my cousin's wedding. My parents want to make a longer trip out of it, but my fiancé and I can't go the full week. We decide to meet them there a few days before the wedding and go ahead and order the plane tickets. I Venmo fiancé the amount for mine. $600
4 p.m. — Neither of us feels like cooking so we get takeout on the way home. I pay. $15
7 p.m. — We decide that the officiant we met with this morning is truly perfect for us and that there's no point in waiting to book her. I send her an email letting her know we'd love to hire her to officiate our wedding ceremony and Venmo her the required deposit. She writes back almost immediately that she's so excited to work with us. I think we made the right decision. $250
8 p.m. — We spend the rest of the evening watching the Golden Globes. I do my Sunday night skincare routine of a couple masks and jade rolling while we watch. I'm inspired by all of the powerful women and speeches and add some movies and TV shows to my to-watch list.
Daily Total: $865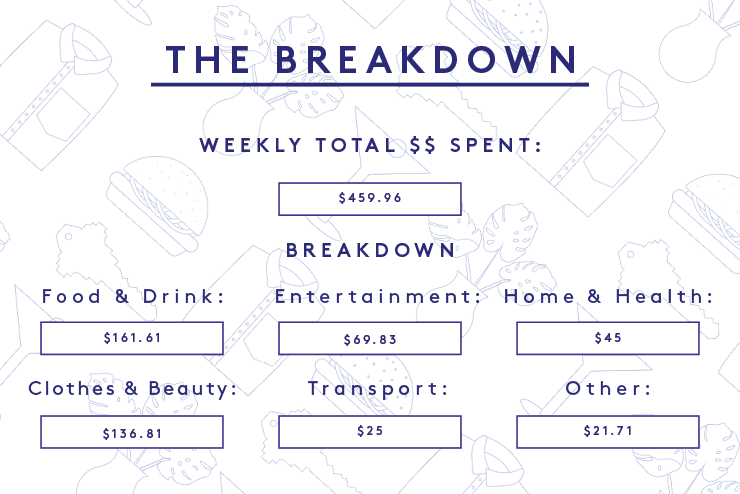 Third: a project coordinator who makes $60,000 per year. This week, she spends some of her money on BumbleBoost.
Occupation: Project Coordinator
Industry: Digital Advertising
Age: 25
Location: Los Angeles, CA
Salary: $60,000
Paycheck (Once Per Week): $800
Monthly Expenses
Housing Costs: $858.58, including rent and a monthly water payment for our washing machine.
Loan Payments: $188. Thankfully, my only "loan" payment is my car lease.
All Other Monthly Expenses
Boxing Membership: $199
Hulu: $11.99. I use a family log-in for Netflix and a friend's log-in for everything else.
Amazon Prime: $11.21
New York Times: $15 (includes crossword)
Chase Credit Card: $242. I'm paying off a balance transfer.
Gas, Electric & Cable: ~$57
Day One
2 p.m. — Acupuncture time! I started doing this last month when I realized my chronic knee pain wasn't going away, but I didn't want to elevate its status to "need-to-see-a-specialist." It really helps to relieve muscle tension and jumpstart my digestion, which has been awful this past year. My acupuncturist puts a few needles in my colon area and I realize the intense cramp I had over the weekend after drinking a bunch of carbonated beverages (I only do this for mixed drinks), was in this area. I think to myself that I probably have IBS-C … and then drift off to sleep. At the end of my session, I pay my usual co-pay. $45
3:30 p.m. — I stop at Whole Foods because I have a coffee addiction to satisfy, and I also need pesto for dinner tonight. I grab my usual coffee and watch a man pour sugar into his for a full minute before adding cream. I shudder inside. On my way to grab pesto, I pass the kombucha fridge and instinctively pick one up. I can't decide between pestos for a good five minutes and finally settle on spinach. Afterwards, I go home and work some more. Since I work at home by myself and only really have emails to answer for the rest of the day, I throw on the latest Shark Tank and Keeping Up with the Kardashians episodes to speed up the afternoon. $12.98
9:30 p.m. — After I eat a dinner of chicken, veggies, pasta, and pesto and get some writing done, I go to bed to with the idea of watching something. Instead, I read about 15 Money Diaries on Refinery29. One girl mentions that she found her boyfriend on Tinder, which inspires me to check out my Bumble. I want to see who's interested in me, so I cave in a moment of loneliness and get BumbleBoost for the week. I still want to watch something before I go to bed to unwind, but I decide it's better to go to bed and catch up on sleep. $2.99
Daily Total: $60.97
Day Two
11 a.m. — I sit down to work and drink my morning protein smoothie (Amazing Greens chocolate peanut butter protein powder, almond milk, flax seeds, maca powder, and banana). I see that Rooftop Cinema Club, which I haven't been to all summer, is showing The Shining next Tuesday just when a close friend will be in town. I buy us tickets. $38
1 p.m. — After boxing, I pick up my daily coffee at Whole Foods. I need bread and broccoli, and I see apples that look too good to pass up, so I add a few things to my coffee run. $14.71
3 p.m. — I work some more and check my bank account; my balance is lower than I expected, which happens way too often. I see that the Marc Maron book I pre-ordered for my dad's birthday from Amazon was charged (even though I thought it already was), hence the low balance. $18.72
9 p.m. — It's trivia night, and we're actually doing super well! Well, with the help of the emcee, who's also our friend, who also ignored that we got a question wrong when we marked our sheet as "double or nothing." There are pretzel sticks, cake, and we win second place! One of my friends has a gift card because they accidentally lost her headset when she left it at the bar last week, so dinner is free! (And she also gives me some gummy edibles.) What a night, y'all. All I had to pay was the valet. I get home around 11:30 and crawl into bed. $5
Daily Total: $76.43
Day Three
6 p.m. — I get out of my boxing class. Wednesday is my favorite day 'cause it's all abs, but I'm so sore, it hurts to move. I told myself I was NOT going to spend money today but there's a raffle for the Breast Cancer Research Foundation (I'm also taking a charity class on Saturday) and I love trying to win things! I buy two tickets at $5 each. $10
Daily Total: $10
Day Four
9 a.m. — I wake up, brush my teeth, wash my face, and put on mascara in time for my 9 a.m. video call meeting. My lower back is killing me, which means I probably didn't stretch well enough after boxing last night. After my meeting, I stretch and connect Spotify to the TV so I can listen to Father John Misty. I think it's a combination of hunger and payday because I finally spring for the second pair of Girlfriend Collective leggings I've been dying to purchase for months. I can't resist the dusty rose. $65
12:30 p.m. — Inevitable Whole Foods coffee/food run! I pick up my coffee and a few essentials: Honeycrisp apples, bananas, almond coconut milk, tortilla chips, and an avocado, and make this week's lunch: avocado toast with scrambled eggs and an apple. I eat a few chips with salsa while I make lunch. I decide to watch Christine, a movie I know is going to be a downer but one I was interested in watching after it premiered at Sundance. Verdict: It's not quite as bleak as I thought it would be, which is a relief and somehow still disturbing. $21.63
Daily Total: $86.63
Day Five
1 p.m. — I head out to, you guessed it, Whole Foods. I grab a coffee and a pint of chocolate Halo Top because I'm craving ice cream, but I try to hold off on the really, really good stuff until tomorrow. I make my usual lunch this week and put on The Challenge. I'm dealing with an exceptionally annoying coworker (not within my company, but an outside vendor). It's requiring all of the good inside of me to take the high road and send nice emails back to his rude complaints. $8.42
6:10 p.m. — I finish up the last of my smoothie, check some emails, and scurry out the door to meet up with a friend for drinks. We go to Wood & Vine on Hollywood Blvd. because it's right by her bus stop, but, ugh. There's no reason to ever spend time on Hollywood Blvd. unless you're going to a show at the Pantages. We have a great chat, aided by two glasses of Malbec on my end, and we split street corn, mac 'n' cheese, and fries. The bill is stupidly expensive at $94. I put it on my card and my friend Venmos me her share. $53
9:45 p.m. — I made the dumb decision to drive to Hollywood, thinking I'd somehow find a street parking spot. This is rarely possible, so I'm not quite sure what convinced me it would happen this time. I finally decide to pay for parking, to the amusement of the attendants. I park under a guava tree at home and always have fresh guavas sitting on my windshield that I'm too lazy to take off. The parking valets are so amused by this that they take a couple and give me a $5 discount on parking. $20
10 p.m. — I'm happily drunk and craving something sweet — and also food in general since the little we shared in Hollywood was not filling at all. I go to my favorite ice cream shop, Salt & Straw, and spring for a double scoop of Candycopia and salted malted chocolate chip cookie dough. Totally worth it. I watch the rest of the Spielberg documentary with my roommate at home. $7.90
Daily Total: $89.32
Day Six
8:30 a.m. — I get up, quickly get ready, and head out to my boxing class. I usually don't go on weekends, but today is a special class where all proceeds go to the Breast Cancer Research Foundation. It feels great to work out after the not-so-healthy dinner and dessert combo I had last night. I'm super close to my favorite burrito place so I drop off some clothes I've been meaning to leave at Goodwill and grab my delicious burrito (egg, bacon, hashbrowns, jalapenos, and avocado). I need my caffeine fix so I add cold brew to my lot. $15.50
11 a.m. — Time to do some house cleaning. It's my turn to do the living room and bathroom this week, so I start with the bathroom, clean the floors of my bedroom, and the living room. My roommate charges me via Venmo for my share of the gas this month. I take a glorious shower and decide to amuse myself for a few hours with some shopping.
2:30 p.m. — I go to my favorite thrift shop and pick out a bunch of things to try on. I looooove the vintage tee collection, but I'm afraid I'm starting to collect too many. I grab a great fall skirt and a kimono jacket. I still have $16.92 left over in credit from when I sold stuff a couple of weeks ago, so I get a great deal on some killer vintage pieces. $38.97
4 p.m. — Now on to L.A.'s greatest record store. I want everything on my list of 20. I finally decide on Born To Die because I love Lana and it's a classic. $21.83
6:30 p.m. — I mull over what I want for dinner. Burger? Pizza? I should get salad. Nope, pizza — but I'll make it! I have sauce, so I grab the cheese and dough at Trader Joe's. $5.18
11 p.m. — My roommate's going out for the rest of the night and my stomach is in agony from an edible gummy worm I ate, the pizza, and a pint of chocolate Halo Top. I try to watch an episode of Supergirl and remember that I wanted to buy an "I Don't Mind" t-shirt to benefit NAMI. I make it in two minutes before the promotion is over. $32.84
Daily Total: $114.32
Day Seven
10:30 a.m. — I get up, make a protein smoothie, and head out to meet a friend at her house in the Valley because we're going to Harry Potter World! For free! Her roommate works for Universal Cable Productions and she has free passes. This place is so magical! We walk through Hogsmeade, go on the VR ride (which almost makes me cry out of sheer joy), and on the tiny roller coaster. We stop for butterbeer, which the roommate graciously pays for. I'm parched, though, so I grab a bottled water. Theme park water is expensive. $4.83
3 p.m. — We go on a couple more rides — Minions and Transformers — but it is fucking hot out here and we're all starving. We leave and go to Sweet Butter in the Valley for a late lunch. I know I'm going to crave my leftover pizza when I get home, so I stick with a light avocado toast to avoid getting too full. $10.40
6 p.m. — I head home after a great theme park day and remember I need to pick up broccoli. I stop at Trader Joe's and grab that, a couple of Honey Crisp apples, and Everything But the Bagel seasoning for my avocado toast lunches. I watch the rest of the Sex and the City movie with my roommate and reheat my pizza. By 10, I'm ready to crawl into bed and catch up on Supergirl. $7.06
Daily Total: $22.29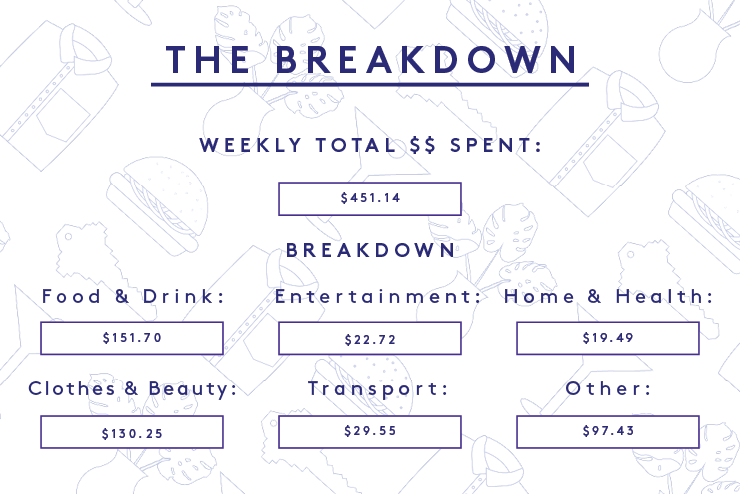 Fourth: a campaign manager who makes $75,000 per year. This week, she spends some of her money on a bridal sh0wer gift and Golden Globes-nominated movies.
Occupation: Campaign Manager
Industry: Marketing
Age: 25
Location: Dallas, TX
Salary: $75,000
Paycheck (2x/month): $2,114
Monthly Expenses
Housing Costs: $1,275 for a one-bedroom apartment in the heart of downtown.
All Other Monthly Expenses
Utilities:
$100
Car Insurance:
$200. My car insurance is outrageous because I have a pretty bad driving record (wrecks and speeding tickets). I'm trying to be a better driver in an attempt to clear my record and lower this cost.
Phone:
Work pays for my phone service.
Gym Membership:
$175 for Equinox
Netflix & Spotify:
$16.50
Renter's Insurance:
$22
401(k):
$625, taken from my paycheck.
Health Insurance:
$58, taken from my paycheck
Day One
6:30 a.m. — Start the day with a strength training class at Equinox, followed by a one-mile run on the treadmill. I love getting my workout over with early in the day. Head home for a quick shower and make two scrambled eggs with cheddar cheese before heading to the office.
9 a.m. — I'm starting a Whole30 in two weeks, so I order new Tupperware on Amazon, as well as sticky note flags to mark the recipes I want to try in my new Whole30 cookbook. $19.49
12 p.m. — It's a pretty slow day at the office, so I go with my coworkers to grab takeout from Freshii (I am obsessed with the Oaxaca bowl) and we eat lunch in the breakroom. My office typically has an eat-at-your-desk culture, so it's nice to take time for a social lunch. $8.65
5 p.m. — Stop at the grocery store on my way home to pick up ingredients for a quick dinner tonight. I didn't have time to plan meals this week, so I only buy a few things: pre-made zucchini noodles, ground beef, and marinara sauce to make a healthier version of spaghetti. I also pick up a bag of sriracha popcorn to snack on through the week. $14.47
7:30 p.m. — Make and eat my "spaghetti" and wrap the leftovers for later this week. After, I settle into bed with a new book, The Nightingale by Kristin Hannah, and end up reading for hours because it's completely engrossing.
Daily Total: $42.61
Day Two
8 a.m. — Decide I don't want anything in my fridge for breakfast or lunch today so I place a pick-up order with Snap Kitchen and grab both on my way to the office. I tend to eat out more often than I cook, so I always make sure to budget accordingly. $13.48
9 a.m. — Eat breakfast at my desk while checking email. I ordered a breakfast platter that includes sausage, scrambled eggs, and cheesy cauliflower grits.
12 p.m. — I'm attending a friend's bridal shower in a few weeks, so I order a gift from her registry. $97.43
12 p.m. — Decide I also need a new outfit for the occasion. I find a cute dress on sale at ASOS and use a 10% off birthday coupon that's been burning a hole in my pocket. $64.50
2 p.m. — Time totally got away from me today, so I'm just now eating lunch. I eat the lunch I picked up this morning: two sweet potato and black bean burger patties with a side of carrot and zucchini.
5:30 p.m. — Back at home and need to leave for my class at Equinox. I'm feeling hungry and I hate working out on an empty stomach so I grab a handful of popcorn as I run out the door. I do a jump rope cardio class followed by an ab class and the combo is killer. I'm going to be feeling this tomorrow.
7 p.m. — Now, it's straight to my friend's apartment for Wednesday Dinner. One of my friends loves to cook, so last year she started "Wednesday Dinner" for a group of friends as a way to come together every week; she usually makes a main dish and the rest of us will rotate bringing sides, dessert, or beer and wine. I look forward to it every week because it's made me so much closer to this group of friends. Tonight, we have pot roast with potatoes and carrots, followed by brownies for dessert. I don't contribute anything this week, I just eat everyone else's yummy food.
Daily Total: $175.41
Day Three
8 a.m. — Dressed and ready to go, but first breakfast, which is definitely the most important meal of the day for me. Make scrambled eggs with chopped broccoli and cheddar cheese, then it's out the door.
11 a.m. — A pair of Nikes I've had my eye on are on sale, and I have another birthday voucher to use ($10 off at Finish Line), so I make the purchase. Since my birthday is in two weeks, my inbox is flooded with special birthday deals from retailers and I'm taking full advantage. $65.75
11:45 a.m. — I meant to bring my leftover zucchini noodles for lunch today, but I realize I forgot them at home this morning. Oh well, I'll have them for dinner instead. I run to get a pick-up order from one of my favorite restaurants near the office and eat at my desk. Lunch is a lemongrass pork bowl. It's so yummy I don't even care that I left my homemade lunch at home. $10.88
4 p.m. — Leave work early to make a class at Equinox. I have a pretty great work/life balance with my job. I never feel weird about leaving early or working from home. As long as I'm getting everything done, my boss is happy. I take a cardio and strength class followed by the treadmill.
6:45 p.m. — Home and showered after my class, and decide I want to stay at my boyfriend's place tonight. I call him to see what he's up to and he asks if we can get Chinese for dinner. You don't have to ask me twice! I abandon my zoodles yet again and pick up the order on my way to his apartment; it's shrimp fried rice for me and chicken fried rice for him. $17.84
Daily Total: $94.47
Day Four
8 a.m. — I like to work from home on Fridays when I don't have any in-office meetings (which is the case today!), so I sleep in past my BF's alarms before getting ready for an Equinox spin class. I walk out the door as he leaves for work. The best thing about working from home is getting to spend my 30-minute commute doing better things.
9:30 a.m. — Home from spin and showered, so I get to work. I finally heat up my leftover zoodles for breakfast. I am definitely not opposed to consuming non-breakfast items in the morning. I just eat whatever sounds best to me at the moment.
12:45 p.m. — I still have meat sauce left, but I'm out of zoodles. I boil regular pasta from my pantry and have essentially the same meal I had for breakfast — this time with delicious carbs instead of veggies. I have to say, the real pasta makes it taste way better.
7:30 p.m. — Friday nights are usually date nights. I'm in the mood for Tex-Mex and margaritas, so my boyfriend and I decide to go to one of our favorite hole in the wall places. I drive to his place to meet him, and then he pays for an Uber to the restaurant. (We somehow always get a little too tipsy for our own good here.) He also pays for our fajitas and drinks, as well as the Uber home. My boyfriend was raised in the ultimate Southern home, so he feels like it's his duty to pay for everything. He also makes significantly more money than I do. I like to contribute every now and then, and we always split big expenses like concert tickets or vacations, but overall he definitely spends more money on me than I do on him.
9 p.m. — Back at his apartment and I crack open a bottle of wine. We spend most of our time at his place rather than mine so I like to keep it well stocked with my favorites. We Netflix and chill until we fall asleep.
Daily Total: $0
Day Five
7:45 a.m. — My alarm goes off much earlier than I ever like for a Saturday, but my mom's coming in town today (she lives about an hour away) and I want to get a workout in before she gets here. I do two quick 30-minute classes at Equinox.
10 a.m. — Stop at a taco place on my way home to get breakfast. Breakfast tacos are one of my favorite things about living in Texas. $1.83
11 a.m. — My mom arrives and we catch up before heading to a movie later. We're both musical lovers so we've been excited to see The Greatest Showman for weeks. I buy our tickets online and as a part of my rewards membership at Alamo Drafthouse, the movie is BOGO. Since we're also going to a matinee show, the two tickets are super cheap. $10.72
1 p.m. — Arrive at Alamo Drafthouse for the movie. We order popcorn and a chicken Caesar wrap to split for lunch while we watch. My mom pays.
3:30 p.m. — My mom drops me off at home and I don't have any plans until later, so I finish reading my book. Afterwards, I get a text from my friends that they're heading to a patio for drinks; it's 64 degrees in January and they want to take advantage. I need some fun friend time after the emotional roller coaster that was the last 50 pages of my book, so I'm definitely down. The bar is really close to my apartment so I look at my Lime Bike app and see several rental bikes available downstairs. I rent a "bonus bike," which means my ride is free, and bike to the bar.
6:30 p.m. — After a few summer beers (vodka, Blue Moon, and lemonade), I pay my tab and my boyfriend comes to pick me up. Our favorite bar in Dallas is closing at the end of the month so we're going tonight to say our final goodbye. $28.82
9 p.m. — We both have several drinks as well as a smorgasbord of sliders and cheese fries. He pays. I have a feeling I'll be hungover in the morning but it was worth it for our last night at a bar that we love so much.
Daily Total: $41.37
Day Six
9:30 a.m. — I made plans to go to Trader Joe's with a friend this morning. Grocery shopping is my least favorite chore and I hate doing it alone, so I'm constantly trying to coerce my friends or boyfriend into going with me to make it more fun. She comes to pick me up and we stop for smoothies on the way. Smoothies always help my hangovers, so I happily slurp mine down. $7.04
10:45 a.m. — At Trader Joe's, I pick up chicken breast, chicken broth, Bibb lettuce, pico, guilt-free guac, corn tortillas, eggs, cheese sticks, greek yogurt, black-eyed peas, and pre-made soup. $37.89
12 p.m. — Back at home, I throw the chicken, chicken broth, and seasonings into a crockpot. I'm making a big batch of shredded chicken to use in salads and tacos this week. I also heat up some of the soup I got at TJ's to eat for lunch. Now it's time to do some cleaning around the apartment. My place looks like a tornado came through
4 p.m. — I'm kind of bored and I could definitely use some stretching out after my intense workouts this week, so I go to a restorative yoga class at Equinox. Class ends with the sound of rain beating on the skylight in the studio, and I feel so relaxed and glad that I decided to come.
6 p.m. — My boyfriend wants to make dinner plans. I tell him I'll make him chicken tacos at my place, but he says he's ravenous and needs something heavier. We go to another Tex-Mex place (can you tell we're fans?) and he gets a steak burrito the size of a newborn baby. I eat so many chips and salsa that I can barely eat the flautas I order as my meal. I take the rest in a box, and my boyfriend pays.
Daily Total: $44.93
Day Seven
8 a.m. — Working from home again today. While checking email, I simultaneously start making plans with friends to see all of the Golden Globes-nominated movies I haven't already. Boyfriend agrees to The Disaster Artist and a friend agrees to Lady Bird. We want to see Lady Bird tomorrow night, so she buys our tickets online and I pay her back on Venmo. $12
10 a.m. — I get distracted by work and am starving by the time I come up for air. Scramble some eggs, shredded cheese, and pico and put in a tortilla for a homemade breakfast taco.
1 p.m. — Make a salad using the chicken I made yesterday, lettuce, pico and TJ's guilt-free guac. Eat with plantain chips.
4:30 p.m. — Leave for a strength training class at Equinox but have to stop and get gas on the way. Ugh. Car-related expenses are the worst. $29.55
7 p.m. — I'm watching the National Championship game with a group of friends tonight. They order pizza and I'm feeling sluggish after all of the unhealthy things I put into my body this weekend, so I pick up a salad on my way over. It's not as good as the pizza, but it fills me up enough. $10.80
Daily Total: $52.35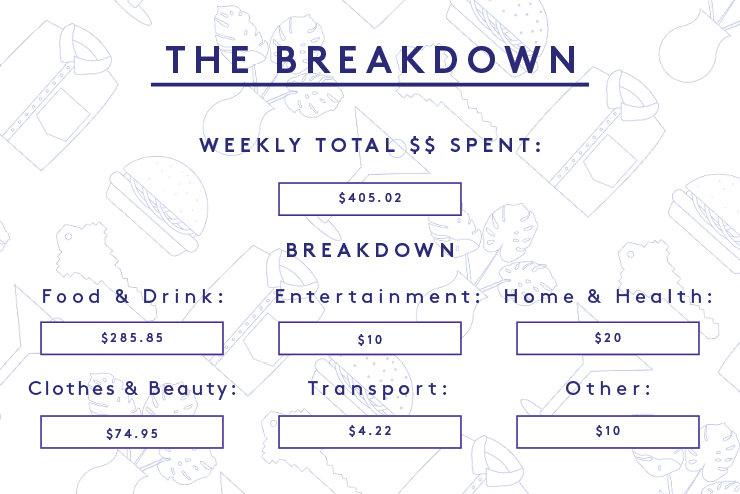 Finally: a brand consultant who makes $110,000 per year. This week, she spends some of her money on a mask from BioClarity.
Occupation: Brand Consultant
Industry: Advertising
Age: 25
Location: New York, NY
Salary: $110,000
Paycheck (2x/month): $2,080
Monthly Expenses
Housing: $1,600 to rent an apartment in Chelsea. I have one roommate.
Loan Payments: $0. I paid off my student loans last year with the help of my grandmother.
All Other Monthly Expenses
MetroCard: $121 for an unlimited card
Electricity & Internet: $55
Spotify: $9.99
HBOGo: $0. I use my boyfriend's.
ClassPass: $135 for 10 classes each month. I used to have a gym membership at Crunch, but I found it hard to motivate myself. I love group fitness classes and I think ClassPass is worth it. I usually do two or three classes each week.
Phone: $0. Work pays for my phone and unlimited data.
Medication: $8. It's a co-pay for a medication not covered by my insurance.
Day One
10 a.m. — I wake up on Sunday with a slight headache. I went to a friend's birthday party last night and went out afterwards with some of my friends. I look at my Chase debit card statement and see that I bought a round of drinks for people at Tijuana Picnic for $50. (Because the margaritas were bought before midnight, it doesn't count for this Money Diary!) But ugh. Going out in New York is so expensive. I go into my kitchen and make myself a coffee and a piece of toast with butter and jam.
1 p.m. — I decide that yoga will fix things. I go down to Sky Ting in TriBeCa and take a class in the hopes that it'll be restorative. I have a class credit — my friend is an instructor there and gave me one for my birthday two weeks ago. I swing by Liquiteria after to get a smoothie. I get the Blue Velvet, which is delicious and tastes like a blended blueberry muffin. $9.80
4 p.m. — I swing by Westside Market to pick up some things I need. I wish I had written it down instead of keeping the list in my head. I grab arugula, spinach, peppers, zucchini, cheese, yellow squash, eggs, lime sorbet bars, chicken and sage breakfast sausage and a pack of lime LaCroix. $48.61
5 p.m. — I call my boyfriend and wish him luck tomorrow. He has a big job interview and has been stressing all weekend about it. I also order takeout from Sugarfish, a popular sushi place I loved when I lived in Los Angeles. I always get their "Trust Me" Lite. I concede it is expensive takeout, but it makes me happy. $30
7 p.m. — My friend from college and I are going to see Dead and Company at Madison Square Garden. I meet her at MSG after taking the train up. The concert is awesome and she buys the beers for us. I got these tickets free from work, which was also awesome.
11 p.m. — When I get home from work, I put some of the veggies I bought together for my lunch tomorrow. I also donate $10 to Doug Jones' campaign for the Alabama Senate. After the recent news about Roy Moore, I'm invested in the outcome of this special election. $10
Daily Total: $98.41
Day Two
8 a.m. — I wake up late for work and jump in the shower. I grab a Fage yogurt from my fridge and get a hot coffee on my way into work. I currently take the subway every day, but I'm looking to move somewhere closer to my office so I can walk. $2.81
1 p.m. — After various meetings all morning, I eat the spinach salad I brought from home with grilled squash and pepper strips. I also eat a chocolate chip flavored RXBar I keep in my desk and chug more water. I try to drink at least three liters of water each day, and I keep a liter water bottle at my desk to encourage me to. When I started drinking more water, my skin dramatically improved.
6:30 p.m. — I leave work to make a Flywheel spinning class I booked on ClassPass. When I get home from spinning, I shower and decide I want breakfast for dinner. I scramble some eggs and heat up some of the chicken and sage breakfast sausage.
8:30 p.m. — My boyfriend gets back to his place after work, so I jump into an Uber Pool and head over to his place. We talk about how his interview went and watch part of Jiro Dreams of Sushi. I'm going to Sushi Nakazawa, a restaurant opened by one of the apprentices in the documentary, with a friend of mine in a few weeks, and this is getting me excited to go. $4.22
Daily Total: $7.03
Day Three
7 a.m. — I wake up, take the crosstown bus back to my apartment, and put together more veggies for my lunch. I also read my book, Everything I Never Told You by Celeste Ng before going to a bakery near my house to buy a savory scone and a large coffee. I continue to read until it's time to jump on the subway to go to work. $5.15
1 p.m. — Another morning of meetings. I take out my salad (spinach, arugula, peppers, squash, and mozzarella cheese today), feeling a little depressed. I need to start bringing more exciting lunches.
3 p.m. — I'm messing around on Amazon and reading reviews of products. I've heard great things about the BioClarity skin smoothie, so I buy it. $19.95
8 p.m. — I hop on the subway to meet one of my girlfriends at Bondst for dinner; we split the rock shrimp, crispy rice with tuna, two sushi rolls, and two different types of sashimi. With tip, it comes out to 55.61, which is more than I was hoping to spend on dinner. After we finish, my boyfriend picks me up and we walk back to my apartment. $55.61
10:30 p.m. — I start making lunch for tomorrow. I cook a penne "pasta" made of chickpeas from a company called Banza, and it's pretty delicious. I make it with olive oil, salt, pepper and basil, and also grill the last of my squash and peppers and throw them in for good measure. The BF and I both read until we fall asleep, and I manage to finish my book.
Daily Total: $80.71
Day Four
7:30 a.m. — Wake up and make some coffee while I catch up on the news. I listen to a new Pod Save America episode on the subway on my way to work.
10 a.m. — Somehow, I find myself online shopping at my work desk because it is a slow morning. I'm on the Aritizia website and I see a really cute bodysuit. I decide to buy it. $55
1 p.m. — I am happier to be eating a chickpea pasta rather than a boring salad for lunch today.
7 p.m. — I leave work and take the subway to Gotham Gym, where I've signed up for a boxing class on ClassPass with one of my friends. She goes boxing all the time, but I'm kind of a newbie. The class is really fun and energetic. I'll definitely be sore tomorrow.
8:30 p.m. — I jump on the train after class and head to my apartment. I'm too tired to cook anything, so I text my boyfriend to see what he wants for dinner. We agree on "healthy Chinese" (whatever that means) and he orders for us. We get chicken lettuce wraps and salad with orange ginger dressing.
Daily Total: $55
Day Five
8 a.m. — The BF and I don't have to be at work very early this morning, so we make poached eggs, English muffins, and coffee. It's rare for me to have time to sit and eat breakfast, and it's really nice and relaxing. Boxing also left me starving and sore, so this is much needed. Getting on the train to go to work is extra painful this morning, but I bring my new book, Origin by Dan Brown, to make the ride go faster. This read is a little less highbrow than Ng, but I'm a sucker for Robert Langdon's adventures.
1 p.m. — I realize I forgot to bring lunch. I walk to a food hall near my office and pick up tomato soup from Good Stock. I love Good Stock because their soups are hearty and delicious, and come with a lot of bread and a brownie bite. $7
7 p.m. — After work, I take the train back. I think about going for a run or painting my nails; painting my nails wins.
8:30 p.m. — When the BF is finished with work, he comes over and we make sweet potato noodles. He brings the sweet potatoes and we put them in a pan with olive oil, garlic, basil, parsley and goat cheese. It's delicious. We finish watching Jiro Dreams of Sushi and go to bed by 10:30, which is amazing.
Daily Total: $7
Day Six
7:30 a.m. — I wake up to meet a client at Spring Studios for breakfast. I order the cacio e pepe poached eggs and a cappuccino, and the client picks up the tab. Afterwards, I jump on the subway to get into the office.
10 a.m. — I debate whether I should go out or work out tonight. (It's a Friday after all.) A friend invites me and two other girlfriends to dinner at 4 Charles Prime Rib and I remember I'm supposed to go to a birthday party at a bar later, so I guess the choice is made for me. I decide to work out tomorrow, and I book a Pilates-boot camp hybrid class at SoulAnnex, the new studio SoulCycle opened for non-spinning workouts. Because it's my first time, it's only $20. I also write an email to ClassPass asking them to look into adding SoulAnnex to their list of studios. $20
1 p.m. — It's lunchtime and I know I'll be eating a huge dinner tonight, so I keep it light and get a kale salad from the Westville. $13
6:30 p.m. — I head home to change before the 7:45 dinner reservation. I hate wearing makeup, so I begrudgingly put on a little Glossier skin tint and mascara.
8 p.m. — I show up a little late to dinner at 4 Charles Prime Rib. We split a bottle of pinot noir, oysters, creamed spinach and fries, and we all get our own individual cheeseburgers. Everything is amazing, but it's super expensive and I'm really full. $90.91 (including tip)
11 p.m. — After we eat, we go to Slowly Shirley to meet more of our friends. I don't end up paying for any of our drinks before we migrate to the birthday party at the next bar.
1 a.m. — I end my night early-ish, drink some water and head straight to bed.
Daily Total: $123.91
Day Seven
10 a.m. — I wake up and make coffee before my exercise class. I'm not hungover and I'm very excited to sweat the booze out this morning.
12 p.m. — I finish up my SoulAnnex class and I'm exhausted! It was really hard and I enjoyed myself. I walk home and shower, then make myself toast with jam and butter, a scrambled egg, and some of the frozen breakfast sausages. My roommate just bought fresh blueberries and raspberries, and we eat some of those too.
1:30 p.m. — I have a Friendsgiving tonight and I said I'd bring a cheese course, so I walk to Murray's Cheese and get brie, camembert, and crackers. $22.96
3 p.m. — I jump on the subway to meet one of my friends from college at the Met. The exhibit of Michelangelo's drawings and designs just opened and we are both dying to see it. I pay a $10 donation to get in. The exhibit is phenomenal and really interesting. I was an art history minor in college, and I always try to stay current on exhibits happening in New York. $10
5 p.m. — After the Met, we head to a diner on the Upper East Side to grab coffee and split a plate of French fries. I take the subway home and my friend takes care of our diner bill.
8 p.m. — After showering and reading at home, my boyfriend comes over and we walk to the Friendsgiving, which is being hosted by two of my friends from college. It's delicious! I'm happy, full, and tipsy. I probably shouldn't have had those 5 p.m. fries, though.
12 a.m. — We eventually leave and the BF takes care of the Uber home.
Daily Total: $32.96
Click HERE to read more from Refinery29



Loading ...