This article was last updated on April 16, 2022
Canada:

Oye! Times readers Get FREE $30 to spend on Amazon, Walmart…
USA:

Oye! Times readers Get FREE $30 to spend on Amazon, Walmart…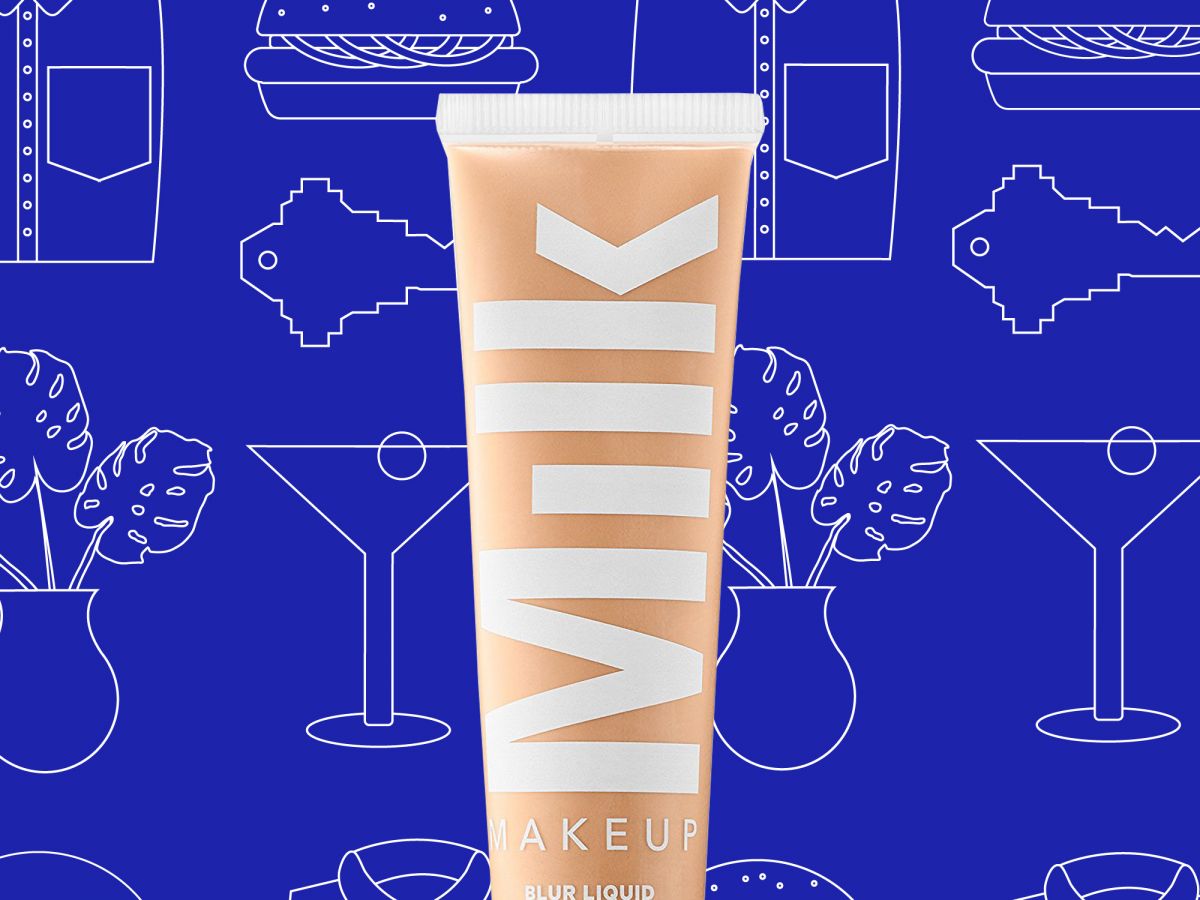 Welcome to Money Diaries , where we're tackling what might be the last taboo facing modern working women: money.
Today: a service coordinator who makes $67,000 per year. This week, she spends some of her money on makeup and a silk eye mask.
Occupation: Service Coordinator
Industry: Government
Age: 25
Location: New York, NY
Salary: $67,000
Paycheck (Biweekly): $928
Bonus (Monthly): $900-$3,000
Monthly Expenses
Housing: $900 for a one-bedroom apartment. I'm extremely grateful that my parents help me out with the rest.
Loan Payments: $0. I went to a CUNY school.
All Other Monthly Expenses
Savings: $500
Credit Card: $500
Therapy: $30/week
Health & Dental Insurance: $40 pre-tax
Phone: $75
Spotify: $9.99
MetroCard: $121, but my job reimburses me
Amazon Prime: $99
Cable, Internet & Power: $0 — thanks, Mom and Dad
Day One
9 a.m. — I just got back from vacation yesterday and today I'm rushing to work. Nothing says welcome back to NYC like your MetroCard saying "insufficient funds" when you swipe. I wait in line for 10 minutes and buy my MetroCard.
10:50 a.m. — I skipped breakfast so I'm famished by the time I get to work. My job is draining and I need to stay awake, but I have been avoiding coffee since it worsens my anxiety. I stop by Gregory's Coffee to get a Peanut Pleaser instead. It's usually $8 but I'm in their rewards program and have a $5 credit. I'm aware I can make smoothies at home, but I love to sleep and would rather sleep in than make breakfast. $3
6 p.m. — My coworker and I were supposed to go to yoga together after work but she flakes so I think about going shopping. Still, as much as I want to go shopping for home decor, as a born and bred New Yorker, I know shopping during rush hour is horrific — especially in Manhattan. I settle for going to yoga. I'm not a yoga fan but this studio plays hip hop during the class and tonight is Drake night; my day is made.
8 p.m. — I'm home because it's way too cold to be outside. After cleaning, unpacking, and dropping off laundry, I order dinner. I've been craving Thai food and place my order, paying with a Visa gift card I was given for Xmas. I eat while watching the new Dave Chappelle special on Netflix and laugh so hard I almost choke. Once it's over, I go online and see that Glossier has a 10% off sale. It's not much but I'm obsessed with skincare and I have a Sephora VIB Rouge card to prove it. I've heard a lot about Glossier and decide to finally try them. I get the Invisible Shield (you should ALWAYS wear SPF) and the moisturizing moon mask (it's winter, duh). Pay on the Visa gift card again.
Daily Total: $3
Day Two
9 a.m. — Up bright and early for therapy. These few past years have been tough; I tried to cope on my own but just ended up doing impulsive shopping and skipping meals while crying in between, so I caved in and started going to therapy. It helps big time. After therapy, I head over to work. I only have a few meetings which means I'll be out early and I'll have more "me" time. $30
1 p.m. — Let "me" time commence! I head over to Pop Physique for a quick barre workout. My ex got me a package of classes for a year while we were dating since it's the only workout I enjoy. After class, I walk over to Aesop and pick up their parsley seed facial cleanser; it's pricey but I love it, so screw it. I hop on the train just before rush hour (yay!) and go home. $43
6 p.m. — I get home and before hopping in the shower, I notice that I missed a bunch of messages from a group chat I have with friends. One of my friends ended things with her boyfriend and wants to have a low-key girls' night. I suggest a few places and we all decide on a pizza and wine bar in Hell's Kitchen. I shower and get ready while listening to old school Shakira and trying to hit the high notes to "Si Te Vas"(#fail). I drink a glass of wine and head over to the train station. I check my email while waiting for the train and find that Shopbop is 20% off. I resist the urge to shop since I don't really need anything … but leave a few things sitting in my cart.
8:30 p.m. — I get to the restaurant first since I'm the only one that lives in Manhattan, and quickly walk over to Bibble & Sip to buy an Earl Grey vanilla cream puff. I almost pay cash until I remember my Visa gift card. We get seated and I know what I'm ordering right away; it's not my first time at the rodeo. We spend the night stuffing our faces, drinking and joking, and not talking about our friend's recent breakup, which is what she wanted. We joke about our childhoods and our coworkers. I guess I needed a night like this too but it's hard to get together with friends due to work or other commitments. The night is over and we split the bill. $67
11 p.m. — At this hour, I'll never get home if I take the subway. Plus, I had drinks and don't want to get tired on the train and wake up in another borough. I order a Lyft and my driver arrives quickly considering it's a busy street in Midtown. I get into the car and "Careless Whisper" is playing. I'm buzzed so naturally I start singing along — maybe too loud because my driver joins me. Ultimate New York moment. $24
12 a.m. — I go to sleep late. I have no idea why but I can't fall asleep before 1 a.m. I double-cleanse my face and put on my sleeping mask and read in bed. I'm currently reading You'll Grow Out of It; the essays are fun and relatable so it's an easy read for me. Before going to sleep, I quickly FaceTime with my cousin who lives in Spain and is planning to come visit in a few weeks. Like clockwork, I pass out around 1 a.m.
Daily Total: $164
Day Three
9 a.m. — I decide to work from home today. I really don't feel like going all the way to the office and quite honestly, what I have to do can be done at home. I use my Echo Dot to order a latte at Starbucks but Alexa humbles me and informs me I have to reload my Starbucks card. I add $10. I step out to pick up my latte and walk back home to start working while watching Daria. During my break, I see that Shopbop still has 20% off. I cave, remove a few things from my cart, and order a silk sleep mask. $48
5 p.m. — I finish work and check to see if any yoga classes are open in the next hour or so. I find one and grab my mat and water and power walk over since they have a strict late policy. I get a good spot and tune everything out. After yoga, I walk over to a wine shop. I love trying new wines and I usually just buy whatever speaks to me. Today, I spot the Tituss Burgess pinot noir and instantly grab it. I loved the character on the show (give Tituss his own show!) and I've been dying to try the wine. I use whatever is left on my Visa gift card, reminding myself to check the balance.
7 p.m. — I get home and realize I'm riding the cotton pony, which explains my mood. I get ready for a night in with wine, TV, and dating apps. I check dating apps from time to time just to see if I'm ready. As soon as I sign on, I realize I'm not and save myself — and my potential date's — time and sign out. I decide to binge-watch Mad Men. I'm upset it took me this long to give it a chance! Jon Hamm is everything. I get interrupted by a text from my phone carrier telling me my bill has been posted. I pay it right away or else I'll forget.
Daily Total: $48
Day Four
9 a.m. — IT'S FRIDAY. I've been looking forward to today because my coworkers and I planned a night out in Williamsburg after work. First I have to get through work. I stop at the deli before going to the office and get gum. I'm in the office today so it means I'm swamped with paper work. I listen to the Bodega Boys podcast to focus and laugh. $1.75
5 p.m. — I didn't bring lunch so I decide on Mexican food for a late lunch ($5.31). I'm so swamped and focused that I lose track of time until it's 5:15 p.m. I look up from my workspace to see that my coworkers are already putting their makeup on for tonight. Apparently, I also received my MetroCard reimbursement check today. Yass! I put on my fancy face paint and we head out to Brooklyn. First stop is Croxley's Ale House for happy hour where we all pig out on quesadillas and chicken wings before bar hopping. While stuffing our faces, we try to plan where we'll go next, but it's evident that we're just going anywhere there's alcohol and good music. We split the bill. $38.31
9 p.m. — Next stop is The Woods. They have an outdoor sitting area that's heated so we order drinks and walk over. By now, we're buzzed, joking around, and having a good time. A group of guys look over and buy us all fireball shots. They walk over and tell us they are heading to Baby's All Right a couple of blocks over; they invite us and we join them. At Baby's All Right, there's a live band finishing up a set but we still get to enjoy two good songs. The guys keep buying us more drinks. One of them is chatting with me, but I'm having such a good time I just start dancing with my coworker. We get more gin and tonics and start yelling when "Bodak Yellow" comes on. My coworker pays for my drinks since I paid for hers last time we went out.
4 a.m. — Lose track of time and only realize it's 4 a.m. because that's when Baby's All Right closes. I decide that I must move to Williamsburg — but it'll be hard since I've been living in Manhattan all my life. Everyone starts calling their Lyfts; this time, I'm too drunk to sing along to anything, although my driver compliments me on my skin. I get home and double-cleanse my face even though I'm drunk. While doing so, I get a text from one of the guys asking me if I got home okay. I don't even remember giving him my number but the thought is appreciated. $29.60
Daily Total: $69.66
Day Five
3 p.m. — I wake up and drink water nonstop. I check my phone and see that my sister invited me out to eat. I try to get out of it since my head is throbbing, but she offers to pay and it's going to be at my favorite restaurant, a Japanese-Dominican fusion place. Miraculously, my headache is gone. I get to the place and catch up with my sister. I offer to pay my part but she refuses.
6 p.m. — I walk out of the train station and see a facial place I've been thinking about trying on the way home. They're known for their quick facials without the extra spa stuff, which is perfect. I need the pampering but I don't want a stranger touching my face for a long time. They usually don't take drop-ins but someone canceled, so I get lucky. I enjoy it because they don't push you to buy products. I walk out feeling refreshed and brand new. The guy from last night texts again and I decide to give him a chance. $75
Daily Total: $75
Day Six
2 p.m. — I love to sleep in. I lay in bed with my laptop, read Money Diaries, and share one with my sister. (I suspect it's her, but she denies it.) I also start checking out grad schools. I will be extremely broke, but I know I have to do it. What's hard is that there's nothing I feel passionate about enough to go into debt for. I start watching The Deuce and for some reason get reminded that my humidifier hasn't been working. I check Amazon and find a new one right away. I pay with points.
6 p.m. — I go to see The Disaster Artist with a friend who is in love with James Franco; he offers to pay since he dragged me out on a Sunday. (Little does he know, I love James Franco as much as he does and would have gone willingly.) After the movie, I start mentally preparing for Monday and walk home while listening to an audiobook; it's terrible and I'm thankful it was free.
10 p.m. — I get home, shower, and mask. While I have my mask on, I boil water and set my Real Eats meal to cook. After dinner, I book my ballet barre classes for the week and watch 90 Day Fiancé reruns. This show is hilarious and the fact that my friends and I discuss it in our group chat while watching makes it even better. I do some quick online shopping on Aritzia during commercial break and get a pair of mittens, a pair of jeans, and a few tops. Their clothes look great on me so it's my go-to store. After the reruns are over, I take some melatonin and go to bed wearing my eye mask. It feels like angels are caressing my eyes as I sleep. $206.06
Daily Total: $206.06
Day Seven
9 a.m. — I know everyone says it, but I'm really not a Monday person. I wake up in a bad mood and feel crappy until I have coffee. I drink my coffee while listening to a podcast and getting ready. Before going into the office, I get a green smoothie from Juice Generation. I get to work and try to do as much as I can so I can leave early. The guy I met in Brooklyn texts me and wants to hang out later this week; he offers we go see a stand up and I agree. $7
3 p.m. — After work, I head over to Sephora to get foundation. I'm running low, and after years of trial and error, I finally found my perfect shade in Milk Makeup. It has SPF, which is always a plus. I have $40 left on the Sephora gift card I got for my birthday, so I only pay $2. I head over to barre class, which is very small since it's before 5 p.m. I prefer smaller groups because the instructors are more detailed and you get more one-on-one time. $2
7 p.m. — I get home and gather my laundry to drop it off. I don't have a washer-dryer in my apartment, and although there are washers and dryers in my building, I prefer to drop it off to avoid folding. I shower and order sushi for dinner ($15.60). I eat while watching Baskets reruns and then decide to read until I pass out. My plans change when the guy texts me again. Maybe I really should give him a chance; he's already wining points by inviting me to a show and being a Baskets fan. $42.60
Daily Tchaotal: $51.60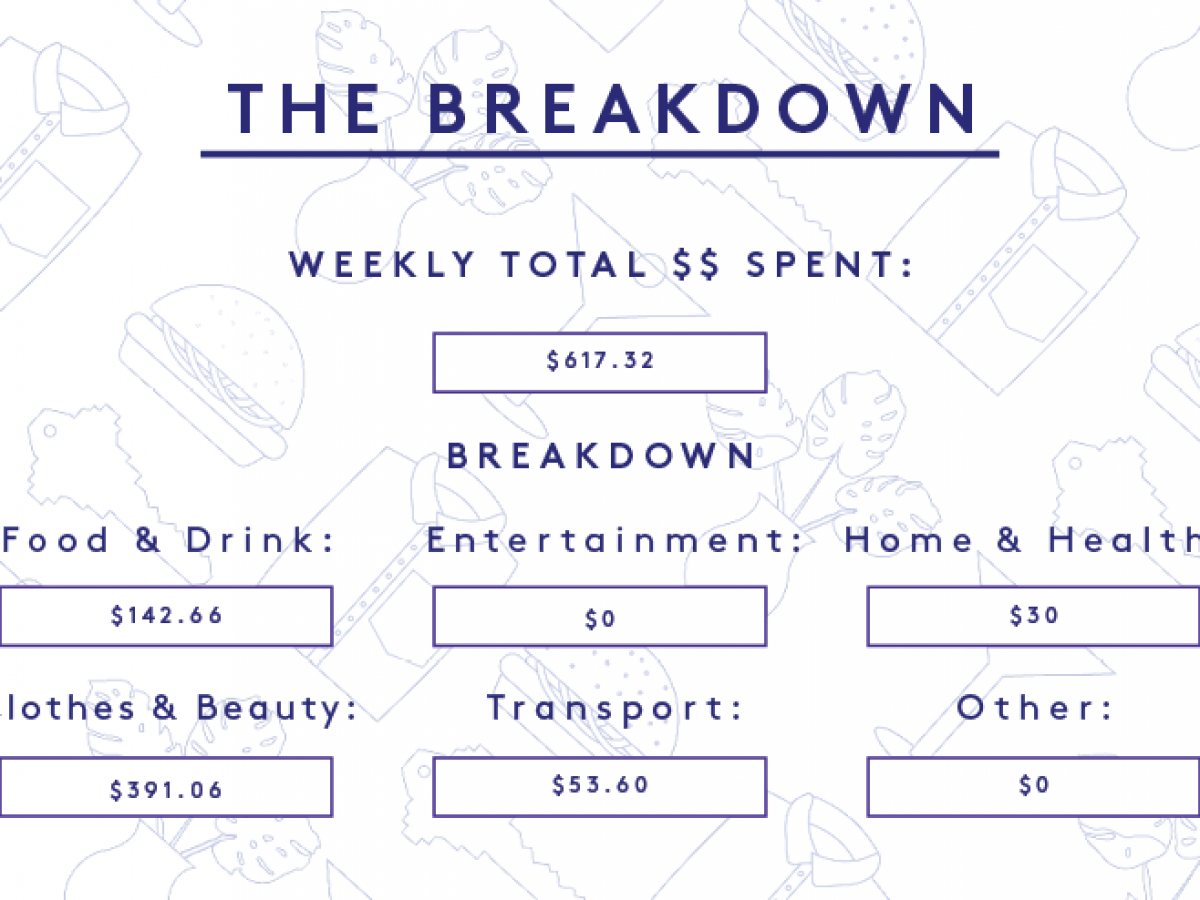 Click to read more.

You can publish this article on your website as long as you provide a link back to this page.
You can publish this article on your website as long as you provide a link back to this page.