This article was last updated on April 16, 2022
Canada:

Oye! Times readers Get FREE $30 to spend on Amazon, Walmart…
USA:

Oye! Times readers Get FREE $30 to spend on Amazon, Walmart…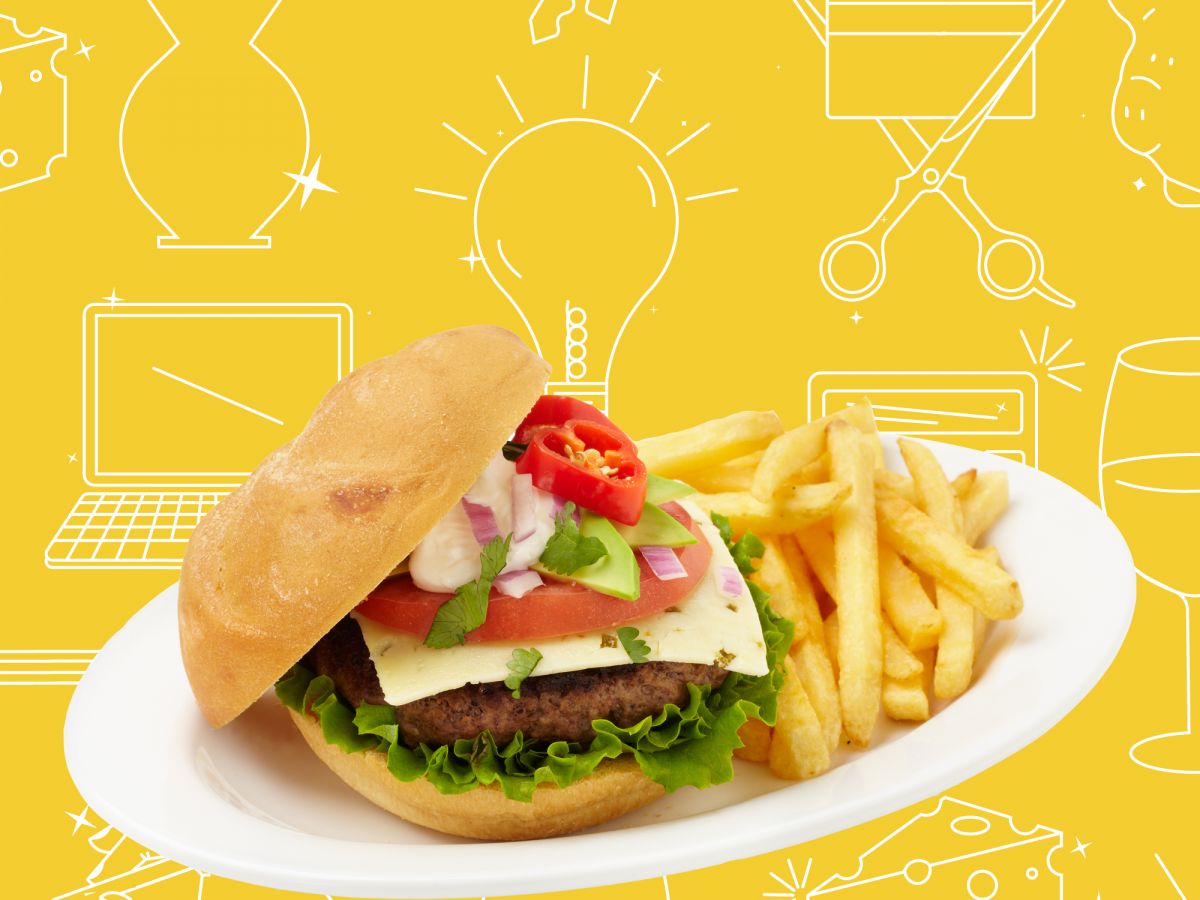 Welcome toMoney Diaries , where we're tackling what might be the last taboo facing modern working women: money. We're asking millennials how they spend their hard-earned money during a seven-day period — and we're tracking every last dollar.
Today: a front end engineer working in tech who makes $90,000 per year and spends some of her money this week on burgers.
Occupation: Front End Engineer
Industry: Tech
Age: 28
Location: New York, NY
Salary: $90,000
Paycheck Amount (2x/month): $2,127
Monthly Expenses
Rent: $1,825, split evenly with my husband
Student Loan Payment: $470
Electricity: $80-$150 depending on the time of year; split 60/40 with my husband
Laundry: $40
Green Chef/Purple Carrot: ~$77/week
MetroCard: $0 (I have a monthly unlimited MetroCard that I pay for with my company credit card.)
Prescriptions: $15 (paid with FSA)
Patreon: $5 to Humans of New York
Phone: ~$50, dependent on data usage
HBO: $14.99
Demand Africa: $6.99
Gym Membership: $288.41
Charity: $75 (I sponsor two children.)
401(k): $1,500 pre-tax (20% of my income)
Savings: $500-$2,700, depending on what's leftover at the end of the month
Day One
8:17 a.m. — I wake up from a dream and check the time on my phone. I want to hit the powerlifting gym this morning to bring my attendance up to four days this week, as the coach has us on a program that runs for four days a week. I've been going there for just over a month, and while it's pricey, having coaches constantly watching my form is infinitely worth it. I reserve my spot for 10 a.m. and get up and get ready to go.
9 a.m. — I run out of time to make breakfast, so I grab a Larabar, a carton of coconut water, and my filled water bottle. I kiss my husband, M., goodbye, and dash out the door.
11:35 a.m. — I am the last of the morning session attendees to leave. I head to the subway, where I schedule a Seamless order to arrive at about the time I should be getting home. $23.78
1 p.m. — I get home and my food is waiting for me. Short rib sandwich with fries. Yum!
2:30 p.m. — M. places a Jet order for this week's groceries. We get Larabars, eggs, bread, yogurt, assorted fruit, rice milk (for me), almond milk (for him), and avocados. The total comes up to $77.53, and we split the bill. $38.76
2:56 p.m. — I need new workout shoes, as my current Converse are really compromised. I've been comparison shopping for a few days, and finally settle on a pair of slip-on Pumas that can do double duty for traveling, as I've wanted a non-lace-up shoes for getting through TSA for a while. I also throw in some much-needed household items (laundry bags for large delicates, face moisturizer, a throw pillow for the couch, and an herb stripper — $77.72) and some Christmas gifts ($42.41). $120.13
3:17 p.m. — I'm still in a shopping mood, so I decide to check on some items on my wishlist at other stores. I see that a tank top I wanted from Aerie is steeply discounted, so I get two and plug in a promo code for an extra 10% off. $16.14
5 p.m. — I'm going with a friend to see Michelle Obama speak tonight, so I get up from the college football game I'm watching to get ready.
6 p.m. — I'm starting to feel hungry, so I warm up my Seamless leftovers and make a peanut butter chocolate protein shake (rice milk, maple syrup, whey protein powder, powdered peanut butter, cocoa powder, and creatine), but after eating, I'm still a bit hungry. Really didn't time this right. I stash a Larabar in my bag just in case.
8:37 p.m. — Getting into the Barclays Center was chaotic! My friend and I are thirsty, so we each get a bottle of water before heading to our seats. I cringe at the price, but the venue doesn't allow outside beverages. $7
12 a.m. — I get home hella late and famished, but my dear husband has just put the finishing touches on his HelloFresh meal (we each do our own meal kit subscriptions). Lucky me!
1:15 a.m. — We stay up late chatting until we're too tired to function, and fall into bed.
Daily Total: $205.81
Day Two
7:38 a.m. — I wake up with a dry throat an hour and a half before my alarm goes off and seriously consider taking a quarter of an Ambien (usually good for two hours), but ultimately decide against it.
8:30 a.m. — I get up and make breakfast — an egg and smashed avocado sandwich with a protein shake, and sit in front of my sunlight therapy lamp while I eat. This lamp has saved my mental health this winter.
9:30 a.m. — Dressed, fed, and off to church. Nasty weather today, but at least it's warmer than usual.
11:30 a.m. — There's a mixer after church. I skip the refreshments but have a great conversation with some people I met.
12:50 p.m. — I didn't plan ahead for lunch, and now I'm starving! Seamless again! This time I get a small pizza with prosciutto on top and a ginger ale. $25.35
1 p.m. — Since it's the start of a new month, I evaluated my wishlist items to decide what to buy. I generally go for what's low in stock (unfortunately, some of my items sold out) and add items as necessary to get free shipping. I order a lingerie set, a bra, fishnet stockings, and a teddy from HerRoom ($84.60 after $20 gift certificate); some wool socks, another teddy, two camisoles, and a demi bra from Nordstrom Rack ($103.82); and some honeymoon lingerie (panties and a robe that say "Mrs." and a satin romper) from Bloomingdale's ($117.08). I read In Intimate Detail by Cora Harrington recently, and I've been on a lingerie kick ever since. I definitely get a rush from spending so much at once, but I've been massaging my shopping carts for a good 24 hours, so I feel confident in my purchases. $305.50
3:50 p.m. — After my shopping spree, it's time to head to a coffee shop to meet up with the founder of a nonprofit that I volunteer with. I'm working on their website redesign, so we're meeting up to discuss. I order a chai latte and secure two seats. The latte gets my stamp of approval! $4.82
6 p.m. — The meeting goes really well! We agree on some action items for both of us. I head home, hop in the shower, and heat up my leftover half of pizza for dinner.
8 p.m. — I do some work on the website until I start to feel sleepy, so I put it away and call my mother for our weekly chat.
Daily Total: $335.67
Day Three
7 a.m. — My alarm goes off and I contemplate my life choices for far too long before getting up, getting dressed, packing my backpack (work laptop, gym clothes, water bottle, book to read on the train, and ADHD meds), and preparing my usual breakfast of an egg and smashed avocado sandwich. I sit in front of my sunlight lamp while eating breakfast and end up leaving one minute late to catch the subway to physical therapy.
8 a.m. — I literally watch my train pull out of the subway station. I resign myself to being a little late, but the MTA is in a mood, so I end up being 20 minutes late. Grr.
10 a.m. — After physical therapy, I head to the subway again to get to work.
12 p.m. — Lunchtime! Everyone in the office typically orders lunch together and the company covers it. I decide I don't want what they're getting, so I hop on Seamless to order from a different place and put it on my company card. I get a chicken plate with hummus and bread. ($15.69 expensed)
1 p.m. — Whew! Lunch was a bit heavy for me, so I put the rest in the fridge for later and mentally prepare myself for my performance review happening in an hour.
2:30 p.m. — My review went well! I'll be getting a raise. It's my first raise since becoming an engineer. I really enjoy my work, coworkers, and leadership team, so I'm excited by this news.
4 p.m. — I reserve a time slot at the powerlifting gym for tonight.
5 p.m. — Time to finish my lunch from earlier! It's all soooo good. I may have eaten too much so close to my workout, but we'll see how I feel later.
6:35 p.m. — I arrive at the gym, change into my workout gear, and do my PT warm-ups. My therapist is pretty strict, and this is her requirement in exchange for giving me her blessing to keep lifting.
8:15 p.m. — Workout complete and it's time to head home! I definitely felt a little too full, but I think it also helped me with the endurance portion of my workout: slam balls! I did 100 reps in a row in five minutes. My coach says next time I need to choose a heavier ball.
9:30 p.m. — I order Seamless on my way home and have it arrive around the time I do. M. is usually home, so I don't have to be there to answer the door for the delivery. I kiss M. hello, hop straight into the shower, and then sit on the couch to eat. $10.40
10:30 p.m. — My Purple Carrot order arrived today. (I got a meal kit subscription this summer when I got tired of all the food M. and I were wasting on a weekly basis. We had to do fridge clean-outs too often for my comfort.) I love not having to go to multiple stores to find all my ingredients. This week, I got sesame-ginger noodles with stir-fried greens and toasted peanuts, coconut lentil soup with roasted vegetables, and a tabbouleh burger with tahini yogurt and chickpea salad. I put it all away in the fridge.
11:30 p.m. — At this point, I'll get less than eight hours of sleep if I don't go to bed now. I climb into bed and just close my eyes, hoping I don't wake up too often in the night.
Daily Total: $10.40
Day Four
6:50 a.m. — I'm awake before my alarm. I realize M. forgot to set his alarm, so I nudge him awake and watch him struggle out of bed. At this point I can't go back to sleep, so I waste time on my phone before getting up and getting ready.
7:30 a.m. — I go through my usual morning routine, except this time I decide to have my leftover dinner for breakfast. It's a strange experience. I never did this growing up, so I haven't done it as an adult either. Nevertheless, I get through as much of it as possible before once again leaving just a little too late for the subway. I'm usually on time for things, but this winter has me moving at a snail's pace in the mornings.
9 a.m. — I'm just a couple of minutes late for my class. Twice a week, I volunteer to teach high schoolers to code. As an underrepresented minority in tech, I feel it's important to show kids that people who look like them do exist in the industry. I work with a team of other volunteers and it's not my week to lead, so I don't have to be completely alert. I spend the class session walking around the room assisting students with a group project they're working on.
10 a.m. — Class is over, so I head to work. Watching my students grasp new concepts so eagerly makes me feel good about my work, and gets me pumped for the workday ahead.
12 p.m. — Lunchtime! Today we order salads. ($12.25 expensed)
2 p.m. — I'm working on a major overhaul of one of our platform's features, so I discuss my progress with my product manager. She's really excited about being able to launch this feature, and we have a few current users who want to be our beta testers!
4 p.m. — Time to reserve my spot at the gym for day two! I'm starving today (that salad did not hit the spot) so I grab a few snacks from the snack bar and munch on my Larabar.
6 p.m. — Out of the office and off to the gym.
8:10 p.m. — I made it through my workout! I chug water on my way home and place an order for a burger and fries on Seamless. $24.41
9:25 p.m. — I make it home before 9:30! Gotta celebrate the small victories. I go through my usual routine of showering before plopping down on the couch to eat. My food arrived early, so now it's cold and rubbery, but I don't care enough to not at least eat most of it.
10:30 p.m. — M. and I haven't yet bought our plane tickets for Christmas travel, so I do some Googling and buy us on roundtrip tickets in exit row seats for extra leg room. They're pricey, but with my new raise coming, I don't feel it as much. The total comes to $932.80, which we split evenly. $466.40
11 p.m. — I head to bed a bit early tonight. The exhaustion is building and I'm hoping to make it to PT on time tomorrow.
Daily Total: $490.81
Day Five
7 a.m. — I wake up with my alarm. I'm still exhausted, but my goal of making it to PT on time drives me out of bed earlier than usual.
7:50 a.m. — I decide to skip eating breakfast at home and take it to-go instead. I chug my protein shake and head out the door.
8:05 a.m. — The MTA has been slacking. I simply cannot be late to PT, so I call a Lyft. $38.88
9:12 a.m. — I'm only 12 minutes late today! I think my physical therapist has given up hope that I'll ever be on time. I don't even mention my expensive efforts to get in on time. It is what it is. My FSA balance has run out, so I pay for this visit with my personal credit card. $65
10:30 a.m. — I get into the office and pull out my egg sandwich. I am too self-conscious to eat on the subway when it's crowded (plus, germs).
12 p.m. — Lunchtime! I get a braised chicken plate with chipotle kale and black beans, roasted broccoli and rice, and ginger lemonade. ($15 expensed)
6 p.m. — Time to go home! These days, I only go home at a normal time on Wednesdays. I love it and look forward to cooking dinner tonight.
7:30 p.m. — I cook up coconut lentil soup while catching up with my husband. I'm supposed to video chat with my three-year-old nephew tonight, but last time he wasn't into it and I'm too tired to play engaged aunty tonight. I justify my decision with the reminder that I'll see him for a week over Christmas.
8:30 p.m. — I plop down on the couch in my usual spot and watch reruns of The Big Bang Theory while I eat. The soup is okay. I have a Green Chef subscription as well, and I find myself judging Purple Carrot in comparison. (Green Chef totally wins for overall experience, by the way.)
9:45 p.m. — I get up to prep for bed. I received a new hair product set in the mail today that I bought on Black Friday for 50% off. It smells good enough to eat, so I try it on my hair when I shower. The hair gel works wonders, but everything else is just okay.
10:15 p.m. — I have needed a new travel bag for when I travel by plane for a while now, so I get one on eBags, as well as some packing cubes, a tech organizer, and a pill organizer. I use my $10 reward certificate towards the total. $133.57
10:30 p.m. — M. and I head to bed. He never goes to bed this early, but he's exhausted from not sleeping well for several nights in a row.
Daily Total: $237.45
Day Six
7 a.m. — Yay, I finally wake up feeling somewhat well-rested! I bask in the feeling for too long and start my day just a bit too late.
7:50 a.m. — I get myself ready and prep breakfast to-go once again. I listen to the Daily Calm on my Calm app (I like to meditate on my commute) and then read Who Fears Death by Nnedi Okorafor. It had a great start, then got a bit monotonous, but the action has picked back up and I'm on pins and needles.
9:08 a.m. — I'm definitely late for class, but it's okay, the students are still working on their project. I spend the hour helping groups better structure their HTML to achieve their desired effect. Each group is amazed by the suggestions I've made. These easy wins give me a major ego boost.
10:20 a.m. — Like yesterday, I get into work, pull out my egg sandwich, chow down, and then chug my shake.
12 p.m. — A few of us order lunch from a casual chain. I get a veggie burger (I read something about a beef recall due to salmonella) and fries, with chipotle mayo in lieu of ketchup. The burger falls apart, but I eat most of my food before sticking it in the fridge for later. ($13 expensed)
5 p.m. — I'm starving, so I grab a couple of snacks from the snack bar. Right as I open a bag of Late July cheddar crackers, I remember my leftover lunch in the fridge. Welp.
6 p.m. — Out the door and off to the gym! After entering the subway station, I see a five dollar bill float to the floor. I run ahead to the person I think it belongs to, but they say it's not theirs. At this point I have no idea whose it is, so I pocket it with the aim of passing it on to a homeless person.
8:15 p.m. — I leave the gym a bit later than intended and head to the subway. My stomach growled a couple of times during my workout and I'm not feeling much confidence in my coconut lentil soup's ability to satisfy me. So while I'm on the train, I place a Seamless order for pizza. $26.28
9:30 p.m. — Home! Dinner isn't here yet, so I hop in the shower and then open a package I received today. It's the shoes I ordered! I leave the second part of my delivery unopened, since it contains part of M.'s Christmas present.
10 p.m. — I eat dinner on the couch in my new shoes while watching more reruns of The Big Bang Theory. I've seen all the old episodes, but it's a reliable sitcom for a much-needed winter mood lift.
11:30 p.m. — M. and I finally head to bed. I browse on my phone for a bit before shutting everything down at midnight.
Daily Total: $26.28
Day Seven
5:47 a.m. — I get up to pee and look at the clock. Just over two hours until my alarm goes off, so I pop a quarter of an Ambien pill to help me fall back asleep. It works.
8:10 a.m. — Up and at 'em! Tonight is our office holiday party. At first I considered bringing a change of clothes, but I've decided to just wear my party outfit for the day. After a week of lugging gym clothes in my bag, I'm craving a light day.
9:27 a.m. — I head to the subway. The five dollar bill I picked up last night is burning a hole in my pocket, and I try to be mindful of any panhandlers as I settle into my book. I'm in luck when a trio of older men with walking canes enter my train car singing "This Magic Moment" a capella. They sound really good and they're pleasant people, so I gleefully drop the $5 in their little container. Mischief managed.
10:30 a.m. — I stroll into work to see most of my coworkers similarly dressed up for later. I made the right choice. I feel a little drowsy and panic a little when I realize I'm not 100% sure I took my ADHD meds this morning. I wave it off with the reminder that I'd be much drowsier if I hadn't. I should be fine.
12:50 p.m. — Lunch! I get a vegan rice bowl with mushrooms, cashew cheese, guac, and chicken on top. ($15 expensed)
3 p.m. — A coworker asks if I'd like to join her on a coffee run. I agree and haul on my coat. We go to a new spot, so even though I don't need anything, I order a chai latte, because tradition. It's awful. The cinnamon flavor is overpowering, and their prices are high for the size. I guess I won't be returning. $5.44
7 p.m. — Party time! We all Uber over to the location and grab drinks to get started. Our plus ones meet us there. We all spend the night drinking a little too much and letting down our hair much more than we do on a regular basis. Nothing too crazy, though! We are a pretty straight-laced bunch.
12:50 a.m. — It's freezing cold and super late, so I call a Lyft to take M. and me home. It's an expensive ride but well worth it, since the subway would take two hours. I get in and check on a coworker before passing out on the couch. I'm definitely going to feel this in the morning. $45.18
Daily Total: $50.62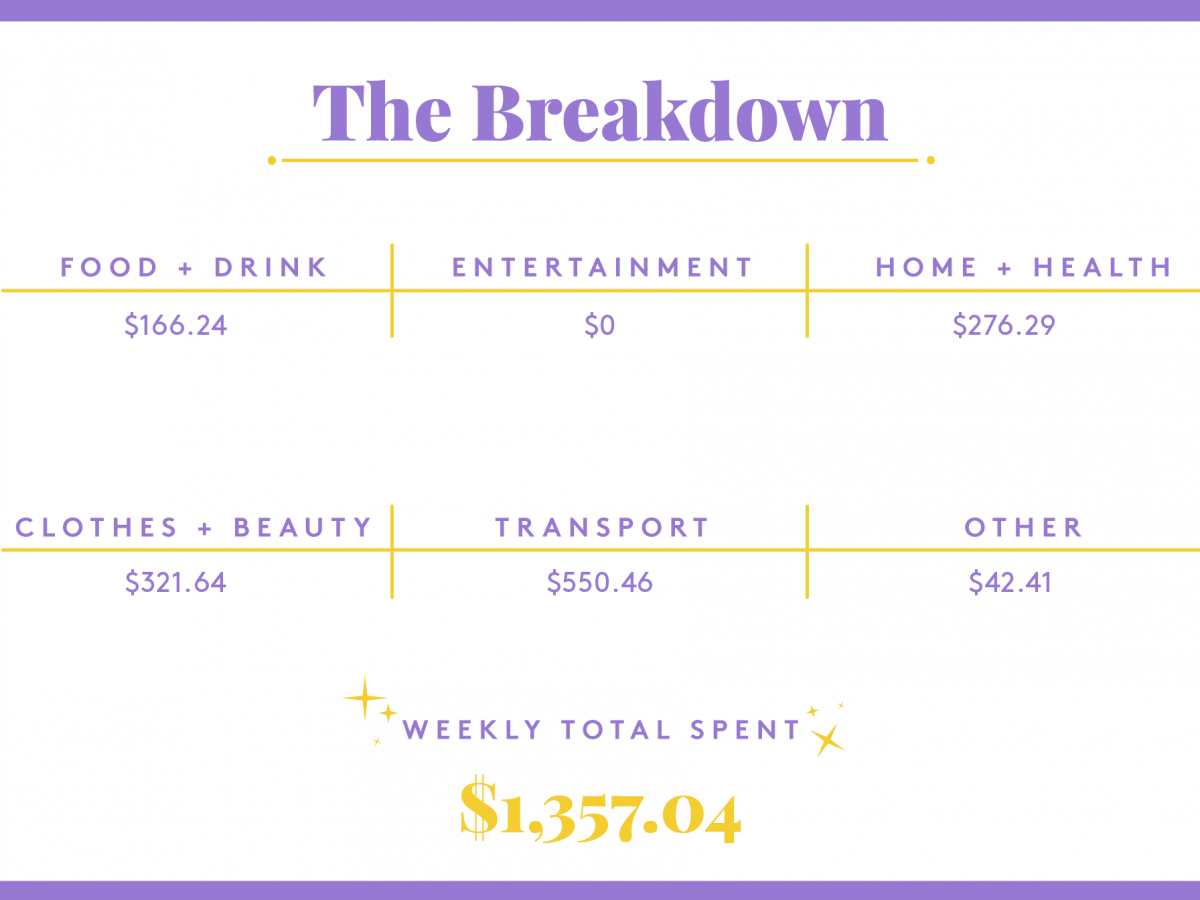 Click HERE to read more.


You can publish this article on your website as long as you provide a link back to this page.
You can publish this article on your website as long as you provide a link back to this page.