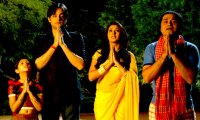 This article was last updated on April 16, 2022
Canada:

Oye! Times readers Get FREE $30 to spend on Amazon, Walmart…
USA:

Oye! Times readers Get FREE $30 to spend on Amazon, Walmart…

With God as a central protagonist, can one remember a single movie other than 'Hanuman' in recent times, whether animated or live action that has succeeded at the box office? The answer is a firm no. And let's not blame God for that because more than 90% of such films as well as their music have been plain shoddy. In fact quite a few of them have belonged to the kind that shouldn't have been commissioned in the first place. Due to this, there is apprehension galore once an announcement comes around the release of Maruti Mera Dosst that is a live movie with a fair dose of special effects woven in the film's narrative. This time around it is Hanuman who is the central protagonist, the God who is the 'dost' (or shall we say 'dosst'?) of the kids in the film. Krtik Shah composes the music while Subrat Sinha writes the lyrics. Write your own music review of Maruti Mera Dosst As expected, Maruti Mera Dosst has a devotional feel to it, as evidenced in the opening number 'Rama 'O' Rama'. A fast paced track in appreciation of Lord Rama which is sung with aplomb by Kailash Kher, 'Rama 'O' Rama' actually makes for a good hear as it doesn't have a single dull moment. Kailash brings in some good energy into the proceedings through his vocals and along with the composer and lyricist manages to lend the album a good kick start.  
Ever so popular 'Jai Hanuman Gyan Gun Sagar' is heard next and it is no surprise to have Hari Haran spearheading the proceedings. The number stays on to be straight and simple without any fancy ingredients being unnecessarily added to lend a modern day impact. For those who wish to start their day with a devotional number, this song would make for a good hear.  However, there is a 'theme version' of the song added towards the album's end which has been embellished with modern day arrangements. Does it make an impact? Definitely yes, as it appears to be tailor made for the climax setting of the film. High on energy with Western arrangements in place, this chorus number has a full on orchestra in play which is bound to enhance the film's proceedings. A serene track follows next in the form of 'Jiya Re'. A number about missing your loved one, 'Jiya Re' is a decent number that could have possibly got much better mileage had it featured in a conventional film with a love story setting to it. While Subrat Sinha's lyrics are different from the routine, what enhances the song are Javed Ali's silky vocals. Mansi Bhardwaj and Aman Malik come together to sing first kiddie number in the album which is titled 'Mafi Kya Mangu Main'. The number follows the 'Lakdi Ki Kaathi' route and succeeds to a good extent as well. The two kids exchange a friendly banter around the existence of Lord Hanuman and though one can't expect the song to become a rage in days to come, it has to be seen how the number is placed in the film.  
For the first time in the album, two established names in the playback singing world, K.K. and Shreya Ghoshal, come together for a song 'Aayegee Nindiya Ankhiyon Ke'. Just like 'Jiya Re', this one too follows a serene approach with hardly any instruments playing in the background. A lullaby, this one sees K.K. singing at a pitch lower than usual while Shreya is effective as ever. Yet again, though we don't have a chartbuster in the offering, from the situational standpoint it makes for a decent hear.  Last to arrive on the scene is Chandrachur Singh himself who debuts as a singer with a devotional number 'Janki Nath Sahay'. He actually makes a beginning with a difficult number since 'Janki' is sung sans many instruments and it's the vocals that hold centre-stage. He does well and at least manages not to come across as an amateur. Maruti Mera Dosst has a mix of devotional and situational numbers that goes well with the film's genre. Also, since there is a limited segment of audience that the album appeals to, one can't really be expecting chartbusters blazing from the film's soundtrack.
 OUR PICK(S) "Jai Hanuman Gyan Gun Sagar' (Theme)', 'Rama 'O' Rama'
You can publish this article on your website as long as you provide a link back to this page.