EXPECTATIONS
When a film is as big as Race 3, expectations are huge. More so since the music of Race is remembered till date while Race 2 had a couple of chartbusters as well. This time around the makers have roped in multiple composers and lyricists to put together as many as 10 songs and one waits to hear what is in the offering.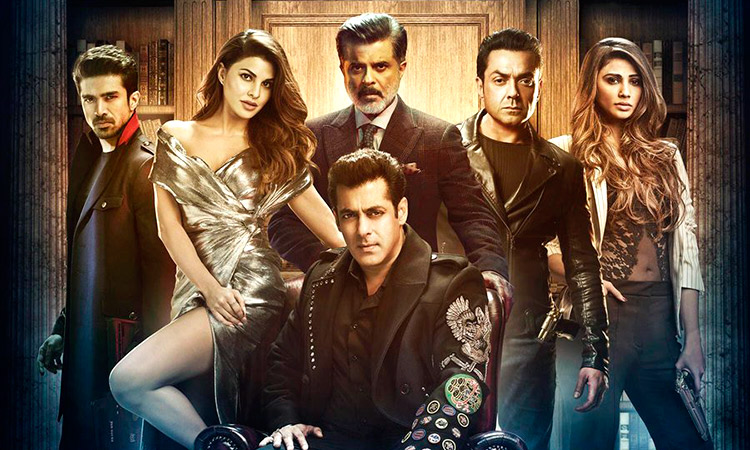 MUSIC
Meet Bros., Deep Money and Neha Bhasin come together for 'Heeriye' which is the flagship number of Race 3. While the start of the song is just fine, what with the composition carrying strong Sufi influence, overall the song doesn't impress much. Moreover, how one wishes that that the choice of the leading male vocalist was different as it doesn't really suit Salman Khan. Moreover, the manner in which it is sung also leaves a lot to be desired.
In comparison, 'Selfish' turns out to be a better song, especially in the way Atif Aslam begins his rendition. The soft tone really helps the mood of the song and also the fact that Iulia Vantur gives him very good company behind the mike. Though a lot has been said about the lyrics, the fact also remains that there is good intent behind the written words and the romantic styling helps too. Later, the song also appears in a solo version by Atif Aslam while an 'unplugged' version follows too where he is accompanied by Vishal Mishra. Overall, a good melody which may perhaps just find its due in some time.
The song that everyone had been waiting for 'Allah Duhai Hai', comes in next and this time around it is the team of Amit Mishra, Jonita Gandhi, Sreerama Chandra and Raja Kumari which comes together. Though at first it takes time for one to register the new sound since the original tune by Pritam is so much etched in one's mind, after a couple of listening this one does manage to make its presence felt. The start is not really impressive and a brief Punjabi portion seems forced as well. However the moment you hear 'Nasha Nasheela Hai' followed by 'Allah Duhai Hai', you are fine with what is offered.
Iulia Vantur gets yet another song in her kitty, this time
'Party Chale On'
, which has a quintessential Pritam sound to it. Mika Singh begins the proceedings of this club song which is in the same mode as many other songs belonging to this genre that have come from the house of TIPS. Though the song by itself makes for a decent hearing, it is just that one has been used to this kind of sound half a decade back and hence it comes across as a rather routine outing.
Salman Khan brings himself on board as a singer with 'I Found Love' which has newcomer Veera Saxena starting her Bollywood innings. It must indeed be a great moment for her to take centre-stage with none other than Salman Khan, even though quite belatedly in this near 5 minute composition. However the song by itself doesn't really impress much as the core tune is all over the place and you feel rather distracted with the wayward composition.
Talking about being wayward, one of the most wayward songs of not just Race 3 but entire 2018 is 'Ek Galti' which is just unbearable. You just can't put ear to what newcomer Shivai Vyas does behind the mike as the song is just listless, tuneless and moreover outright boring. As a matter of fact you have to just hear the song once to believe what has actually been offered to the listener.
Thankfully there is something to be excited about once the title song comes in the form of 'Saansein Hui Dhuan Dhuan'. The rap portion at the beginning is good and so is the manner in which Gurinder Seagal, Payal Dev and Iulia Vantur come together as a team. What impresses is the middle-east inspired hook tune that comes right though the song which gets the right mood set for Race 3. It works with the film too.
The conclusion is just fine too with 'Race 3 Mashup' which acts as the grand finale.
OVERALL
The music of Race 3 is a mixed bag as it is nowhere close to Race or Race 2. Still, there are 3-4 compositions that do work well with the theme of the film.
OUR PICK(S)
'Selfish', 'Allah Duhai Hai', 'Saansein Hui Dhuan Dhuan'
Click HERE to read more and view the original source of this article.


Loading ...