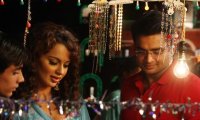 This article was last updated on April 16, 2022

EXPECTATIONS There are limited expectations from the music of Tanu Weds Manu as the film hasn't been projected as a musical. Also, since there aren't many recognised names attached to the music department (composer Krsna, lyricist Rajshekhar), one doesn't quite know what to expect. However, since the film has a small town setting to it, one does expect the kind of score that would have a rustic flavour to it.
MUSIC Though one doesn't know what exactly would arrive in the album, Tanu Weds Manu does boast of a cracker of a start with 'Sadi Gali' having all in it to turn into a smash hit in quick time. A Punjabi track by Lehmber Hussainpuri which is different from the routine 'bhangra' tracks, 'Sadi Gali' is a fun celebration number that hooks you in the first listening itself. A foot tapping number with a quintessential desi Punjabi flavour to it that carries the potential to find popularity wherever and whenever it is played, it will find good acceptance especially up North. The album shifts track soon after with Mohit Chauhan humming around in his characteristic tone. A love song, 'Yun Hi' is about a guy professing his love and expecting the girl to nod in agreement as well. With easy on ears lyrics by Rajshekhar, the song maintains an overall simplicity in its tone and sails through smoothly. Though 'Yun Hi' is not the kind of song that has chartbuster written to it (due to an overall laidback presentation), it is harmless when given a hearing. Meanwhile Ujjaini can also be heard in the background as a backing vocalist. Next to arrive is a Sufi number 'Rangrez' by Krsna. The longest track in the album which lasts over six minutes, 'Rangrez' has a core essence of love to it and is situational in appeal. Also, it can be expected to play a multiple times in the film's narrative. With an unadulterated presentation sans any external influences that would have threatened to take away from the traditional flavour that it carries, 'Rangrez' would primarily be appreciated by the followers of Sufi music. Later the song also arrives in another version which is rendered by Puranchand Wadali and Pyare Lal Wadali. By this time around though one does start missing another terrific number like 'Sadi Gali'. However the album keeps it's soft and sober mood that had started with 'Yun Hi'. Resultantly the song that arrives is 'Piya' which actually turns out to be the best of the lot since 'Sadi Gali'. Sung by Shafqat Amanat Ali, 'Piya' has a semi-classical flavour to it and shows the range of composer Krsna who spins a tune which is extremely easy on ears. With an old world charm to it, 'Piya' should sound even better when seen along with the film. There is fun that returns to the proceedings with 'Mannu Bhaiya' which immediately reminds one of 'Genda Phool' [Delhi 6]. Call it the North Indian influence here but the combination of melody and rhythm is on the same lines as the one that was created by A.R. Rahman a couple of years back. Sung by Sunidhi Chauhan who goes restrained in this celebration number where friends and families of the bride and groom get together to tease the couple, 'Mannu Bhaiya' is yet another 'desi' track that maintains its essence. While Ujjaini Mukherjee and Niladri Debnath give Suidhi some support behind the mike, Manjeera, Rakhi Chand and Vivek Naik are the backing vocalists. Last to arrive is a fun number 'Jugni' which is as Punjabi as it gets and gains that slot in the album which is reserved for a chartbuster. Even though the song's duration is a mere 3 minutes here, Mika makes it worth it by letting his hair down in this dance number that should be pronto aired across all music channels to gain added visibility.
OVERALL Tanu Weds Manu would have settled down to just being a decent album if not for 'Sadi Gali' and 'Jugni'. These are the two numbers that acts as the pillars of Tanu Weds Manu that should not just add value to the album but also help the film gain added visibility in weeks to come. While 'Mannu Bhaiyya' and 'Piya' add further variety to the album, it's the aforementioned dance numbers that are most enjoyable.
OUR PICK(S) 'Sadi Gali', 'Jugni', 'Mannu Bhaiyya'
You can publish this article on your website as long as you provide a link back to this page.