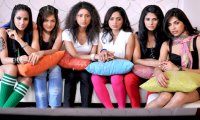 This article was last updated on June 18, 2022

I often wonder why don't [Hindi] film-makers attempt chick-flicks with loads of dazzling action/stunts? Say, on the lines of CHARLIE'S ANGELS? In fact, way back in the 1990s, I vividly recall, there was an attempt by several film-makers to make action films with all-women star cast. But the projects fizzled out for reasons best known to those film-makers. The first impression that UNITED SIX evokes is that it's a mishmash of several Hollywood action fares that show the fists and curves of the fairer
sex
. But you are proven wrong as the story begins. Sure, UNITED SIX has six women essaying pivotal roles, but this is about the heist they carry out successfully. The concept is attention grabbing, but it's the screenplay writing that makes the effort partly engaging, partly so-so, partly amateurish, partly self indulgent. UNITED SIX is the story of six girls living in Bangkok. They are going through a tough phase in their lives. Their dreams are shattered, their aspirations crushed. Out of frustration and anger, they decide to rob a bank. One of the girls, Jia, who was fired from the bank for refusing to sleep with her boss, convinces the others and leads them.
They rent a bakery adjacent to the bank and start digging a tunnel which would lead them to the bank. They soon realize that it's not as easy as it seems like. However, they continue with their mission, but one by one, on one pretext or the other, the girls start getting jittery. Jia continues to motivate them, but finds it getting more and more difficult with every passing hour. Eventually, they decide to call it quits. Next morning, they get the shock of their life when they learn that the bank has been robbed and the cops are hunting for them. The girls are caught in a perilous situation… There are two things that grab your attention while watching this flick. One, the film is well shot. Two, the interval point and also the culmination [the suspense aspect] catch you by complete surprise. First-time director Vishal Aryan Singh steps into the Abbas-Mustan territory, but being the captain of the ship, he should've ensured that the sequence of events leading to the finale is equally interesting. Like I pointed out earlier, the goings-on vacillate between engaging and non-engaging moments quite rapidly. Pritam's music is alright, although the placement of songs in the initial reels could've been better. Cinematography [Sugin Mamai] is striking. In fact, the film wears a slick look all through. The six actresses [Parvathy Omanakuttan, Daisy Bopanna, Mahi, Isha Batwe, Luna Lakhar and Pooja Sharma] are passable. In fact, all of them don't really get a chance to display histrionics since the screenplay is erratic.
On the whole, UNITED SIX has a fascinating idea which entertains intermittently.
You can publish this article on your website as long as you provide a link back to this page.