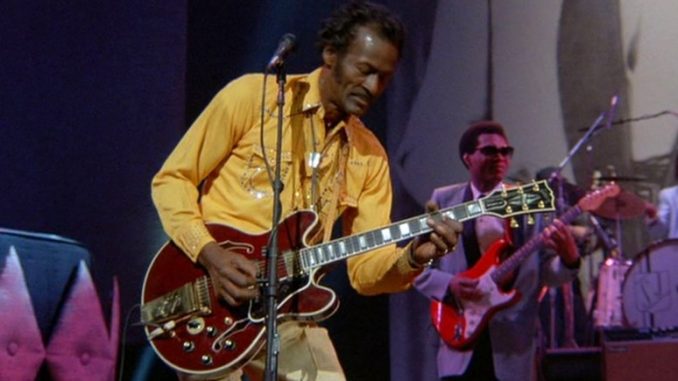 By Stephen Pate – Chuck Berry on of the first and greatest rock and roll songwriters died yesterday March 18, 2017 at 90.
In 1955 Chuck Berry merged country, blues and swing in his first hit Maybelline which was based on the Texas Swing song "Ida Red." He followed it with a string of classic hits that defined Rock and Roll in the 1950's – Johnny B. Goode, Roll Over Beethoven, Wee Wee Hours, Thirty Days, Too Much Monkey Business, School Days, Nadine, Sweet Little Sixteen, Rock and Roll Music, Hail! Hail! Rock and Roll, Back in the USA, Memphis Tennessee, Brown Eyed Handsome Man, Promised Land, No Particular Place To Go, You Never Can Tell, and My Ding-A-Ling.
Chuck Berry inspired generations of rock and roll musicians including Keith Richard, Mick Jagger, the Beach Boys, Paul McCartney, John Lennon, Bob Dylan, Bruce Springsteen – the list goes on and on.
Dozens of musicians copied his songs The Beach Boys, The Beatles, and Bob Dylan.
The basis of rock and roll guitar is Chuck Berry's style which is actually based on his band member Johnnie Johnston's piano playing. Anyone who wanted to learn rock guitar learned Chuck Berry first.
Being a black artist in the 1950's was not easy. Racial segregation made life difficult for Chuck Berry and he did jail time twice for racially based charges. It made Chuck Berry bitter but also wiser. He insisted on getting paid in cash to avoid promoters ripping him off.
You can read dozens of obituaries this week to Chuck Berry who outlived almost all of his contemporaries.
I'm going to spend my day watching Chuck in the awesome documentary by Taylor Hackford – Chuck Berry – Hail! Hail! Rock N' Roll
Click HERE to read more.