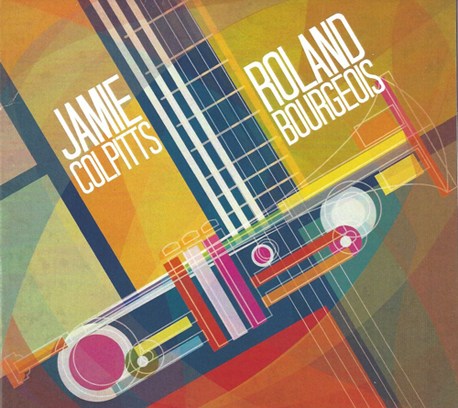 'Blue Monkton' by Jamie Colpitts and Roland Bourgois
The Moncton duo of Jamie Colpitts and Roland Bourgeois are releasing their new CD "Blue Monkton"on Sunday April 2017
By Stephen Pate – Years of playing have given Jamie Colpitts and Roland Bourgeois an air of intimate sympatico. They play off each other taking their parts with seamless ease on their new groovy and relaxing CD "Blue Monkton".
The release will happen at Centre culturel Aberdeen, 140 rue Botsford, Moncton, New Brunswick at 7 PM Sunday April 30th, 2017. Since the CD will not go into general circulation, that's a good time to hear the music and buy a copy.
The CD title is obviously a pun on Thelonious Monk and "Blue Monkton" the 4th cut of 10 excellent pieces that vary from Always to Carlos Jobim's 'Wave'
Jamie has been hinting about the new CD for months and I was excited to get a copy on Tuesday. It's been on my phone, stereo in the car every since. I tried to trick my wife this morning with "Do you know who this is?"
"I know Jamie Colpitts, silly" she replied tossing her head with a laugh.
I first heard Colpitts and Bourgeois a few years ago, by happy accident, playing at Moncton's Bistro 33 on a Tuesday evening. Bistro 33 an excellent small French restaurant near the Moncton airport. The food was great but I couldn't get over the gorgeous tone and melodic improvisation of these two. The music was as good as any NYC supper club.
Roland has great tone and phrasing on the cornet. Jamie is a throwback to all the great jazz guitarists from the 50's and 60's who understood it's all about the melody. He's great fan of Barney Kessel, one of the original members of the LA studio musicians dubbed the Wrecking Crew.
Sporting a Gibson Barney Kessel guitar, Jamie has Kessel's jazz style of chords and intervals but I think he's more melodic than Kessel, who liked to show his chops with fast improvisation. Jamie toes the melody pretty carefully until he gets an improvisation break. However, he rarely strays far enough that he loses the tune and the audience.
I used to write about jazz in the early 60's when jazz musicians largely gave up melodic improvisation and went to modal and other styles. It was interesting but it killed jazz as a popular medium with which the audience could identify.
"It's all about the song stupid!" got lost in the shuffle between Ornette Coleman and Miles Davis. It's hard to imagine today but I could DJ John Coltrane's 'Ballads' at a house parties along with The Stones and The Beatles in 1965. Coltrane was cool and innovative, kept the melody and fit a certain time of the evening. But I digress.
'Always', the 2nd cut, is a good example of how Colpitts and Bourgoois improvise over the melody. Roland plays two versus of the melody swinging the chart while Jamie comps chords and plays mixed intervals behind him.
The melody is firmly in your head before Roland breaks out with an improvisation on the cornet. Later Jamie gets his own spot before the song comes back to the melody. Here's an excerpt from 'Always' where they make the first transition to improvisation. Please click on the link
Click HERE to read more